By: Matthew Kurtulik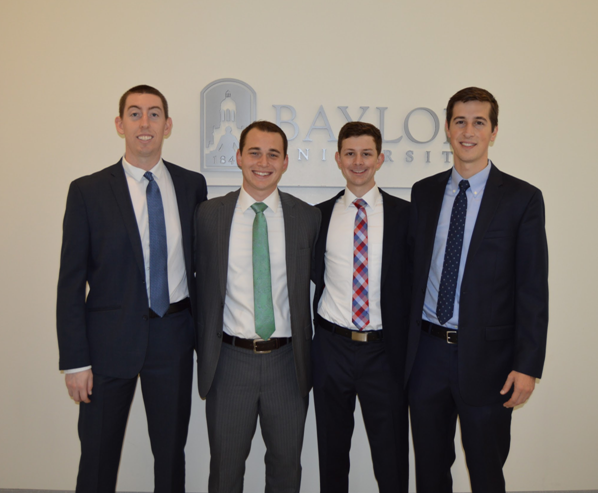 Case competitions are enriching from a personal and professional standpoint, and the abundance of opportunities such as case competitions are one of the best reasons to get a Notre Dame MBA. Case competitions are a great way to build camaraderie with your classmates, to hone your problem-solving skills, and to expand your network.
Notre Dame has a Case Competition Committee that finds case competitions and communicates those opportunities to MBA students. The competitions are hosted by other MBA programs, and they cover an array of topics ranging from stock-picking to introducing sustainability ideas in a corporate setting. 
One of this year's competitions was the Baylor MBA Case Competition in Ethical Leadership. Three of my classmates and I jumped at the chance to represent Notre Dame. We flew to Baylor University during the second week in November. The competition began over breakfast, as 12 teams gathered in the Baylor business school building. Each team was given the same ethical dilemma to solve, as well as a study room to use. We were given the remainder of the day to brainstorm and to formulate recommendations to the problem.
The following day, we presented our solutions to a panel of judges. After the presentations, we had lunch with the other teams, heard a presentation from the CEO of a local Entrepreneurship Program, and enjoyed some Dr Pepper floats. We capped off our trip by taking a short ride over to San Antonio to watch Notre Dame football play Army in the Alamodome.
About Matthew
Matthew lived in Stamford, Connecticut, prior to business school. He is concentrating in corporate finance and business analytics, and attended Fordham University for his undergraduate studies. His favorite Notre Dame memory is learning how to fish on St. Mary's Lake (and catching his first fish!). You can find Matthew on LinkedIn.