While teaching today I needed to find a picture of a fossil ape skull(Sivapithecus) next to a modern ape skull (orangutan). I found the perfect image and put it up on the screens, but it turns out that though the picture was exactly what I was looking for, the website was spouting extremely bad, debunked science conspiracy theories.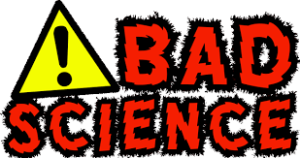 This little gem of a quote can be find on this site, "70 Million Years Ago Caucasian Human Race has a long blond hair, blue eyes, fair skin with a small nose that is similar to the Barbie of Today."
The students were both amazed and appalled by this. I thought out loud, "Next semester, I should totally have students find and debunk these terrible 'science' websites."
Students loved the idea, and relished the thought of debunking some of the bad science that is all over the internet. Identifying and critiquing misinformation is ridiculously important these days, and I didn't want to shut down an opportunity for my students to learn and practice this skill. So, I gave them the option to either complete the book review I had originally assigned, or do a review and debunking of a "bad science" website. Here is the link to the assignment.
About half the class decided to stick with the book, and the other half are going for the website.
I very much look forward to seeing what the students come up with.