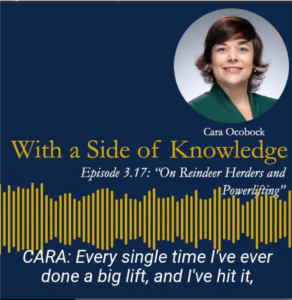 Back in early March I was interviewed by Ted Fox for the With a Side of Knowledge podcast.
South Bend was getting what we all thought would be the last snow of the winter (we are expected to get 3-5 inches of snow tomorrow…April 17th). Spring Break was just two days away, and I had planned a cabin retreat to re-focus my energy on research. An official pandemic would not be declared for another two weeks.
When I returned from that cabin retreat to a different world. The severity of Covid-19 was finally being recognized, Notre Dame made the call to shift to remote instruction, and there was a run on toilet paper.
Listening to my interview now, I feel nothing but gratitude. I am grateful to have opportunities to talk about the work I love. I am grateful to have a job that supports me in doing the work I love. I am grateful for a job that continues to support me working safely from home.
This past month has been filled with difficult transitions, but today this podcast made things a bit easier for me.