One of the very best things about this job is getting to meet and talk with so many wonderful people. Sometimes this happens by chance and sometimes it is intentional. This time, it was a bit of both.
Due to the low key viral success of Ruby's Laboratory Manual, I was contacted by the St. Joseph County Public Library (SJCPL) to take part in the Science Alive month-long event. With the help of the Eck Institute for Global Health, we were able to provide almost 500 grab-and-go single science experiment bags to SJCPL to distribute to children.
Seeing the focus on women scientists in Ruby's Lab Manual SJCPL, specifically Rada Ragimbekov, wanted to collaborate on putting together an event for Women's History Month. We decided to hold a Meet a Scientist panel discussion event for children featuring a diverse group of women scientists.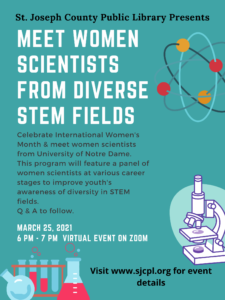 I was honored to moderate the discussion featuring Dr. Nydia Morales-Soto, Dr. Joyce Adams, Mauna Dasari, Kayla Hurd, Dr. Mayland Chang, and Chelsea Southworth.
Each of these women during this even shared their science, the educational journey, the challenges they have faced as women in science, and words of wisdom. I think we all left that event inspired by the strength, persistence, and creativity of these amazing women. It was one of those activities that many my shrug off as silly extra service, but I consider it potentially one of the most impactful parts of my job.