by Aedín Ní Bhróithe Clements, Irish Studies Librarian.
Over two hundred years before Google Maps photographed the buildings of Dublin, architectural draughtsman James Malton (c.1765-1803) depicted the grand public buildings of Dublin in his book, A Picturesque and Descriptive View of the City of Dublin Described. In a series of the most Interesting Scenes taken in the year 1791.
While the etchings from this book are well-known, both as framed reproductions and from the 1978 Dolmen Press edition, original editions, with their large and detailed prints, are very uncommon.
James Malton accompanied his father, an English architectural draughtsman, to Ireland and was employed for a time by the famous architect James Gandon, who was then working on Dublin's Custom House. He was dismissed and later worked on a series of drawings of Dublin buildings, first published in six parts between 1792 and 1799 and later, in 1799, published in one volume.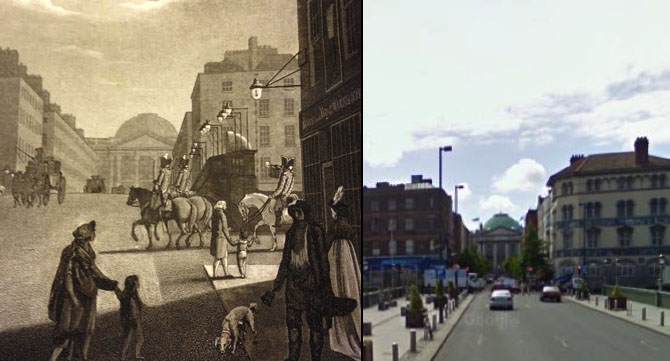 ---
This work is licensed under a Creative Commons Attribution 4.0 International License.