by Erika Hosselkus, Curator, Latin American Collections
Even as the COVID-19 pandemic limits our ability to handle physical collections, Rare Books and Special Collections strives to provide patrons with the next best thing — access to digital surrogates. Last week, we responded to a request for a high quality image of an Inquisition censorship edict, from Mexico, dating to 1809.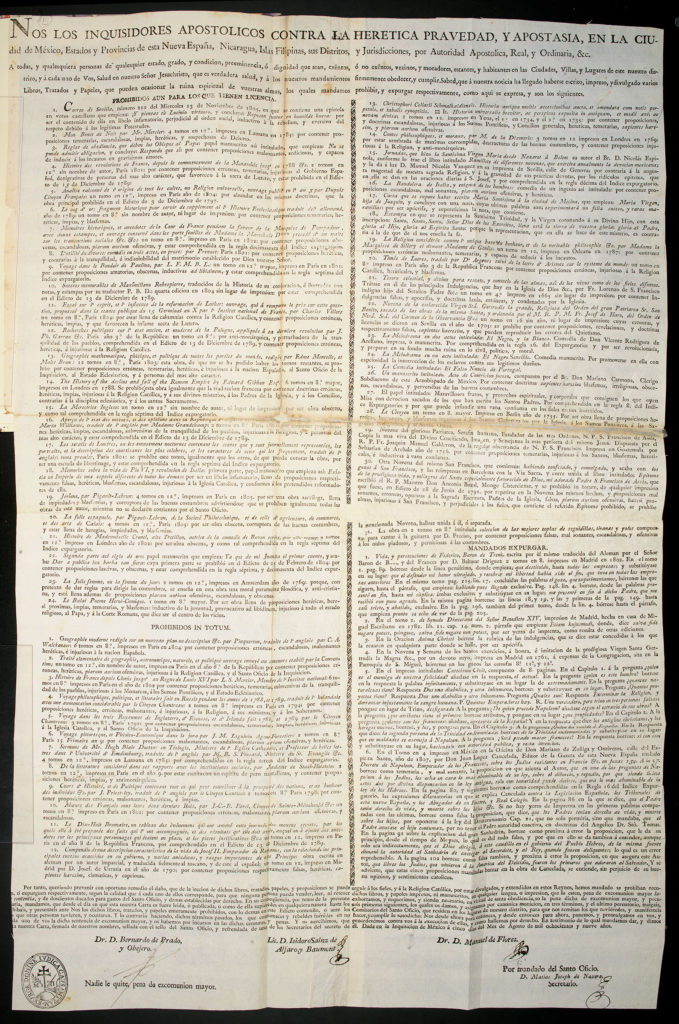 This item is part of our Harley L. McDevitt Inquisition Collection, which contains manuals, edicts, trials, certificates, accounts of autos de fe, and other materials produced by and about the Inquisition in Spain and the Americas. Revisiting this document at the request of a patron provides an opportunity this week to highlight Inquisition edicts, a major component of our Inquisition manuscript holdings.
This edict is a large format document that would have been posted on a wall or door for public consumption. Edicts such as this one supplemented and updated the more voluminous indices of banned books published and maintained by the Inquisition beginning in 1551. This particular example is quite lengthy and also attests to the Inquisition's perseverance into the nineteenth century and to its presence in Spain's American colonies. It bans some 55 works and is signed at the bottom by Inquisition officials.
Titles banned include, of course, works pertaining to Lutheranism. Also on the list are historical works, especially those that are anti-monarchical such as Histoire des révolutions de France, by an anonymous author, and Recherches politiques sur l'état ancien, et moderne de la Pologne. Each of these titles treats the French Revolution. Inquisitorial concern over them speaks to the political situation in Spain, where Napoleon Bonaparte had recently placed his brother on the throne. Mere months after the issuance of this 1809 edict, armed uprisings in support of independence from Spain would begin in Mexico.
The edict also prohibits theatrical plays deemed to include seditious content, due in part to the fears regarding rebellion against Spain in the American colonies. This last category includes a piece entitled, "El Negro, y la Blanca," ("The Black Man and the White Woman") by playwright Vicente Rodriguez de Arellano, said to be revolutionary in spirit, with ability to engender civil, political, and moral ruin. It also includes "El Negro Sensible"  ("The Sensible Black Man"), a manuscript play said to encourage enslaved people to rebel against their owners. This play, by Spaniard Luciano Francisco Comella, indeed highlights the evils of slavery. The main character, an enslaved man named Catúl, asserts his humanity and tells his owner that the souls of black men and white men are the same. This work was the inspiration for the later and eponymous play by one of Mexico's best known authors, José Joaquín Fernández de Lizardi.
The Harley L. McDevitt Inquisition Collection has both a finding aid and a dedicated website which includes thematic essays that explore the different types of documents generated by the Inquisition, with references given for further reading. The collection contains over 150 edicts dating from the seventeenth, eighteenth and nineteenth centuries. Here are two additional examples of censorship edicts: