by Rachel Bohlmann, American History Librarian and Curator of North Americana and Greg Bond, Curator of the Joyce Sports Research Collection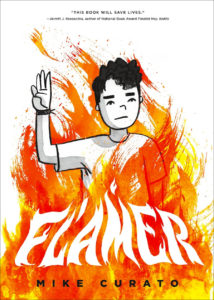 During the month of April, people across northern Indiana and southwestern Michigan will be reading and discussing this year's One Book, One Michiana selection: Mike Curato's semi-autobiographical teen graphic novel, Flamer. Hesburgh Libraries is proud to participate in this community program alongside other local libraries and organizations. Please visit our contribution, the digital exhibition Papers Alight: Contextualizing Mike Curator's Flamer.
The exhibition displays materials from Rare Book and Special Collections that place Mike Curato's novel into social and historical context. The show includes sources about the Boy Scouts, Catholic pamphlets on contemporary devotional practices—including images of the sacred heart, which figure prominently in Flamer—Catholic pamphlets about pastoral care of LGBTQ people, and a selection of LGBTQ documents on sports and humor. Each section explores themes in the novel that may resonate with readers. We hope the show will encourage discussion of this award-winning book.