by Rachel Bohlmann, American History Librarian
This Sunday, January 27, is International Holocaust Remembrance Day. The library is commemorating it in a number of ways: a program on Friday, January 25, centered on American Catholic newspaper coverage of the Holocaust; a small exhibition on prisoners held at the German Nazi concentration camp, Theresienstadt (Terezín); and this post, which features selections from one of the library's most notable collections, Catholic pamphlets. The pamphlets shown here display a range of views held by Catholics about Jews, although the larger collection also includes pamphlets published by non-Catholics (Jews and Protestants) about anti-Semitism and Jews.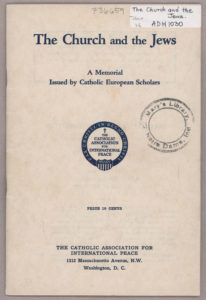 In 1937 the Catholic Association for International Peace in Washington, D.C. published an English translation of The Church and the Jews: A Memorial Issued by Catholic European Scholars. It had first been published in German, anonymously, as its writers argued against German anti-Semitism even as they called for the conversion of Jews to Christianity.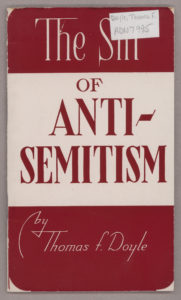 Three years later Thomas F. Doyle, an American priest, published The Sin of Anti-Semitism in which he stated flatly that "anti-Semitism has long existed in the United States." He admonished his fellow Catholics to remember the commandment to love your neighbor. It was an idea, he argued, that for Catholics, made a mockery and an insult of anti-Semitism.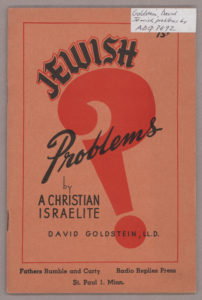 In Jewish Problems? by "a Christian Israelite" published in 1944, convert David Goldstein addressed Christian misconceptions about Jews and Judaism. He also quoted then Bishop James Frances McIntyre, that the "Church is anti-sin and not anti-any persons, no matter what their religious beliefs may be."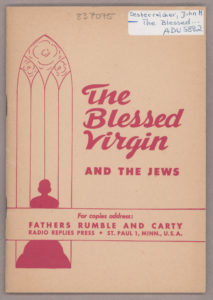 Another Jewish convert to Catholicism and a cleric, John (originally Johannes) M. Oesterreicher, fled German-held Austria in 1938. In a pamphlet first published in 1942, The Blessed Virgin and the Jews, he condemned Nazis' anti-Semitism (and their attacks on Catholics) and called for Jews to convert, and he cited examples of Jews who had done so.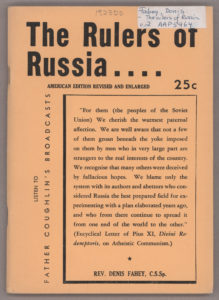 The collection also includes virulent anti-Semitic views, as in The Rulers of Russia, an American edition of an Irish pamphlet by a priest, Denis Fahey C.S.Sp. Published in the US in 1940, Fahey attacked the Soviet Union in part because he claimed that an international cabal of Jews had dominated the Bolshevik Revolution and subsequent Communist rule there.
The pamphlets shown here represent just a few examples of the debate over anti-Semitism during this critical period. We highlight them to commemorate International Holocaust Remembrance Day.