by Rachel Bohlmann, American History Librarian and Curator
Like any person's private possessions, family papers collected in Special Collections include heartfelt expressions. This scrap of paper, from the Strunsky-Walling Collection, contains a charming and original Thanksgiving greeting, created by Rosamond Walling (1910-1999) for Rifat Tirana (1907-1952). The piece is undated but must have been drawn during or after 1932, the year they met and married. At the time Walling was a recent Swarthmore college graduate who had traveled to Geneva to work as a journalist. Tirana, an Albanian Muslim, was a young economist working for the League of Nations.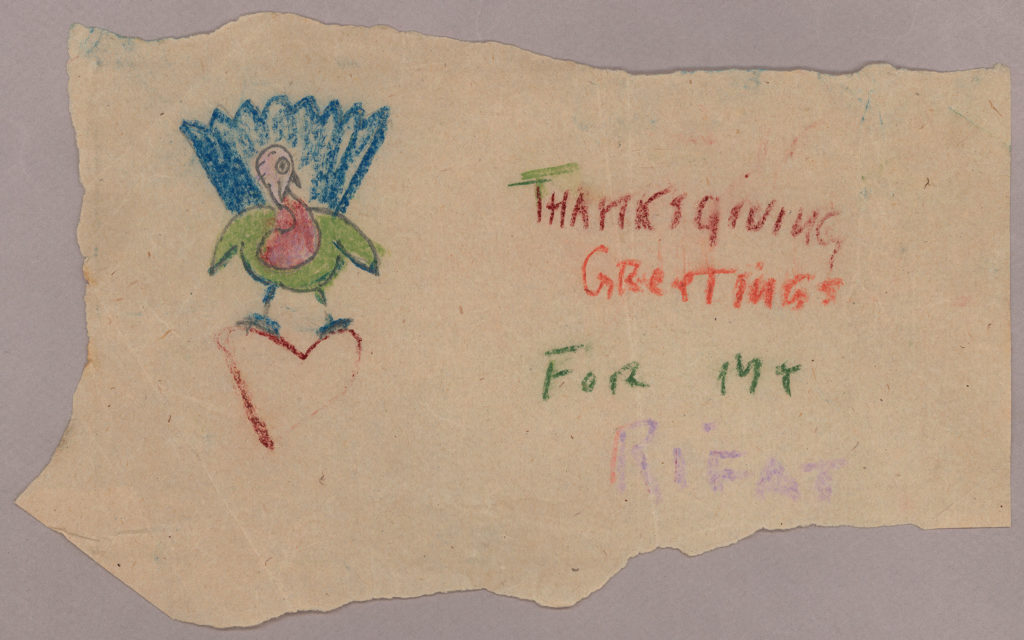 Rosamond Walling grew up in an affluent and politically ambitious family in Greenwich, Connecticut. Her parents were Anna Strunsky Walling and William English Walling. Twenty-five years earlier they had made their mark in American Socialist circles and within social reform more broadly. William English Walling reported on the Springfield, Illinois race riot, which provided the spark for the founding of the National Association for the Advancement of Colored People in 1909. Anna Strunsky Walling wrote about the Russian Revolution of 1905, advocated for socialism, and was a novelist.
The Strunsky-Walling Collection contains mostly family papers of Rosamond's parents, including more than 500 letters (between Anna and English [as Rosamond's father was known], and Anna and Rosamond, and letters from close friends), two diaries by Anna Strunsky Walling, miscellaneous manuscripts (like this drawing), printed ephemera, and photographs.
Related archival materials on these American radicals include the Anna Strunsky Walling Papers at Yale University Library; the Anna Strunsky Walling Papers in the Huntington Library; and the William English Walling Papers in the State Historical Society of Wisconsin.
Rosamond Walling Tirana and her husband eventually settled in the United States. In 1941 Rifat Tirana published (under the pseudonym, Thomas Reveille) The Spoil of Europe: The Nazi Technique in Political and Economic Conquest, an exposé based on official German government documents. After World War II he worked for the US Mutual Security Agency, a post-war initiative to assist European allies with economic recovery. The couple had three children. Rifat Tirana died in 1952, aged 44. Although Rosamond Tirana married a second time, she chose to be buried with Tirana. She died in 1999.
---
RBSC will be closed during Notre Dame's Thanksgiving Break (November 28-December 1, 2019). We wish you and yours a Happy Thanksgiving!
Thanksgiving 2015 RBSC post: Thanksgiving and football
Thanksgiving 2016 RBSC post: Thanksgiving Humor by Mark Twain
Thanksgiving 2017 RBSC post: Playing Indian, Playing White
Thanksgiving 2018 RBSC post: Thanksgiving from the Margins