This week we highlight the Hesburgh Libraries' first student-curated digital exhibition, Still History? Exploring Mediated Narratives.
Seven Notre Dame students who enrolled in the Winter Session course, "Stories of Power and Diversity: Inside Museums, Archives, and Collecting" worked together to create this unique show. The students ranged from first year to graduate students and their fields of study included history, English, anthropology, classics, art history, and liberal studies. Their show brings together seven items from three Notre Dame campus repositories – Rare Books and Special Collections, University Archives, and the Snite Museum of Art – and reflects on how they intersect with themes of diversity.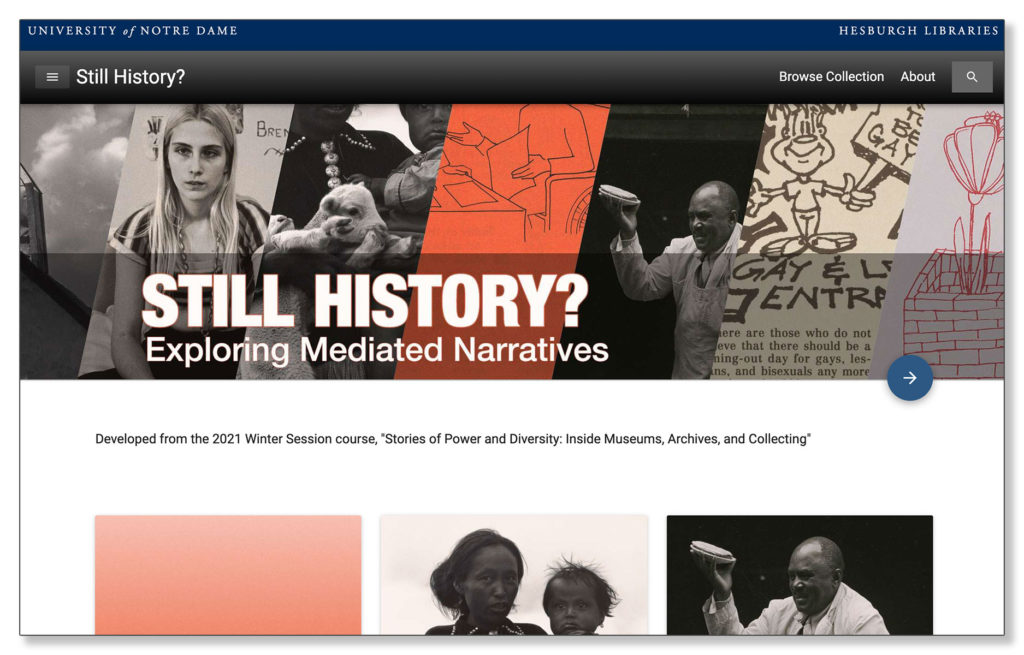 We invite you to explore Still History?'s seven showcases. Each explores a single object or set of objects. Each also includes a personal reflection statement about the student's work on this project. The show presents a variety of twentieth-century visual and textual sources, including photographs by Laura Gilpin, Aaron Siskind, Ernest Knee, and Mary Ellen Mark, a poster supporting women in prison, a pamphlet on disabilities, and articles from the Observer. Questions about representation link these disparate sources and thread the showcases together in interesting ways. The students ask how art and artifacts do and do not represent the experiences of Black, Native American, LGBTQ, mentally- and physically-disabled, incarcerated, poor, and Hispanic-American individuals and groups. An introduction and afterword by RBSC's own curators, Erika Hosselkus and Rachel Bohlmann, who taught this new course, bookend the show.
This exhibition invites viewers to connect with holdings in the University of Notre Dame's campus repositories and to ongoing campus and nationwide conversations about diversity and representation. We are pleased to share it here!