by Tracy Bergstrom, Curator, Zahm Dante and Early Italian Imprints Collection
Notre Dame's Rare Books and Special Collections holds one of the largest collections relating to the works of Dante Alighieri in print and, as such, supports research into the utilization of the Divina commedia at various times for a variety of political purposes. One of the rarities of our collection is the small, ephemeral pamphlet printed in 1575 titled Declamatione delle gentildonne di Cesena intorno alle pompe (Declamation of the Gentlewomen of the City of Cesena against Sumptuary Fines…). Eponymously written by a group of 'Gentildonne' to push back against recent strict sumptuary laws, the authors utilize quotations from Dante, Petrarch and a panoply of classical authors to argue for the necessity of ornamental clothing as it provides a means of communicating women's identity.
Mid-16th century Italy saw a flourishing of publications authored by women. The collection of lyric poetry authored by the courtesan Tullia d'Aragona, first printed in Venice in 1547, is a fine example of this phenomenon. The volume includes poems by d'Aragona herself as well as sonnets addressed to her by her male contemporaries.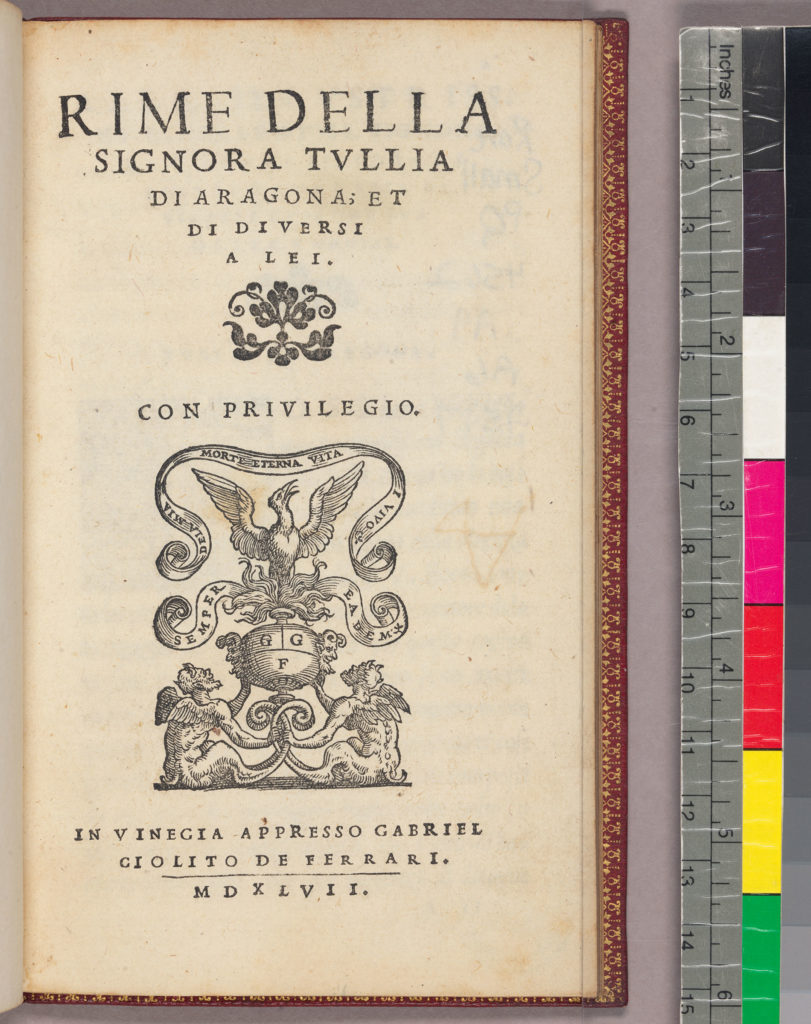 The period between 1560-1580, however, marks a time of decline in works published by women in Italy. As vernacular poetry declined in popularity and more academic discourse gained readership, this shift was not particularly conducive to women's contributions. Thus, if the Declamatione delle gentildonne… was authored by women, as the title and content suggest, it is a rare example of a female polemical prose writing. As such, it is one of many examples within Special Collections' extraordinary collection of Dante-related holdings with significant research potential for students and scholars alike.