by Alan Krieger, Theology and Philosophy Librarian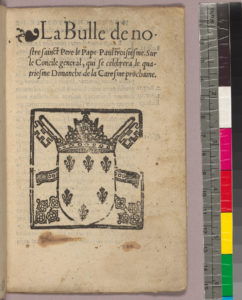 Hesburgh Libraries has recently acquired an unusual and extremely rare document in early modern church history, a French-language edition of the bull issued by Pope Paul III to convoke the Council of Trent (1545-1563), La Bulle de nostre sainct Père le Pape Paul troisiesme sur le Concile general qui se celebrera, le quatriesme dimanche de la Caresme prochaine (Lyon, 1544). The Council was originally planned to begin in November 1542, but because of the conflict between King Francis I of France and Charles V, the Holy Roman Emperor, the convocation was delayed. This Council would prove to be a pivotal event in modern church history, essentially launching the Catholic Reformation across a range of important doctrinal issues.
Paul III, whose pontificate spanned the years 1534-1549, also published Latin-language versions in Cologne, Ingolstadt, Magdeburg, Nurnberg, and Rome, while a German edition was issued in Augsburg. In this edition, the bull is preceded by a letter written by the Pope to the Archbishop of Lyon concerning the Council.
We have located only one other copy of this French version among recorded holdings worldwide, in France's Bibliotheque Nationale.