by Rachel Bohlmann, American History Librarian and Curator of North Americana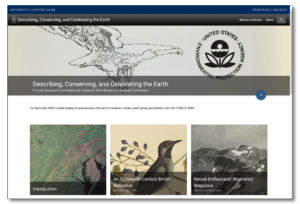 In celebration of the 50th anniversary of Earth Day—April 22, 2020—Rare Books and Special Collections offers an online exhibition, Describing, Conserving, and Celebrating the Earth: Primary Sources from Hesburgh Libraries. It displays sources about the earth in science, culture, public policy, and politics, from the 1750s to 2004. In keeping with the American origins of Earth Day in 1970 and the EPA, these sources are primarily from an American context.
Each section holds a primary source or group of sources that reflect different periods, kinds of materials (books, illustrations, posters, reports, etc.), and approaches to studying, appreciating, and preserving the earth. The library's Rare Books and Special Collections resources are where some of these items come from; others are government documents that are available in the open stacks of Hesburgh Library (when the library's print collection reopens).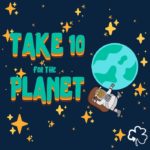 We hope that this online resource will help faculty and students to Take 10 for the Planet this week.
A mid-eighteenth-century British naturalist's illustrated description of wildlife and plant life in the American colonies.
The first issue of the Sierra Club Bulletin, a nature enthusiast's magazine focused on the western United States.
A late nineteenth-century botanist's findings, published in an early scientific journal.
A World War II poster by the United States Forest Service, urging people to preserve forests.
A mid-century warning about human damage to wildlife in the United States.
Examples of federal conservation before the advent of the Environmental Protection Agency (EPA): a conference report on pollution in the Lake Michigan watershed, and an international commission's findings about pollution levels in boundary waters between Canada and the US.
A compilation of environment-inspired poems, published a few years after the first Earth Day.
An Earth Day-inspired speech by actor and environmentalist Eddie Albert.
Two EPA publications: an early catalog of agency-sponsored training programs for professionals responsible for pollution control, and a 2004 brochure about the conservation of the Chesapeake Bay.