by Julie Tanaka, Curator of Special Collections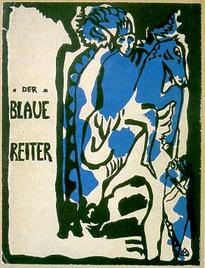 In 1911, a new group of artists who called themselves Der Blaue Reiter organized its own exhibition and published an almanac also named Der Blaue Reiter. Edited by Wassily Kandinsky and Franz Marc and published by Reinhard Piper in Munich, this volume contains a wide range of contributions including theoretical treatises on artistic form, vocal scores, children's drawings, and illustrations of sculpture.
The formation of this group stemmed from an event involving Kandinsky. Wassily Kandinsky (1866-1944), the Moscow native who was among the pioneers of abstract art, composed ten works between 1910 and 1939 that he considered to be his most important paintings. These ten paintings constitute his Compositions of which seven survive; the first three were destroyed during the Second World War. The artist's guiding principle for each of these works was what he called the "expression of feeling" or "inner necessity," a combination of "perceptions that arise from the artist's inner world [and] . . . the impressions the artist receives from external appearances." (1) In these paintings, Kandinsky explored the manipulation of color and form, emphasizing the artist's process of creation and "pure" painting.
During the process of creating Compositions, Kandinsky submitted Composition V (1911) to the Neue Künstlervereinigung (NKV) to be considered for inclusion in the NKV's third exhibition in 1911. The NKV jury rejected his work on the grounds that it was too large though the rejection probably represented the opinions of a faction within this group who opposed Kandinsky's experimentation to represent spiritual values in a new way. (2) Upon his work being rejected, Kandinsky along with Franz Marc and Gabriele Münter left the NKV. Joined by others including Paul Klee, August Macke, and Marianne von Werefkin who also rejected the NKV's traditionalism, these artists founded Der Blaue Reiter (The Blue Rider).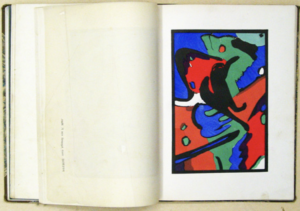 Special Collections' copy of the 1912 printing of Der Blaue Reiter is one among a few works acquired related to German Expressionism. These acquisitions were made in collaboration with faculty in the German Department to support the undergraduate courses they teach. Notable among these works are:
Notes:
(1) Magdalena Dabrowski. Kandinsky Compositions (New York: Museum of Modern Art, 1995), p. 11. Accessed April 12, 2020, https://hdl.handle.net/2027/mdp.39015034282809 (\Access provided through HathiTrust Emergency Temporary Access Service).
(2) Shearer West, The Visual Arts in Germany, 1890-1937: Utopia and Despair (New Brunswick, N.J.: Rutgers University Press, 2001), p. 65.