by Aedín Ní Bhróithe Clements, Irish Studies Librarian
While the Irish Studies collection in the Hesburgh Libraries has grown considerably in recent decades, one of the enduring treasures, and the collection most often inquired about, is the O'Neill Collection. This is the personal library of Francis O'Neill, the famous collector of Irish music who was once Chicago's Chief of Police.
Francis O'Neill (1848-1936) left Ireland in his teens, travelled the world as a sailor, settled in America and after first qualifying as a teacher in Missouri, moved to Chicago where he joined the police force in 1873. By all accounts a larger-than-life figure, he was well-known both as a police officer and as one of the major experts on Irish traditional music.
In A Harvest Saved: Francis O'Neill and Irish Music in Chicago, Nicholas Carolan tells us how O'Neill's music collecting began.
Sometime in the later 1880s… Francis O'Neill began to realize that there was yet much Irish traditional music to be collected and preserved that had escaped earlier collectors. He recruited James O'Neill to the project of collection and started to visit him regularly … so that the tunes remembered from Francis' childhood in Cork could be noted down from his dictation in a private manuscript collection… [i]
As months and years passed and word of their enterprise spread others contributed tunes to the collection and James O'Neill began visiting musicians in their homes to note their music.
Carolan, 11
Nicholas Carolan goes on to describe how O'Neill's project developed, his publication of O'Neill's Music of Ireland (1903) and his other books, and of the enduring legacy of these books.
For generations of musicians who play Irish traditional music, O'Neill's books are perceived as essential. Carolan aptly named his book 'A Harvest Saved' as O'Neill collected at a time and place where people had left the communities in which the music had thrived. The 75,000 Irish immigrants in Chicago carried with them the music of many parts of Ireland, and O'Neill was able to tap into the rich repository of their tunes and record them for posterity.
O'Neill was following in the footsteps of important collectors such as Edward Bunting and George Petrie, many of whose books are in O'Neill's collection and bear pencilled annotations indicating his careful study of the contents.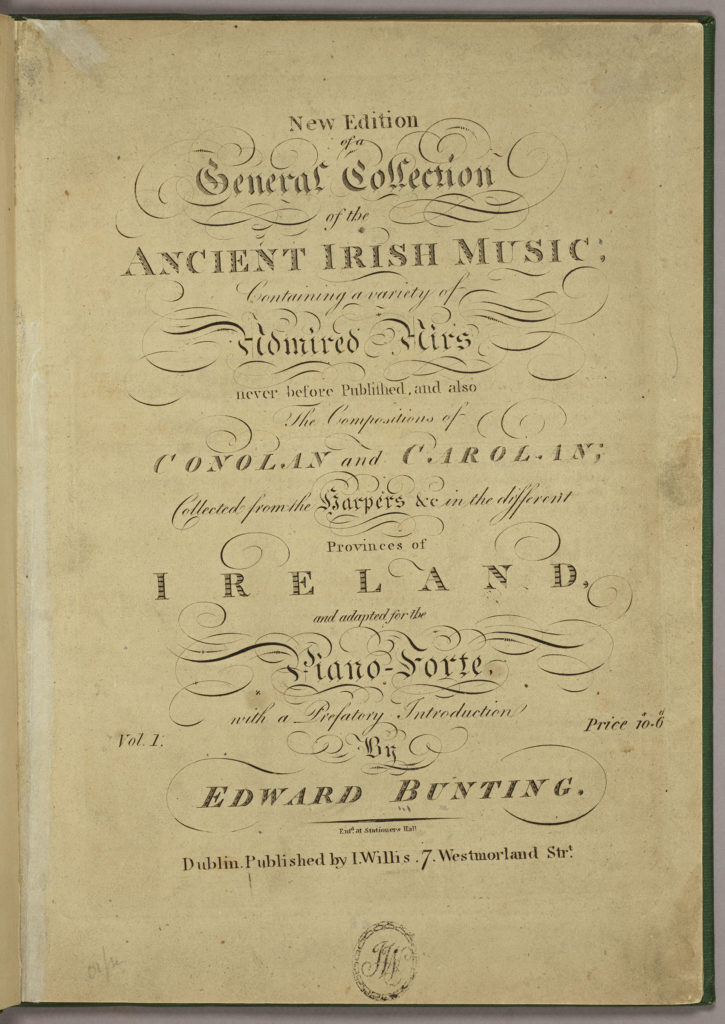 This book is one of the most important works in the history of Irish music collecting. Edward Bunting began his life-long interest in the collection of Irish harp-music in 1792. He notated the music of performers at the Belfast Harp Festival that year, and this inspired him to continue for many years in his collection and study of Irish harp music.
This Dublin edition in O'Neill's possession was printed some years after the first edition of 1797 which was published in London. For more information on the publication, see 'Edward Bunting's First Published Collection of Irish Music, 1797' on the ITMA website.
The O'Neill Collection includes also Bunting's two later collections, published in 1809 and 1840. O'Neill's pencilled notes can be seen in the margins of these books.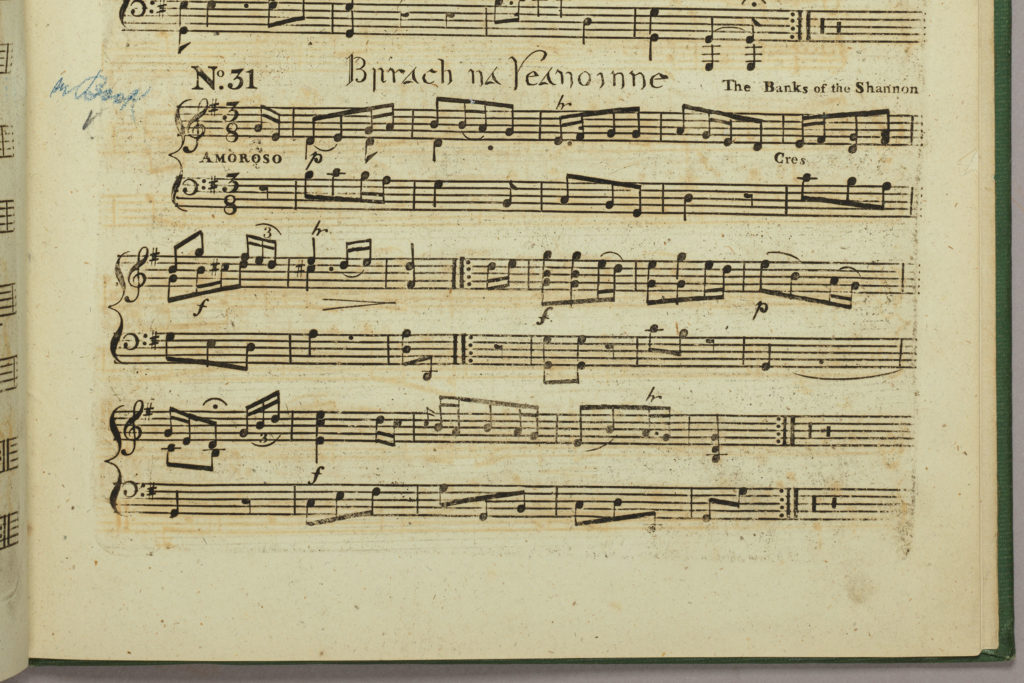 The O'Neill Collection includes important works from Scotland including Orpheus Caledonius by William Thompson, one of the earliest published collections of Scottish songs. First published in two volumes in 1725, our O'Neill copy is volume I only of the 1733 edition. This copy has pencil annotations either by O'Neill or by an earlier reader. It also includes a subscribers list, which is not included in the facsimile edition published in 1962.
When Chief O'Neill offered his library to the University in 1931, he described it as having a 'Hiberniana' collection and a music collection. In each case, his library was exceptional. Our O'Neill Collection includes a valuable selection of books on Irish history and antiquities, and in the music section, a collection of many well-known collections of Irish music, along with lesser-known books of dance music, and books on the music and instruments of Ireland, England and Scotland in particular.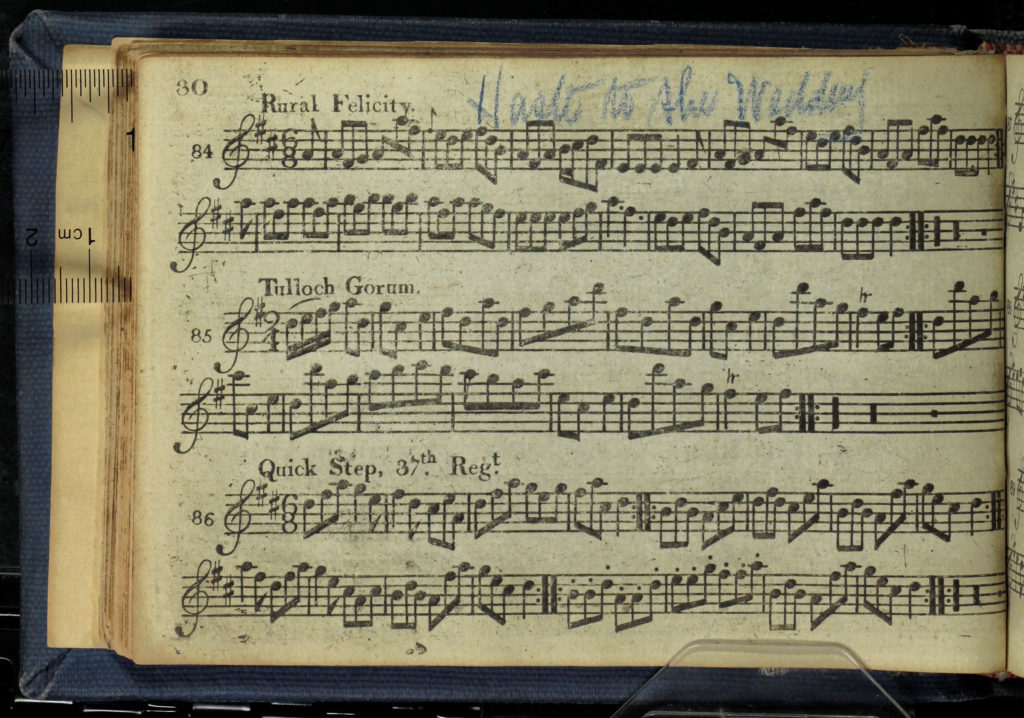 Hoping to bring the O'Neill Collection to enthusiasts who cannot visit the Hesburgh, we selected thirty of the rarest books from the collection for digitization. We plan to share these digital collections in a number of ways — the Internet Archive being one — making it possible to study the books anywhere in the world.
The books currently digitized on the Internet Archive, found within the University of Notre Dame Hesburgh Libraries Collection, are as follows:
Alexander's Select Beauties for the Flute. 3rd ed. London: Alexander. Rare Books Large M60 .A4
The Ancient Music of Ireland, Arranged for the Piano Forte; To Which is Prefixed a Dissertation on the Irish Harp and Harpers, Including an Account of the Old Melodies of Ireland. Edward Bunting. Dublin: Hodges and Smith, 1840. Rare Books Large M 1744 .B868 G4 1840
Calliope, or, The Musical Miscellany: A Select Collection of the Most Approved English, Scots & Irish Songs Set to Music. London: C. Elliot, 1788. Rare Books Medium M 1738 .C3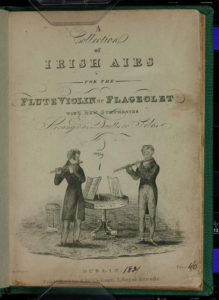 A Collection of Irish Airs for the Flute, Violin or Flageolet, with New Symphonies, Arranged as Duetts or Solos. Dublin: McCullagh, c.1820. Rare Books Small M1 .C6
A Companion to the Ball Room, Containing a Choice Collection of the Most Original and Admired Country Dances, Reels, Hornpipes, Waltzes, and Quadrills… The Etiquette; And a Dissertation on the State of the Ball Room. London: D. Mackay, [1816]. Rare Books Small GV 1751 .B4 C6 1816.
The Edinburgh Musical Miscellany: A Collection of the Most Approved Scotch, English, and Irish Songs, Set to Music. David Sime. Edinburgh: Printed for W. Gordon… et al., 1792. Volume I. Rare Books Small M 1738 .S5 E3 1792
• Volume II has also been digitized and will be available soon.
Hail to the Shamrock. From the Songs of the Emerald Isle. This music collection lacks a title page. The title is assumed to be the title of the first page of music. Bound within the same volume: My Duet Book, nos. 1-3, June to August 1843; The Piano-Bijou, nos. 1-5, April to August 1843; National Melodist, no. 1; Musical Cabinet. Rare Books Small M1 .H3
A General Collection of the Ancient Music of Ireland: Arranged for the Piano Forte; some of the Most Admired Melodies are Adapted for the Voice, to Poetry Chiefly Translated from the Original Irish Songs. Edward Bunting. London: Clementi, 1809. Rare Books XLarge M 1744 .B868 G4 1809
The Irish Song Book, with Original Irish Airs. Edited, with an introduction and notes by Alfred Perceval Graves. 2nd ed. London: T. Fisher Unwin, 1895. Rare Books Small M 1744 .G783 I7 1895
Musicians Omnibus Complete: Contains 1500 Pieces of Music for the Violin. Boston: Elias Howe. Rare Books Medium M 40 MB
Orpheus Caledonius, or, a Collection of Scots Songs Set to Musick. William Thompson. London: Printed for the Author, 1733. Rare Books Medium M 1746 .T5 O7 1733
The Petrie Collection of the Ancient Music of Ireland, Arranged for the Piano-Forte. Edited by George Petrie. Society for the Preservation and Publication of the Melodies of Ireland, 1855. Volume I. Rare Books XLarge M 1744 .P448 1855
Repository of Scots & Irish Airs Strathspeys, Reels &c. Vols. I [& II]. Two volumes bound together; the second volume lacks title information. Glasgow: McGoun, c. 1796. Rare Books Small M1 .R4
The Royalty Songster: And, Convivial Companion; A Collection of All the Most Esteemed English, Scotch and Irish Songs, &c. Sung with the Highest Applause at the Royalty Theatre, and Every Other Place of Public Entertainment. By Mr. Bannister … et al. To Which is Added, A Collection of Toasts and Sentiments, Hippesley's Drunken-Man and Other Comic Pieces. London: Cleugh, Stalker, 1788. Rare Books Small M 1738
A Selection of Scotch, English, Irish & Foreign Airs, Properly Adapted for the German Flute, Violin or Fife. 2 volumes bound together. This lacks a title page or publication information.
Rare Books Small M5 .S4
[i] The Hesburgh Library's O'Neill Collection has only two music manuscripts. It would be wonderful if O'Neill's own manuscripts were still in existence and could be found.