We join the Library of Congress and the National Endowment for the Humanities, National Gallery of Art, National Park Service, Smithsonian Institution, United States Holocaust Memorial Museum and U.S. National Archives and Records Administration in celebrating National Hispanic Heritage Month.

Sergio Sánchez Santamaría
by Erika Hosselkus, Curator, Latin American Collections
Sergio Sánchez Santamaría is a printmaker, illustrator, and muralist who was born in Tlayacapan, Morelos, Mexico. Also trained in Mexico, Sánchez Santamaría has exhibited his work throughout Latin America and Europe, in the United States, and in Japan and China.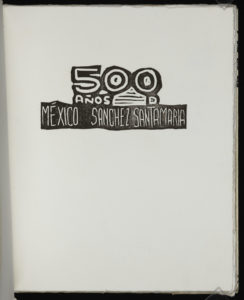 Among Sánchez Santamaría's collections of linocut prints is a small volume called 500 años, México, printed at the San Jerónimo workshop in Tlayacapan. The 14 impressions comprising this piece offer a visual history of Mexico, from the age of the Mexica (Aztecs) to the late twentieth century. A jaguar and feathered serpent are among the engravings representing the nation's indigenous past. Also portrayed are major figures historical figures such as national hero and president, Benito Juárez (in office 1858-1872), and the best-known female intellectual of the colonial era, Sor Juana Inés de la Cruz.
Rare Books and Special Collections holds the second of the six copies of 500 años, México produced by Sánchez Santamaría. Depicted here are two images from this copy.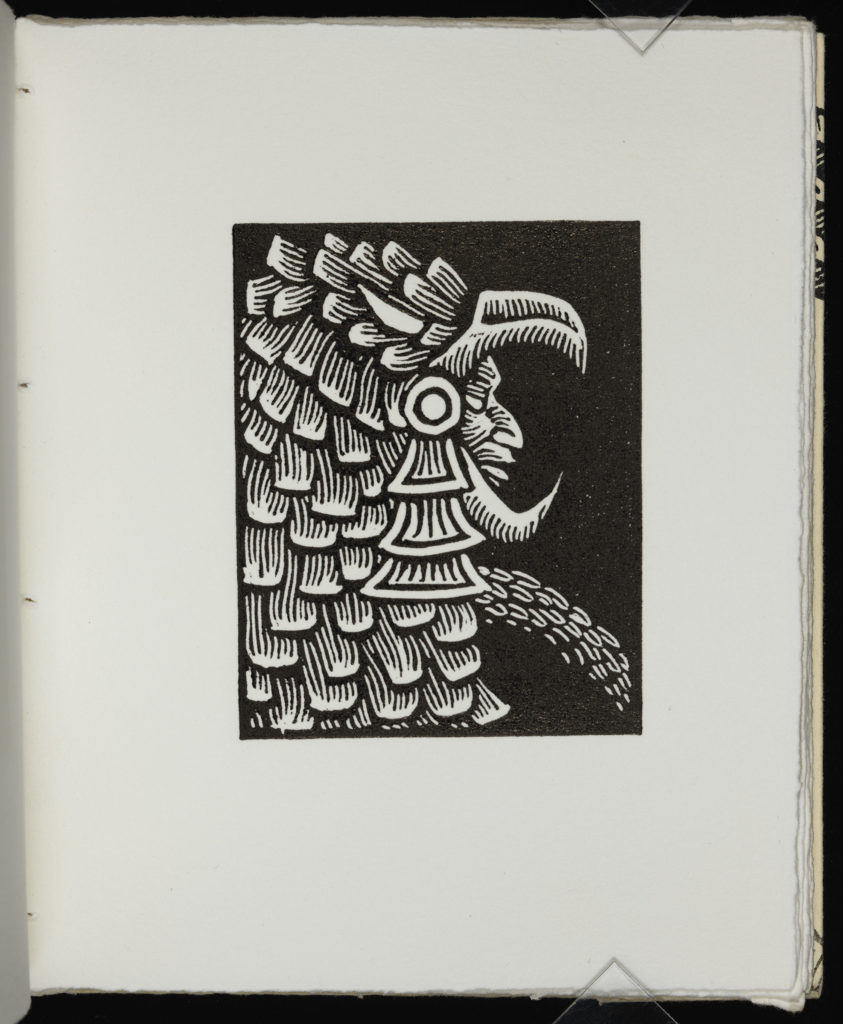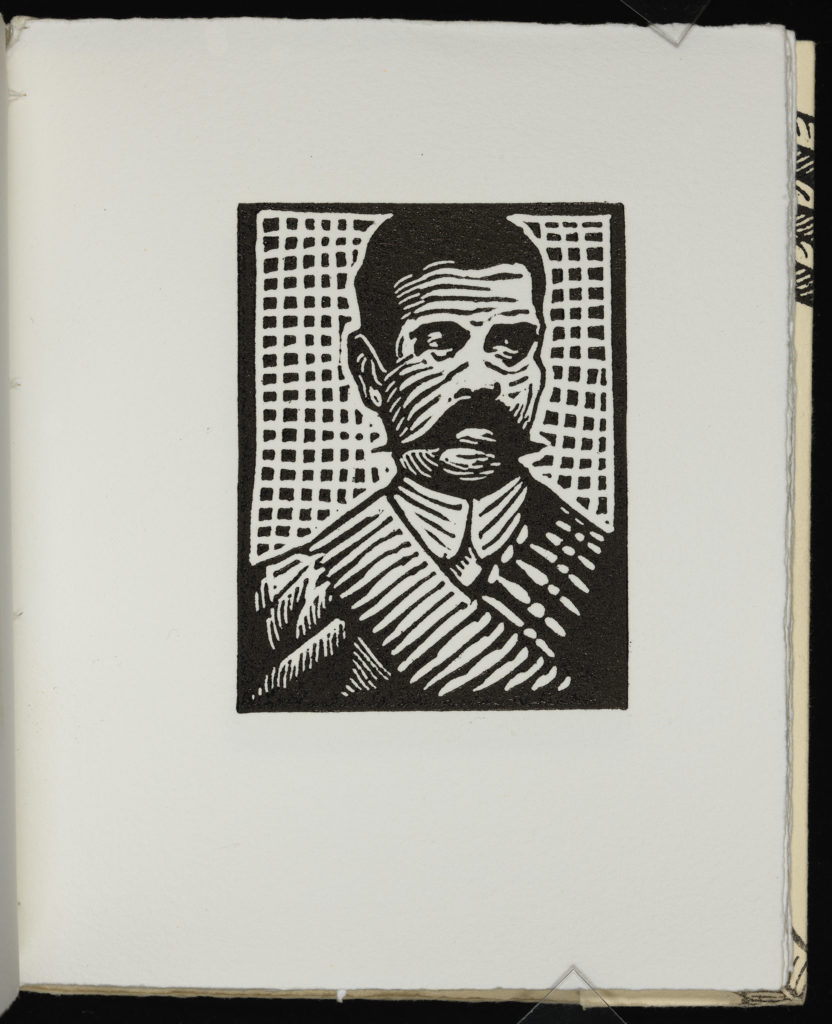 Both prints illustrate the deep relief and heavy ink on cartridge paper characteristic of Sánchez Santamaría's work. The style and the subject matter of his work tie him to the Taller de Gráfica Popular, a well-known artists' print collective formed in 1937 that produced artwork designed to promote and advance the causes of the Mexican Revolution.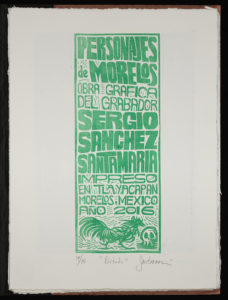 Sánchez Santamaría's work often treats topics in Mexican history and popular culture. In 2016 he released a series of linocuts entitled Personajes de Morelos depicting figures central to the history of his home state. This collection was also printed in Tlayacapan. Rare Books and Special Collections holds copy fourteen of this collection, along with an actual linocut created by Sánchez Santamaría, shown below.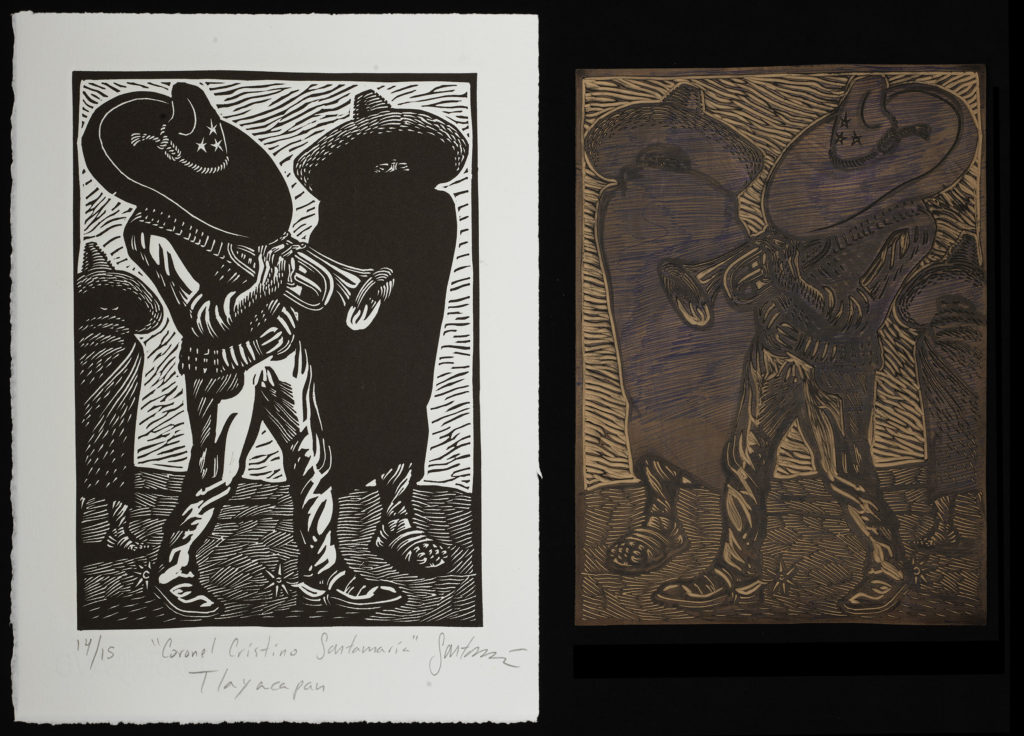 This image and linocut – number fourteen within this collection – depicts Zapatista colonel, Cristino Santamaría. According to Sánchez Santamaría, Cristino Santamaría, a musician and leader of the Banda Brigido Santamaría, fought alongside Emiliano Zapata during the Mexican Revolution. Santamaría's face is obscured by his oversize sombrero, from under which his trumpet emerges. He is flanked by two figures wrapped tightly in traditional serapes. The print's heavy lines contrast boldly with the white cartridge paper background.
Close examination of the linocut reveals something of Sánchez Santamaría's technique. Cuts are of varying depth, to achieve different sorts of impressions. Outlines of the figures and blue pen shading can also be discerned.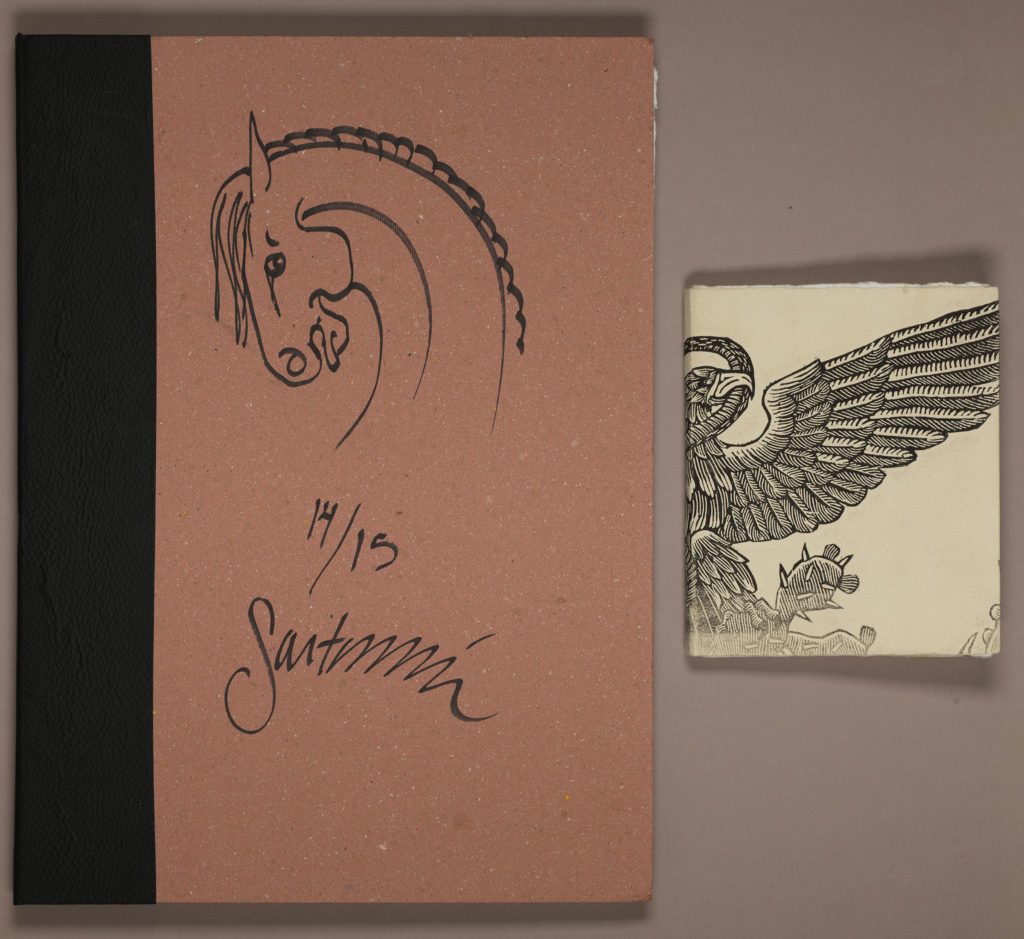 Along with these two collections, Rare Books and Special Collections holds copies of: "Los chinelos," a series of 11 linocuts featuring "chinelos," the masked, bearded figures that feature prominently in festivals in Morelos, especially Carnival; Cuaresma en la region Cuautla Morelos, a collection of Easter-related prints, and; Kamasutra de exlibris mexicanos.
---
This work is licensed under a Creative Commons Attribution 4.0 International License.