by Alan Krieger, Theology and Philosophy Librarian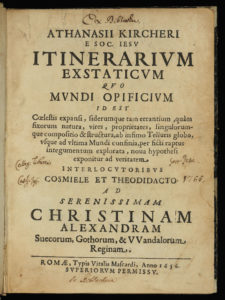 Hesburgh Libraries have just acquired the first edition of an important work on astronomy by the early modern Jesuit polymath, Athanasius Kircher (1602-1680), entitled Itinerarium exstaticum quo mundi opificium (Rome, 1656). The work generally defends the theories of Tycho Brahe, who combined elements of both the Ptolemaic and Copernican views of our solar system. Although the Jesuits had officially adopted Brahe's cosmology by this time, the work apparently ran afoul of sixty-five theses listed in their own Ordinatio pro studiis superioribus, issued in 1651.
These difficulties led to a second edition being published in 1660 (Iter extaticum coeleste). This revision accomplished by Kircher's friend, Gaspar Schott, contained twenty-seven pages of apologetics. Our Medieval Institute Library holds a 2004 facsimile of the Iter, so that now—with both editions available here at Notre Dame—scholarly comparisons of both works are possible.
---
This work is licensed under a Creative Commons Attribution 4.0 International License.