by Hye-jin Juhn, East Asian Studies and Metadata Librarian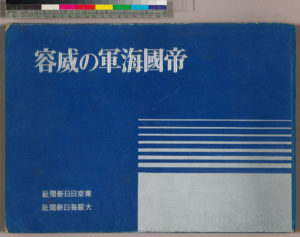 The book, The Dignified Appearance of the Imperial Navy (帝国海軍の威容), published on December 8, 1942, provides an insight into the Japanese WWII military point of view.
The first chapter, the "Basics" or the "Foundations" (基礎篇), describes in detail how, in 1941, the Japanese Navy prepared its preemptive strikes against the United States and the Pacific colonies of the former British Empire.
On the chapter title page is the seamen's weekly schedule. "Training" is planned for every day of the week; There is neither Saturday nor Sunday, but two Mondays and two Fridays.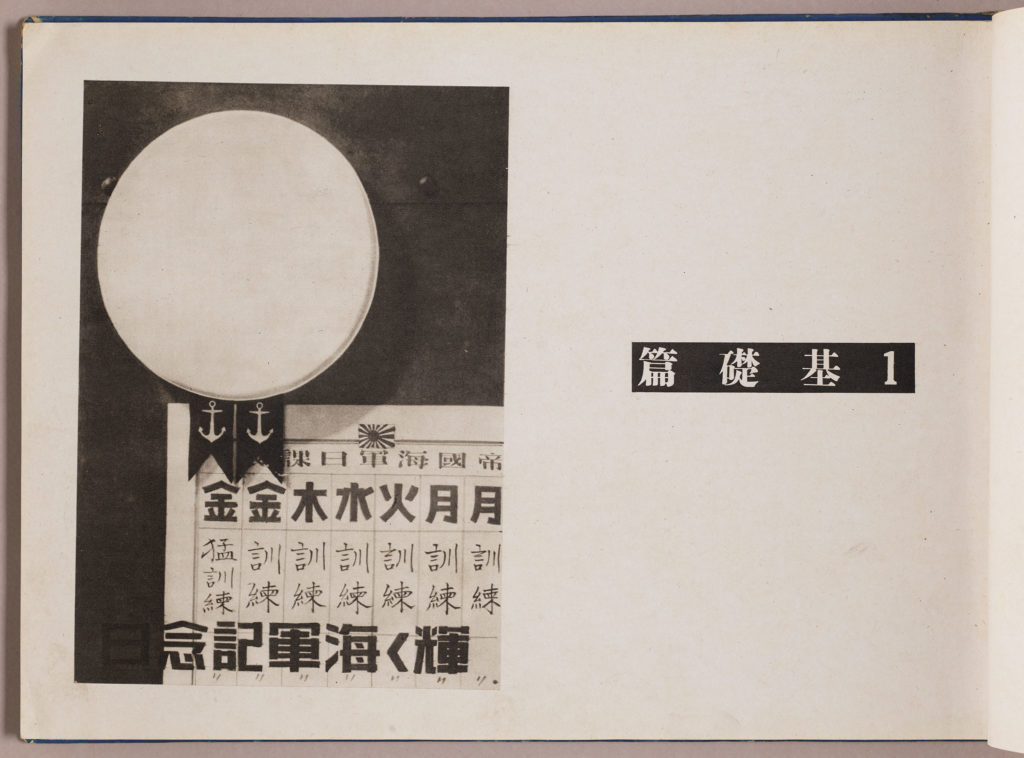 Monday: training (訓練)
Monday: training (訓練)
Tuesday: training (訓練)
Wednesday: training (訓練)
Thursday: training (訓練)
Friday: training (訓練)
Friday: intensive training (猛訓練)
The photos in this chapter show the sailors performing daily military tasks, exercising, dining, etc. They also highlight the battleships, military planes, and weapons.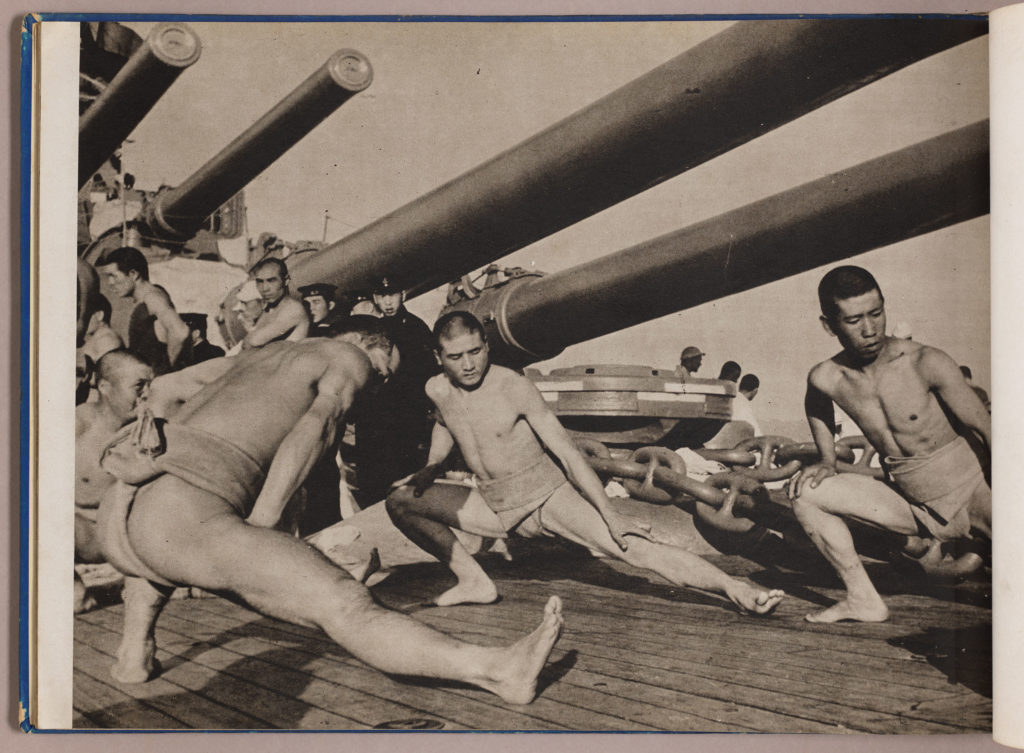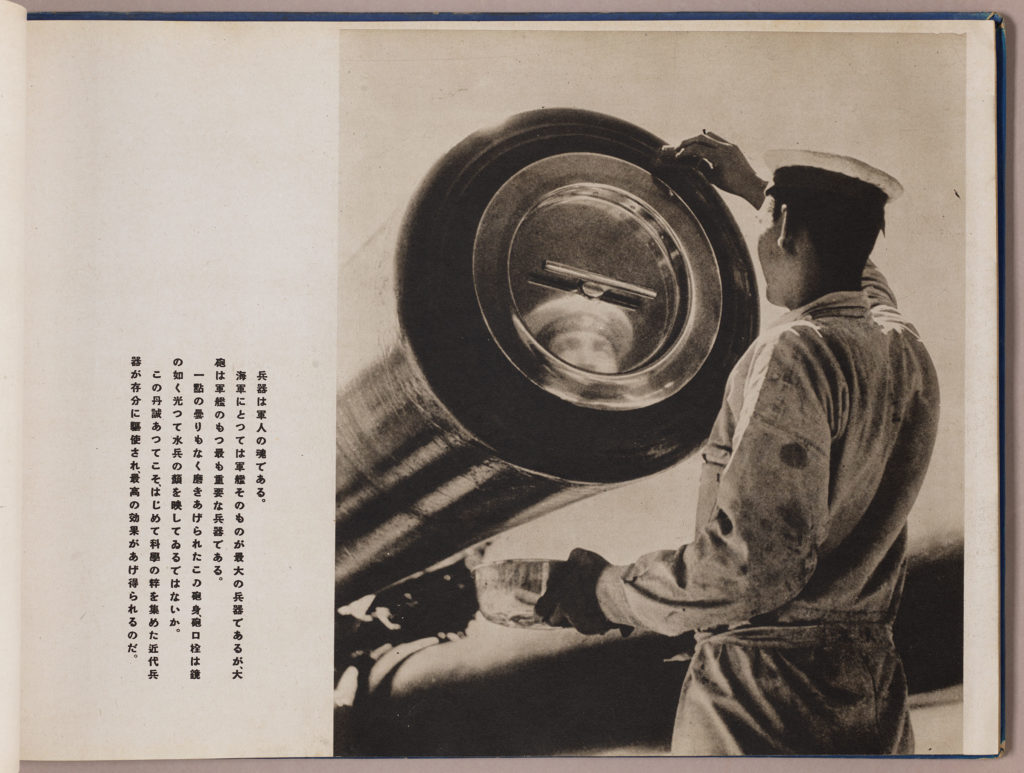 The second chapter, the "Outcome of the War" (戦果篇), presents a panorama of images of Hawaii, Malaya, New Guinea, and other targets in Southeast Asia, shortly after bombing by the Japanese planes. The photos were not intended to be realistic or artistic. Nor do they appear to attempt to "entertain" or "thrill" their audience, as today's "war pornography" does. Seen from the distant sky, the smoke shrouds the ongoing destruction below.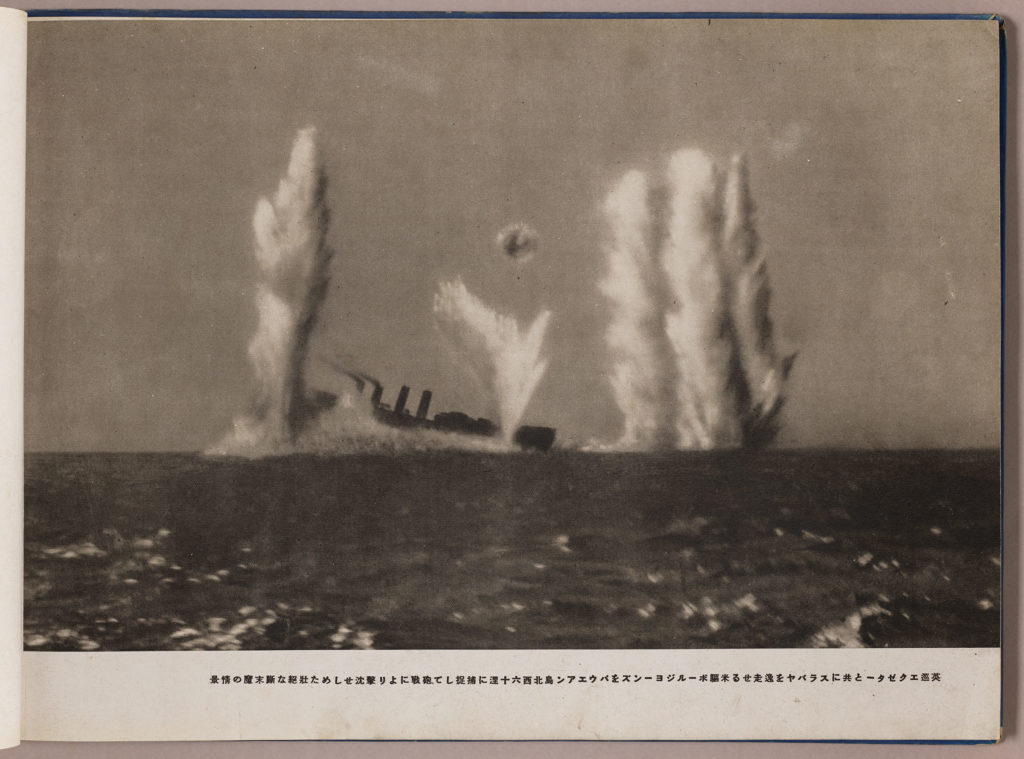 For the Japanese at the time, these images likely evoked a sense of pride and superiority, and promoted a worship of the Navy, its weapons and machines, and especially of the provider of those weapons: the emperor. These images were meant to "promote unity, suppress individuality, defend hierarchy, and still dissent." (See "Revolution by Redefinition: Japan's War without Pictures," by Julia Adeney Thomas, in Visualizing Fascism.)
In the preface, there are various references to "sound":
"Breaking the thirty-years' silence, early in the morning of the eighth day, the Japanese Imperial Navy briskly woke up and raided Pearl Harbor of Hawaii…"
卅年の沈黙を破つて蹶然と起きった帝国海軍は,開戦劈頭の八日朝,ハワイ眞珠灣を急襲し…
"The spirits of the Japanese Imperial Navy, reinforced by iron-like silence and bloody training, were released, and finally shed a brilliant light above the world."
鐵の沈黙と血の訓練とによって倍はれに帝国海軍魂喀,遂にその燦然たる光を全世界に放つたのである.
"The photos included in this book respond to the emotional cheers (voices) of 100 million Japanese citizens."
本帖に収録した寫眞は,…一億国民の感激の聲に答へんとするものである.