by Rachel Bohlmann, American History Librarian and Erika Hosselkus, Curator, Latin American Collections
Next week the university will confer the 2018 Rev. Paul J. Foik Award posthumously on David Dressing, who was Hesburgh Library's Latin American Studies Librarian from 2011 through 2017. We'd like to mark the occasion by highlighting a remarkable collection David purchased jointly with the American History Librarian for Rare Books and Special Collections (RBSC). It is an assemblage of pen and ink caricature drawings and watercolor paintings that show scenes captured by travelers to Latin America and the United States during the middle decades of the nineteenth century.
John Bateman (b. 1839) was a young Englishman from a wealthy, landowning family in Staffordshire when he traveled to the United States and Latin America around 1860. He created a series of drawings in ink of scenes he observed along the way, to which he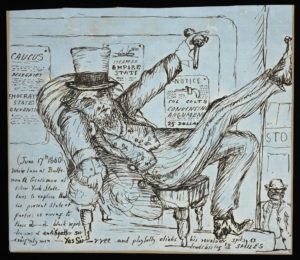 added wry descriptions. An example, shown here, from June 1860, depicts Bateman's version of a vulgar American—a gun-toting, spitting, overly-familiar buffoon who complained about the new Republican Party's opposition to slavery's extension in the west. The young traveler created a funny and alarming image of American political affairs a few months before Lincoln's election in 1860 and the start of southern secession. Bateman made caricatures like this one as he traveled through Central America and the Caribbean.
Even more intriguing, however, is the fact that Bateman's collection includes a second group of visual works: a handful of watercolor paintings signed simply, "G.U.S." They date from between 1838 and 1840 and depict Central and South American people and scenes.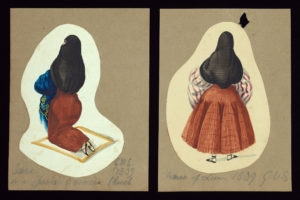 Highlighted here are three vivid paintings of veiled women of Lima, Peru. One is depicted kneeling in church, another is shown from the back, and the third is in the typical tapada pose, her head veiled,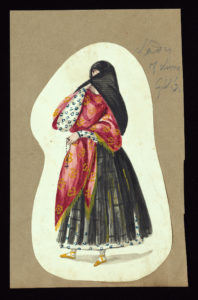 mysteriously and coquettishly revealing a single eye. Each wears the traditional saya, an overskirt showing the feet and ankles, and manto, a thick veil secured at the waist and raised to cover the face. The latter was popularly used, even among married women of Lima, as a prop with which to flirt.
G.U.S.'s paintings are reminiscent of those by the famous mulato painter of Lima, Pancho Fierro. Albums of Fierro's drawings were marketed to tourists in Lima from the 1840s to the 1860s, so G.U.S. could have known Fierro's work and incorporated it into his own pieces.
The presence of G.U.S.'s paintings in the Bateman collection raises intriguing connections for further study of related items held in Special Collections. We hold a copy of the French painter, A. A. Bonnaffé's "Recuerdos de Lima" album (1856), which he sold to tourists and which features the tapada of Lima. More elaborate and detailed than the small depictions by G.U.S., these wonderful images highlight even more flirtatious poses, including a woman (shown here) who intentionally drew the viewer's attention to her exposed and slender ankle.
The Bateman collection and Bonnaffé album are just two examples of David Dressing's thoughtful and expert acquisitions for RBSC over nearly a decade. His work has made an enduring contribution to research, teaching, and scholarship at Hesburgh Libraries and the field of Latin American Studies.