We added an attractive and interesting book to our collection on Irish Theatre, The Private Theatre of Kilkenny, with Introductory Observations on Other Private Theatres in Ireland, before it was opened. Privately printed in Kilkenny in 1825, the book covers the history of this theatre from its formation in 1802 until it ended in 1819.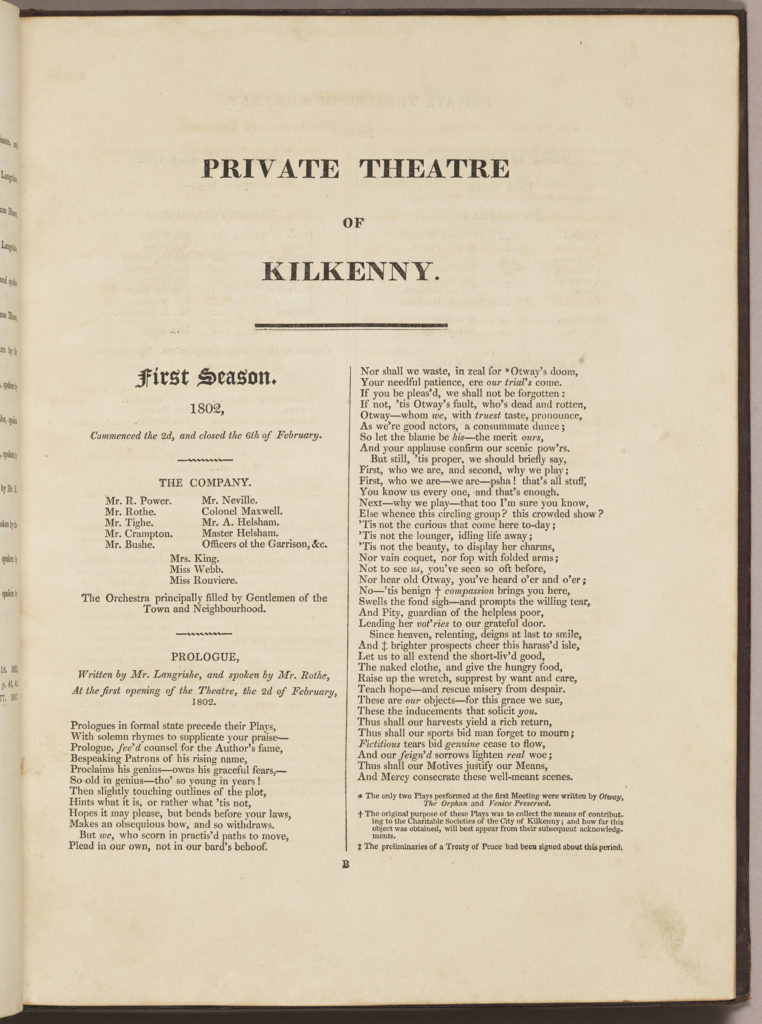 Kilkenny, the home of an annual international arts festival, has a long history as a cultural city. Ask About Ireland, the Irish libraries and museums' website of cultural and historical information for Irish students, features a page on Kilkenny Theatre, describing this Private Theatre as follows:
During the late 1700s, it became very fashionable for wealthy people to have private theatricals or plays performed at their houses. The popularity of this led to the formation of amateur acting companies, such as the one formed by Sir Richard Power in Kilfane. This company became so successful that it opened a public theatre in Kilkenny in 1802 called The Athenaeum. Most of its profits were donated to charitable organizations in the area.

Kilkenny Theatre: Glitz and Glamour, Learning Zone: Primary Students, AskAboutIreland.ie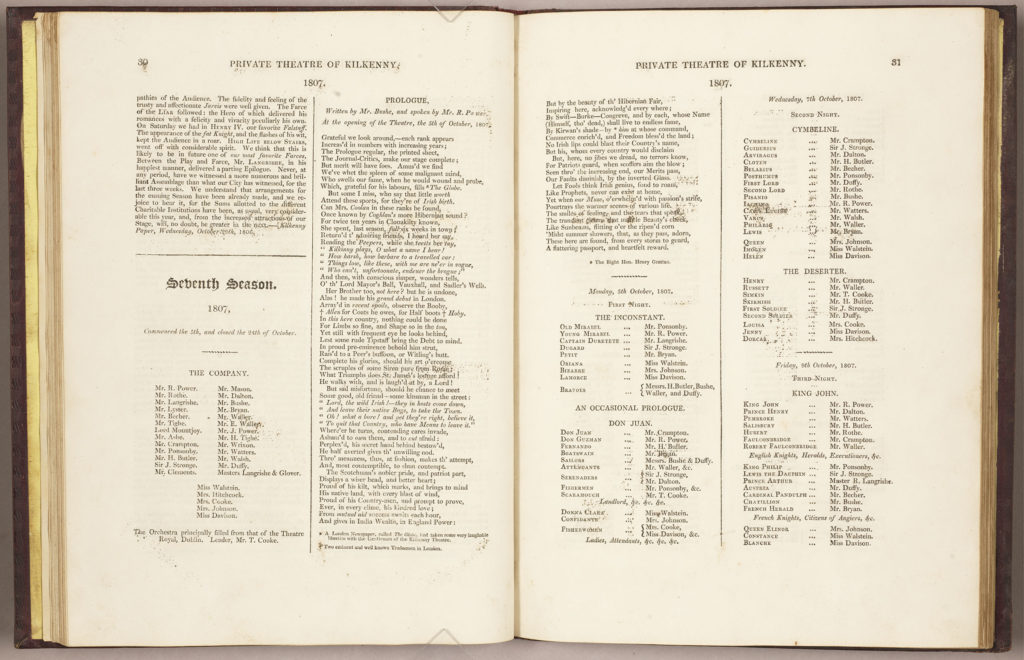 The introduction discusses the history of theatrical activities in the area prior to the formation of the Theatre, during the years when plays were performed in the country homes of various landed families: "…about the end of the year 1774, a taste for Dramatic amusements was very prevalent in the County of Kilkenny. Plays were got up at Knocktopher, Farmley, and Kilfane, the Seats of the late Sir Hercules Langrishe, Mr. Henry Flood, of Parliamentary celebrity, and Mr. Gervais Parker Bushe … Mr. Henry Grattan … was a member of the Theatrical Society, which passed from one elegant and hospitable Mansion to another, for the purpose of enjoying their classic recreations: a little strolling community, of no mean talents, or ordinary pretentions."
Each chapter provides the programs for the season, and also the text of the prologue and other commentary, for example an account of reviews or of visitors. The prologue shown above takes aim at critics of the theatre, including, apparently, The Globe of London:
But merit will have foes. Amus'd we find
We've whet the spleen of some malignant mind,
Who swells ouf fame, when he would wound and probe
Which, grateful for his labours, fill *The Globe.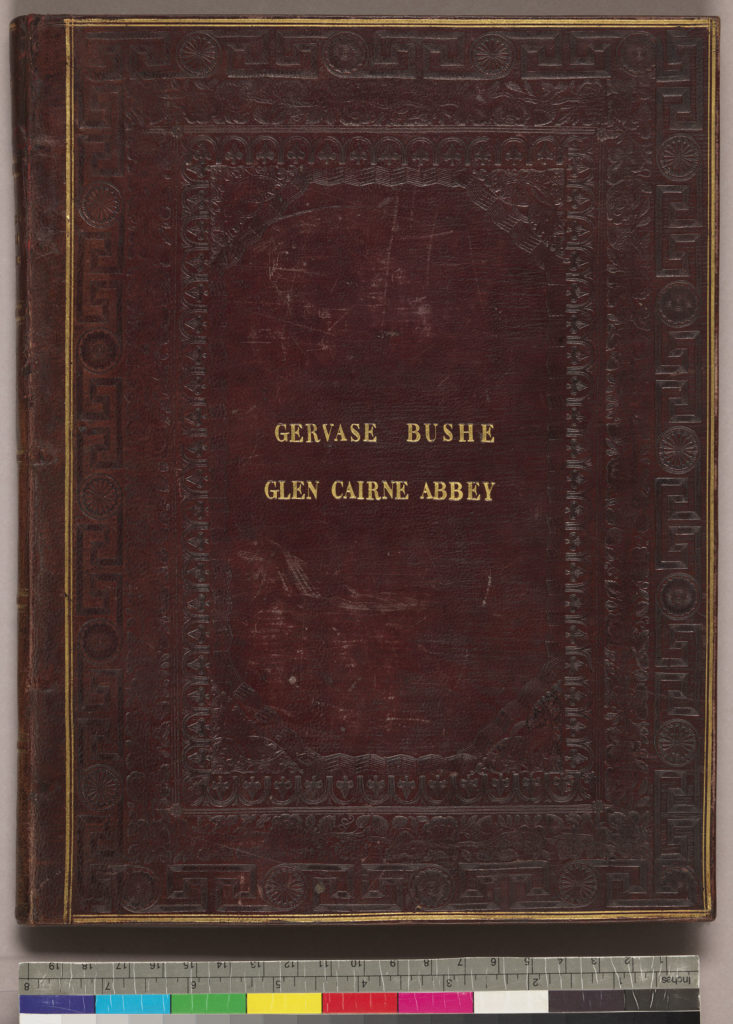 Our copy is elegantly bound, and is a great example of the craft of an Irish bookbinder. The bookseller describes it thus:
Contemporary full burgundy morocco. Covers with double gilt frame, blind stamped Greek-key and acanthus rolls, 'Gervase Bushe / Glencairne Abbey' in gilt on upper cover. Spine divided into six panels by five raised bands, title in gilt direct in the second, the remainder tooled with a gilt floral device. Armorial bookplate of Benjamin John Plunket on front pastedown.
This book is from the library of Benjamin John Plunket, and bears his bookplate. The Hesburgh Libraries acquired it this year by purchase from Irish bookseller, Éamonn de Búrca.