by Julie Tanaka, Curator of Special Collections
Contextualizing the turbulent landscape that beset France during the Revolution of 1789 is this set of nine texts spanning the years 1783 to 1785 . In 1783, the French gastronome, Alexandre-Balthazar-Laurent Grimod de la Reynière, hosted a fourteen-course feast, each course comprised of five dishes, for seventeen guests. A few days later, his Philosophical Reflexions on Le Plaisir; by a Bachelor went on sale to great acclaim. It went through three editions, launching the career of the first gastronomical critic.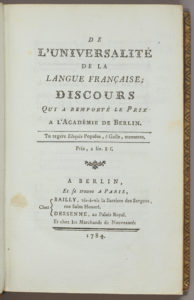 This collection also features works of the well-known authors, Voltaire and Mirabeau (their Les Soirées Philosophiques du Cuisinier de Roi de Prusse (1785) and Sur Les Actions de la Compagnie des Eaux de Paris (1785) respectively), Antoine de Rivarol's De the universality of the French language (1784) on the origins and characteristics of the French language, and several texts criticizing the social, economic, and political situation in France during the reign of King Louis XVI (r. 1774-92).
An extremely rare allegorical work from 1784 rounds out the collection. Using the pen name Francisco Xaviero de Meunrios, Louis de Bourbon (Louis XVI's brother) who became King Louis XVIII (r. 1814-24), composed Historical description of a symbolic monster, taken living on the shores of Lake Fagua, near Santa-Fé, by Francisco Xaviero de Meunrios, Count of Barcelona and Viceroy of the New World. Sent by a local merchant to a Parisian friend.
The Description features two engravings of monstrous harpies; this is timely as Courier de L'Europe reported about these creatures for the first time in the same year. Their discovery in Santa Fé, Peru at Lake Fagua resulted in numerous depictions. It is extremely rare for both male and female amphibious monsters to appear in this type of printed tract and when they do, the plates are generally lacking.
Information used in this post provided by Gerald W. Cloud, Rare Books, Manuscripts, Archives, Petaluma, CA.