by Marsha Stevenson, Visual Arts Librarian
---
The item featured in this week's blog post is on display as a spotlight exhibit through the end of August.
---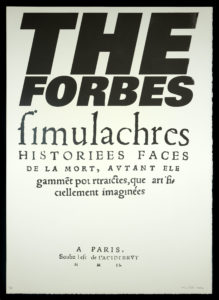 French book artist Didier Mutel, inspired by Forbes Magazine's annual listing of the world's wealthiest people, created a portfolio called The Forbes simulachres: historiées faces de la mort, autant elegammẽt pourtraictes que artificiellement imaginées (Images and Illustrated Aspects of Death, as Elegantly Delineated as They Are Artfully Imagined). This 75-sheet portfolio, generously sized at 62 x 45 cm, comprises 36 pairs of woodcuts. Each duo consists of a full-page illustration of a skeleton, accompanied by text naming an individual from Forbes' 2009 list of billionaires.
Mutel's inspiration for this work was the iconic "Dance of Death" woodcuts created by Hans Holbein the Younger (1497-1543). The Dance of Death (danse macabre in French, Totentanz in German) is part of the medieval tradition of memento mori (contemplation of death). Its visual representation typically pairs a living person with a skeleton, reminding the viewer that death comes to all, regardless of their worldly circumstances. Holbein depicted this theme in woodcuts which he completed in 1526 while living in Basel. They were first published, however, in 1538 in Lyon, France.
In the Forbes simulachres, Mutel portrays skeletons in a variety of settings. Some are engaged in recreational activities such as skiing or surfing while others are shown in more mysterious and threatening circumstances. Every skeleton is paired with a plate of text accompanied by biblical verses in early French, and each references Forbes by giving individuals' names and ranks on its annual list of the wealthy.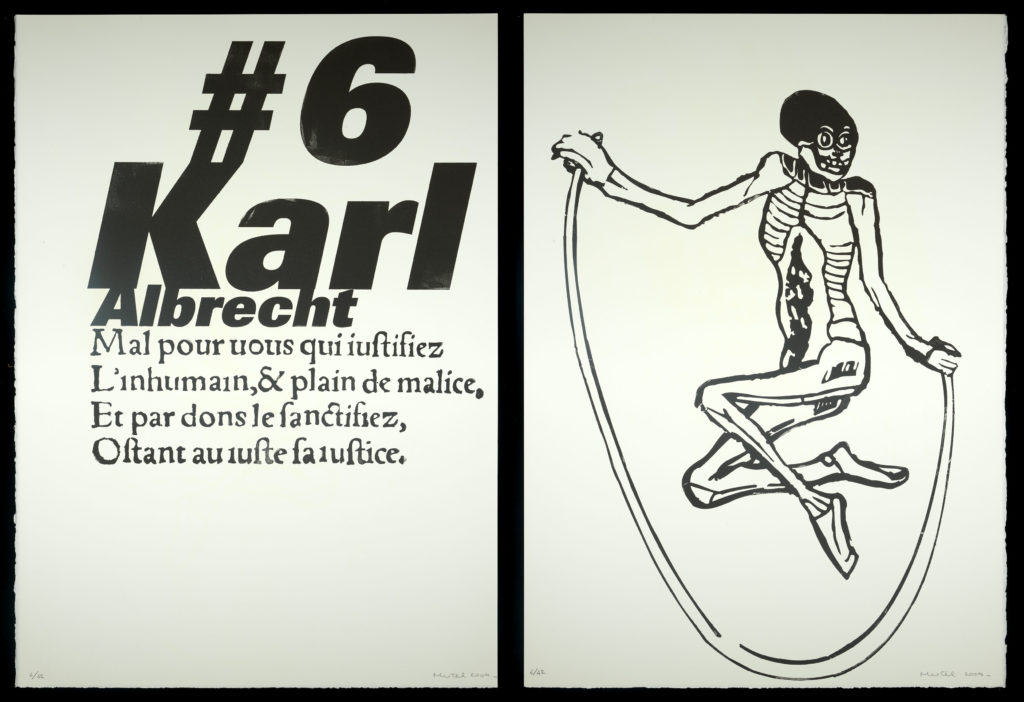 Didier Mutel, born in 1971, is an engraver and printer who specializes in book arts. He studied at l'École nationale supérieure des arts décoratifs (1991-1993) and l'Atelier national de création typographique (1994-1995). He has received numerous awards including a "Grand Prix des métiers d'art de la ville de Paris" in 1997 and was named artist in residence at Rome's Villa Médicis from 1997 to 1999. Since 2003 he has taught engraving and drawing at l'École des beaux-arts in Besançon.
When Mutel returned to Paris from Rome, he joined the workshop of a master artist, Pierre Lallier, whom he had met in 1988. Lallier's workshop originated in 1793 and was the oldest continually operating etching studio in France. After Lallier's retirement, Mutel continued his work, maintaining legacy equipment and original printing techniques.
Mutel often revisits historical creations of music and literature. His inspirations range well beyond Forbes Magazine and include The Metamorphosis by Franz Kafka and Alice's Adventures in Wonderland by Lewis Carroll. In 1994 he published a noteworthy interpretation of Robert Lewis Stevenson's The Strange Case of Dr. Jekyll and Mr. Hyde.
The library's copy of the Forbes simulachres is number 6 in an edition of 42 and is signed by the artist. Its case is unusual in having been fabricated from one of the woodblocks used to produce the text for plate number 6 featuring Karl Albrecht.
The acquisition of Didier Mutel's Forbes simulachres was made possible, in part, by a library grant from Notre Dame's Nanovic Institute for European Studies.

---
This work is licensed under a Creative Commons Attribution 4.0 International License.