November 2015
This month's spotlight exhibit features materials from the recently acquired archive of Evgeniia Ginzburg, the most famous woman prisoner of Stalin's GULAG, and Antonina Axenova (Ginzburg's adopted daughter).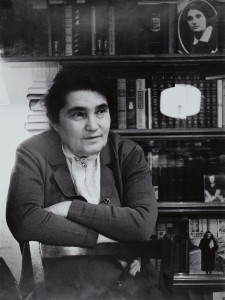 Evgeniia Solomonovna Ginzburg (1904-1977) was a journalist and teacher who wrote an acclaimed autobiographical account of her 18-year journey through the Stalin GULAG. Ginzbrug's epic story, which has been translated into many languages, was published in English in two volumes: Journey into the Whirlwind (1967) and Within the Whirlwind (1981). To this day her work remains one of the most significant and widely-read women's memoirs about life and death in the Stalin camps.
Born in the Kolyma camps in 1946, Antonina Pavlovna Axenova was adopted by Ginzburg in 1949. Axenova later became a theater and movie actress. She has also worked tirelessly collecting materials to preserve the memory and legacy of her mother.
The exhibit is timed to coincide with a visit to Notre Dame by Antonina Axenova and the filmmaker, Mario Damolin, who premiered his new documentary film about Evgeniia Ginzburg entitled Tightrope Walk on November 5 at the DeBartolo Performing Arts Center.
More than 7 boxes constitute the archive which consists of documents, letters, photographs, and some manuscripts relating to Ginzburg's arrest and her life in the camps as well as materials about Axenova's professional life. The finding aid is near completion and will be accessible to researchers in the near future.
The exhibit is curated by Ken Kinslow, Manuscripts Processing Librarian, and is open to the public 9:00am to 5:00pm, Monday through Friday, through December 11, 2015.