"Paying tribute to the generations of African Americans who struggled with adversity to achieve full citizenship in American society" – We join the Library of Congress, National Archives and Records Administration, National Endowment for the Humanities, National Gallery of Art, National Park Service, Smithsonian Institution, and United States Holocaust Museum to observe African American History Month.
African Americans and Populism
by Rachel Bohlmann, American History Librarian
In this 1894 poster, the Democratic Party of Georgia felt the warm breath of third party competition on the back of its neck. The unnamed "Third Party" was the People's Party of the United States, also known as the Populists.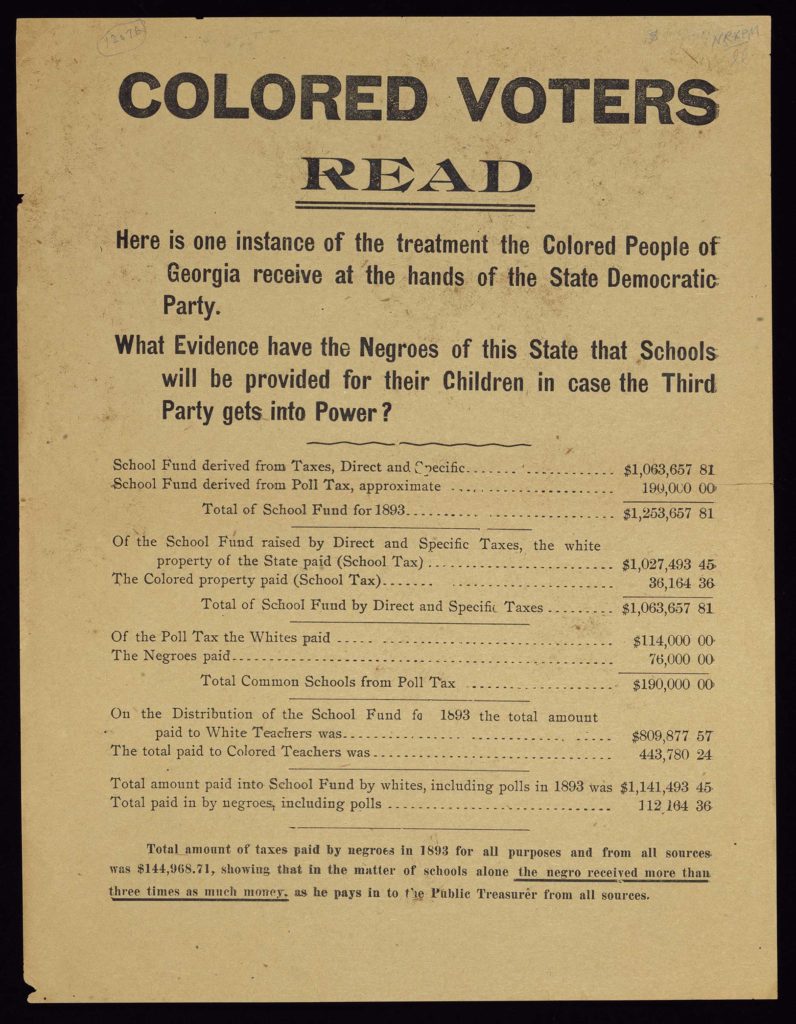 The Populists were established in 1892 by a coalition of famers in the South and Midwestern plains states who believed that eastern banks and railroads, supported by government policies, exploited them with expensive credit and transportation. They were joined by industrial workers who criticized the major parties for being controlled by corporate and financial elites. In the 1892 election Populists won three governorships and 15 Congressional seats. It was the period's most significant political insurgency.
In Georgia, the Populist wave had captured the allegiance of so many white Democrats by 1894 that the balance of political power had shifted to African Americans. If they swung their support from the minority Republican Party to the People's Party, Democrats would lose control.
Panicked Democrats cravenly released broadsides like this one, which attempted to browbeat African American voters away from the People's Party by threatening less public support for their children's education. Despite such heavy-handed tactics, many African American farmers in Georgia supported Populism, as black farmers did across the South.
Georgia Democrats grimly hung onto power by mobilizing white voters against "Negro supremacy," intimidating black voters, and outright vote fraud. Although Populism's appeal had increased in rural states like Georgia in 1894, nationally the party lost ground. By the 1896 presidential election, the Democratic Party shrewdly absorbed part of the Populist's platform and the agrarian revolt was checked.
Special Collections invites everyone to visit during African American History month to view or conduct research on materials such as the 1894 poster featured above. For more information, please contact us.
---
This work is licensed under a Creative Commons Attribution 4.0 International License.