by Aedín Ní Bhróithe Clements, Irish Studies Librarian
Last year, Hesburgh Library acquired an album of drawings of the famous Edgeworth family of County Longford, Ireland. The album, showing the artistic endeavors of the family, shows a different side to a family best known to us for Maria Edgeworth (1768-1849), a leading writer of her time. It is Maria's step-mother, Frances Edgeworth, and some of the children of Richard Lovell's third wife, Elizabeth Sneyd, who are the artists of this album.
On August 17, 2019, Notre Dame's Snite Museum opens a major exhibition of Irish art, "Looking at the Stars": Irish Art at the University of Notre Dame. This exhibition includes items from Special Collections. To complement this exhibition, we are featuring an example of Irish art from our collection in our September 2019 Spotlight Exhibit, Art in a 19th-Century Household in Ireland: The Edgeworth Family Album. This spotlight exhibit runs through September 2019.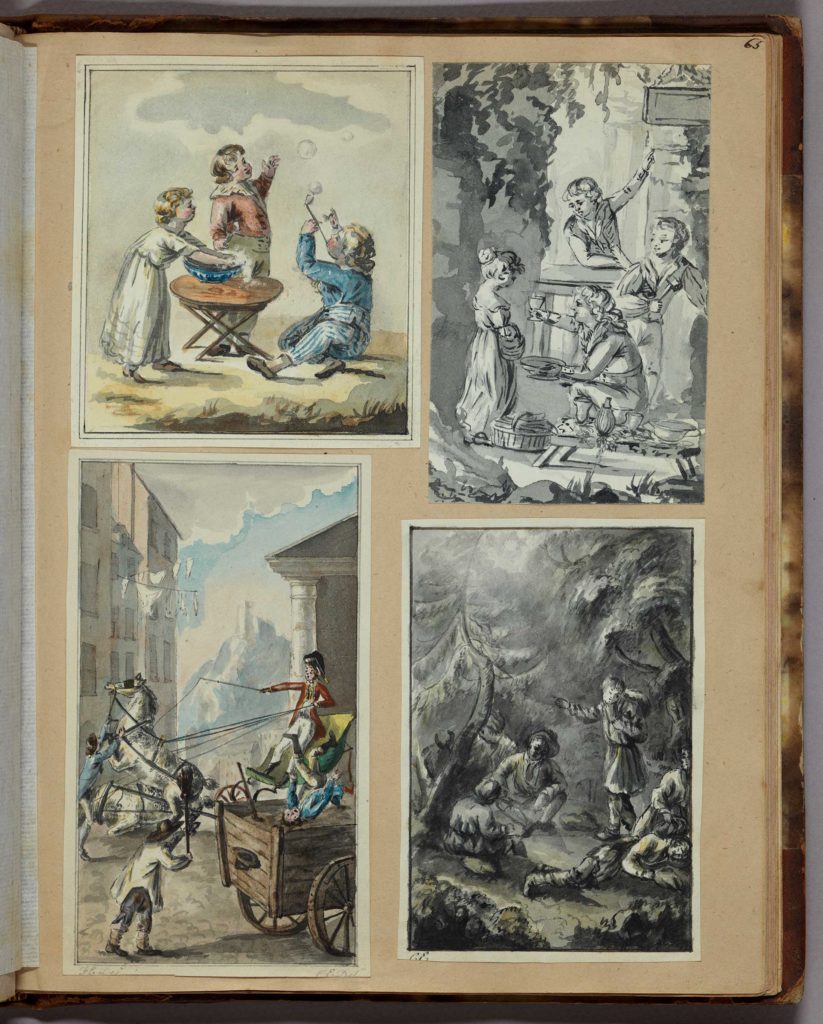 The Artists
Frances Beaufort (1769-1864) was born in Navan, County Meath, where her father, Rev. Daniel Augustus Beaufort, was Rector. Having attended Mrs. Terson's school in Portarlington, she had lessons in art from a number of artists including Frances Robert West, Master of the Dublin Society's School of Figure Drawing.
The Edgeworth and Beaufort families were acquainted. When Frances was asked to provide sketches for a proposed illustrated edition of Maria Edgeworth's The Parent's Assistant, her relationship with Richard Lovell Edgeworth developed and soon they were married. In spite of being younger than her oldest step-daughter, renowned writer Maria Edgeworth, the women became close friends.
Both families were intensely interested in learning. Richard Lovell Edgeworth (1744-1817) was an inventor, writer and landowner, and was particularly interested in the education of children. In the Edgeworth household, children were instructed by other family members, and their reading and activities covered a broad and ambitious range. Emphasis on education is apparent in Maria Edgeworth's books. Her opinions on education are clear not only in her books for children and parents, but in novels such as Belinda and The Absentee, which have examples of appropriate education—in one case, the scientific education of a family in the upper class, and in the other, the practical education that Edgeworth considered appropriate for the children of tenants.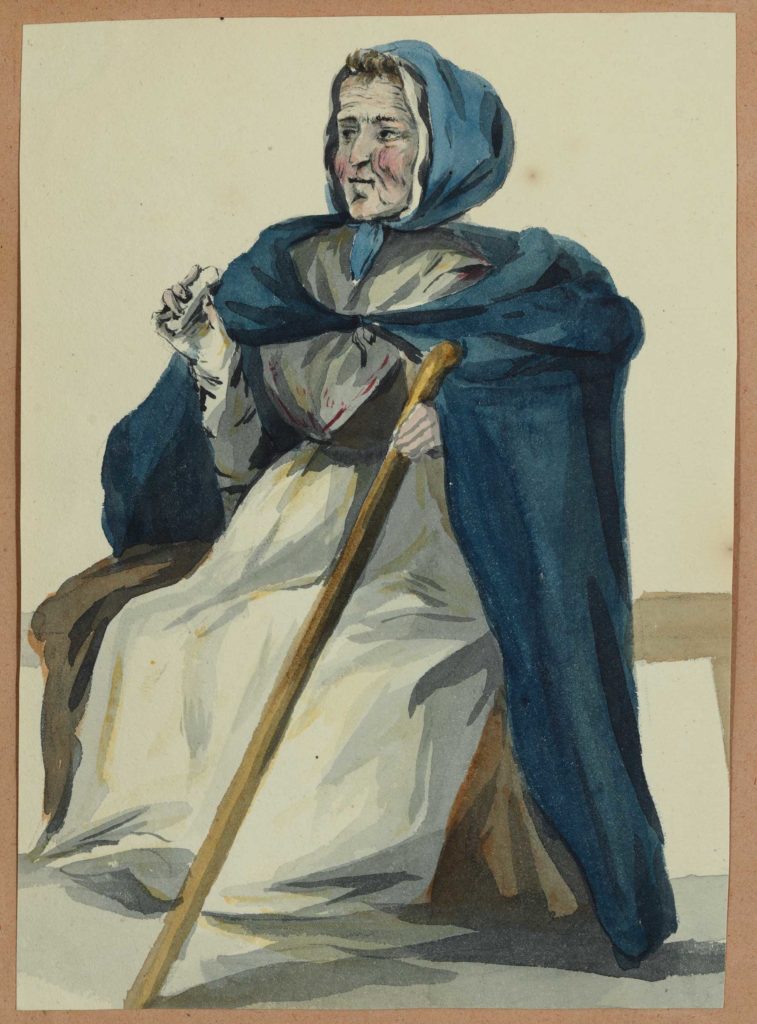 Frances encouraged her children and step-children to draw. The subject matter of the drawings shows a marked interest in working people who might have been tenants, servants or estate-workers.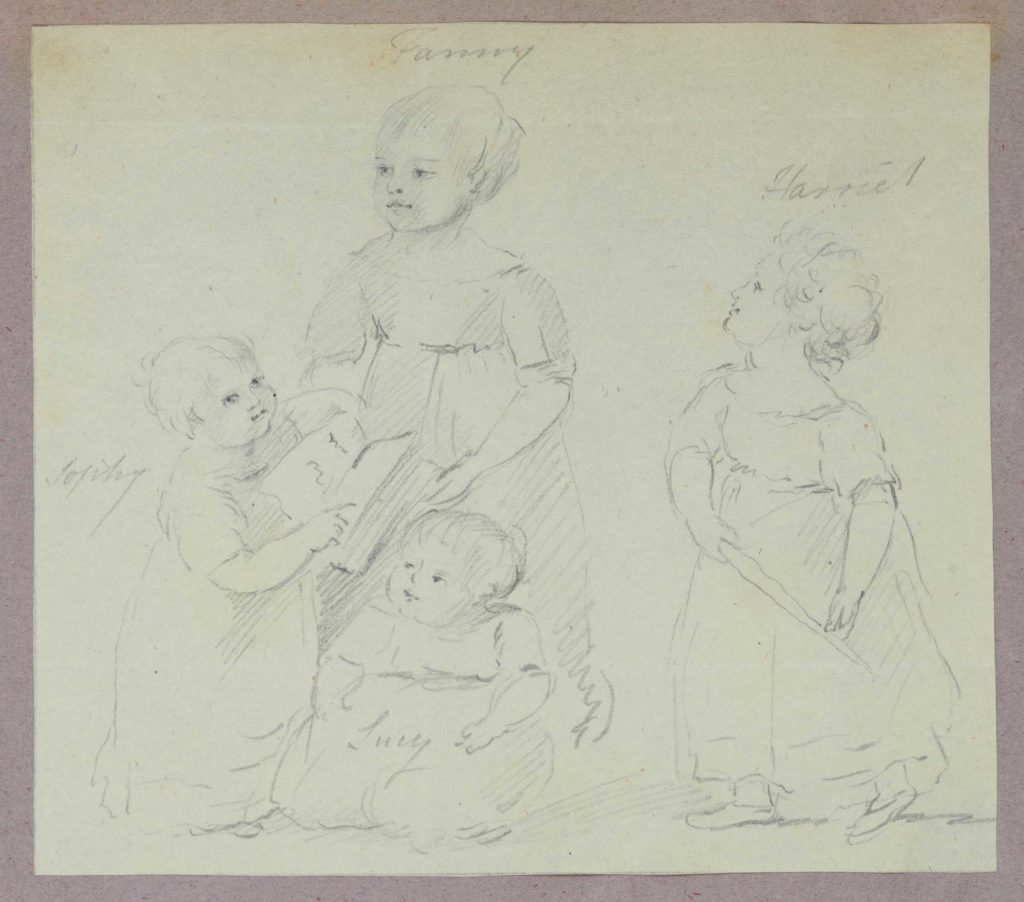 Most of the drawings in the album are by Frances and her step-daughter Charlotte, though other family members—Honora (1791-1857), William (1794-1829), Harriet (1801-1889), Lucy Jane (1805-1897), and Michael Pakenham (1812-1881)—may also have contributed.
Charlotte Edgeworth (1783-1807) was exceptionally talented, and though she died at twenty-four years of age, she was known for technical expertise, drawing, and poetry.
Many drawings in the album are illustrations for stories by Maria Edgeworth. The Parent's Assistant includes the tale "Waste Not, Want Not", in which a lazy and greedy boy is compared to his more virtuous cousin. The picture shown below illustrates the following passage from the story.
Hal came out of Mr. Millar's, the confectioner's, shop with a hatful of cakes in his hand. Mr. Millar's dog was sitting on the flags before the door; and he looked up, with a wistful, begging eye, at Hal, who was eating a queen-cake. Hal, who was wasteful even in his good-nature, threw a whole queen-cake to the dog, who swallowed it for a single mouthful.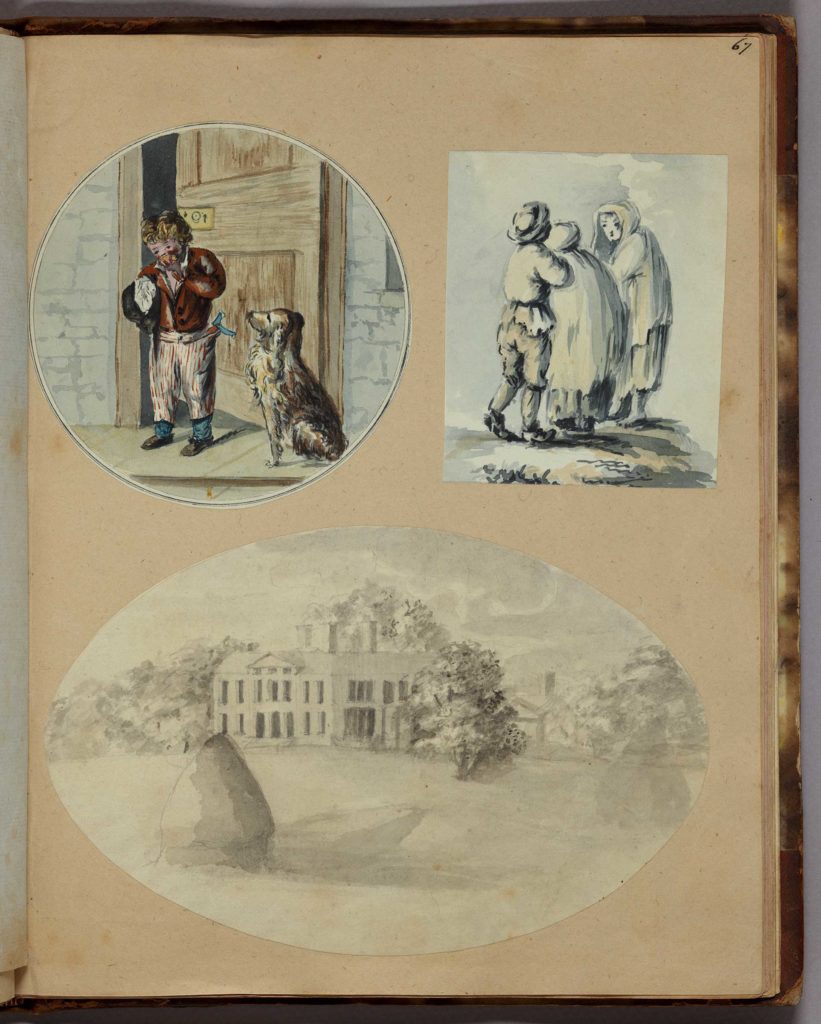 The Edgeworth Family Album is on display in Special Collections through August and September 2019.