by Yang Wu, Librarian in Residence
Published in succession from 1944 to 1946, this collection of 10 pamphlets was produced by the Republic of China's Ministry of Information's United Kingdom Office. Together they offer an interesting perspective on the Chinese Nationalist (Guomindang) government's information campaign outside of China during the 1940s.
The pamphlets cover a wide range of topics on China and are intended for different audiences. The first, seventh, eighth, ninth and tenth works in the collection discuss history, classics, art, education and philosophy and were designed for the general public. The second pamphlet, produced for British military and diplomatic personnel during World War II, gave them a general overview of the geography of China.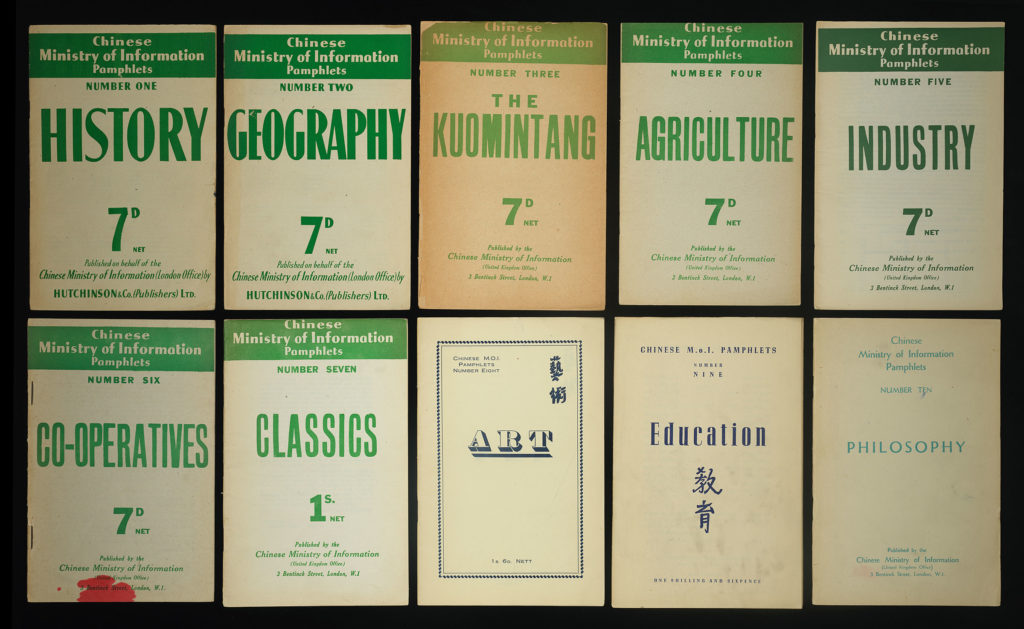 Remaining pamphlets introduce readers to the situation of China immediately following World War II. The third pamphlet, on the Guomindang, gives a general discussion of the history of China's governing party at the time. It describes the party's ideology, political agendas and brought readers up to date on the Guomindang's conflicts with the Chinese Communist Party, which had led to civil war during the 1940s. Pamphlet four, discussing agriculture in China, assesses the reason behind the country's poverty. It argues that China's rural masses can only be uplifted from poverty through gradual measures such as tax reform, improved agricultural methods and industrialization. The sixth pamphlet gives an overview of Chinese Industrial Cooperatives, a program that encouraged and provided assistance to small scale rural industrial enterprises in the country. Started by a group of Chinese and foreign benefactors in World War II, the program was supported by the Guomindang and was seen as a way to both economically sustain the country during wartime and offer employment for idle rural inhabitants and refugees.
The pamphlets in general were created for an educated audience, with good knowledge of western high culture, geography and economic issues. Due to this they were written with remarkable sophistication. The works were authored by a variety of experts on China, both within and outside of the country, including Neville Whymant, a well-known British oriental scholar at the time, Lu Guangmian (卢广绵), a founder of Chinese Industrial Cooperatives and Wu Yuanli (吴元黎), a respected Chinese economist. Works on Chinese history and philosophy, though brief, attempt to stimulate intellectual curiosity towards China. They introduce readers to sources on classical China and draw their conclusions on Chinese civilization from a variety of scholarly resources. Such works also contain useful guides for understanding China, such as charts on Chinese dynasties, reign dates of Chinese emperors since 1368 and diagrams of Buddhist and Daoist symbols (See photos). Pamphlets also compare important events in Chinese history with developments in the West and differences and similarities between classical Chinese and Greek philosophy.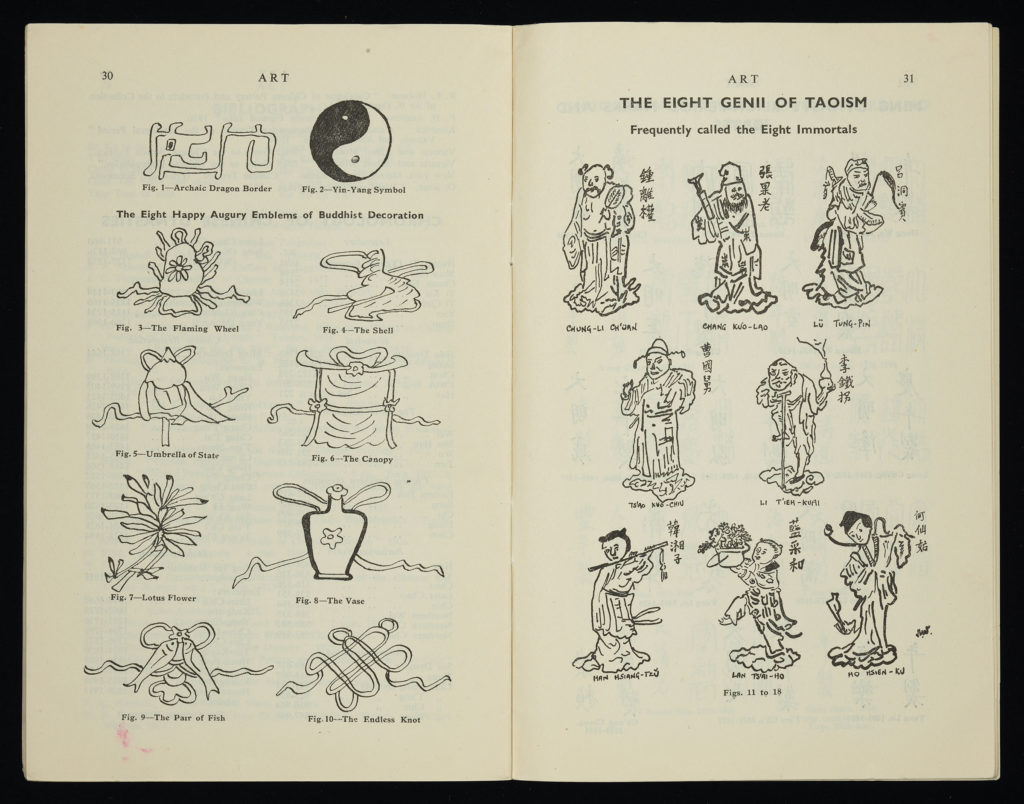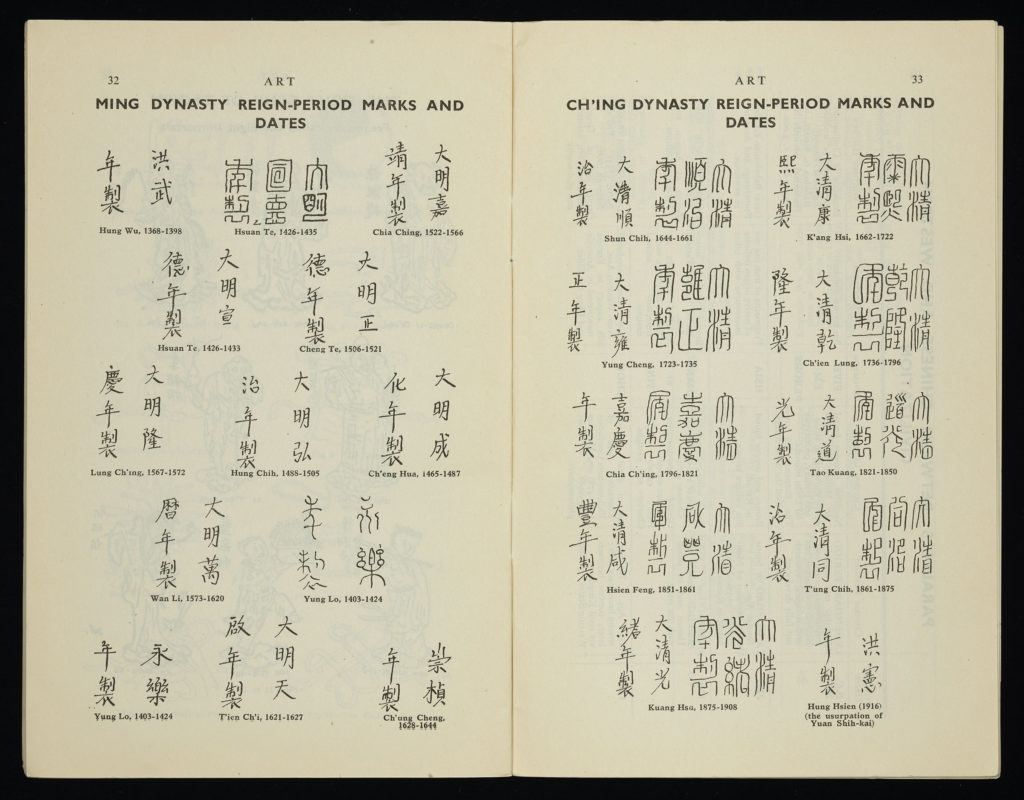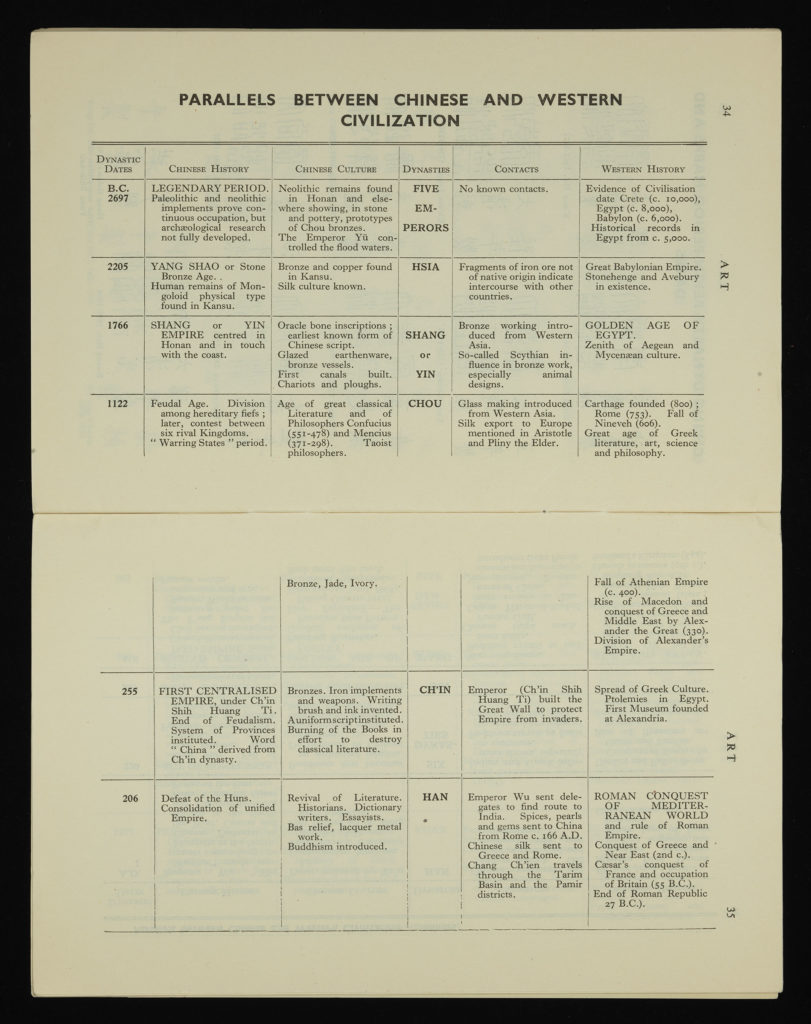 Pamphlets on contemporary China were produced with propaganda purposes in mind. They promoted the Guomindang's view that China's problems must be resolved by gradual reforms as opposed to the Communist agenda of radically changing the country through class revolution and redistribution of property and encouraged foreign assistance with Guomindang programs. However, to appeal to their specific audience the pamphlets took an approach of explaining issues through selected facts rather than slogans and moral exhortation. They discuss matters such as poverty and industrial development in China to great length, often citing statistics and other information from independent studies.
Information campaigns between the Guomindang and Chinese Communists towards foreigners during the 1940s are an important part of the history Sino-western relations. To some degree the Chinese Communists successfully swayed foreign opinion to their side in 1949, and their seizure of the country that year led to many discussions among foreigners on whether they were deceived or "lost" China due to their poor knowledge of the situation of the country. Pamphlets in the collection are a small piece of the Guomindang's foreign outreach, and they offer insights on the party's approach towards foreigners during the period.
---
This work is licensed under a Creative Commons Attribution 4.0 International License.