by Hye-jin Juhn, East Asian Studies Librarian
In 2017, RBSC received thirty poster-sized prints (53 x 77 cm) from Grailville, a non-profit Catholic organization in Loveland, Ohio. Little was known about the prints. They were not dated. They contained a copyright statement by the Catholic University of Peking (1925-1952). They were apparently reproductions of Chinese-style paintings and calligraphic messages that illustrated the Bible. They appeared to have been intended for the Chinese audience.
Based on the following two sources, we now assume that these prints are copies of paintings done in Xinxiang, Henan in 1939 by Wang Suda.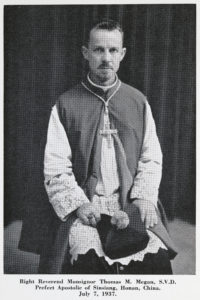 According to Atomic Apostle, Thomas M. Megan, S. V. D., Edward J. Wojniak's biography of the Bishop Megan, who was the Prefect Apostolic of Xinxiang, Henan, Megan, in keeping with contemporary Vatican policy, used native art for Catholic teaching. He visited the Catholic University of Peking, chose Wang Suda among art students, and brought him back to his Xinxiang mission: "Megan himself chose the themes and directed their portrayal. Many a time, Wang Su-Ta was forced to throw away a half-completed picture because it did not measure up to Megan's ideas and requirements." (Wojniak, p. 139)
The Bishop gave the original paintings to the Catholic University of Peking. According to an article that appeared in the January 1941 issue of the Christian Family and Our Missions, the University reproduced the paintings in a "six-tone edition."
"The series comprises thirty-five separate pictures illustrating the Old and New Testaments, the Sacraments and the Ten Commandments. The large size (55×61 cm, or, including the descriptive texts 60×80 cm) will make this series particularly useful for classroom and catechumenate use." (p. 38)
The Xinxiang series at RBSC, though fewer and smaller in size, are possibly a reprint of the above-mentioned series.
The Xinxiang series is distinctive, and perhaps unique, in comparison to other paintings by Wang, and to paintings by his contemporary Chinese Christian artists.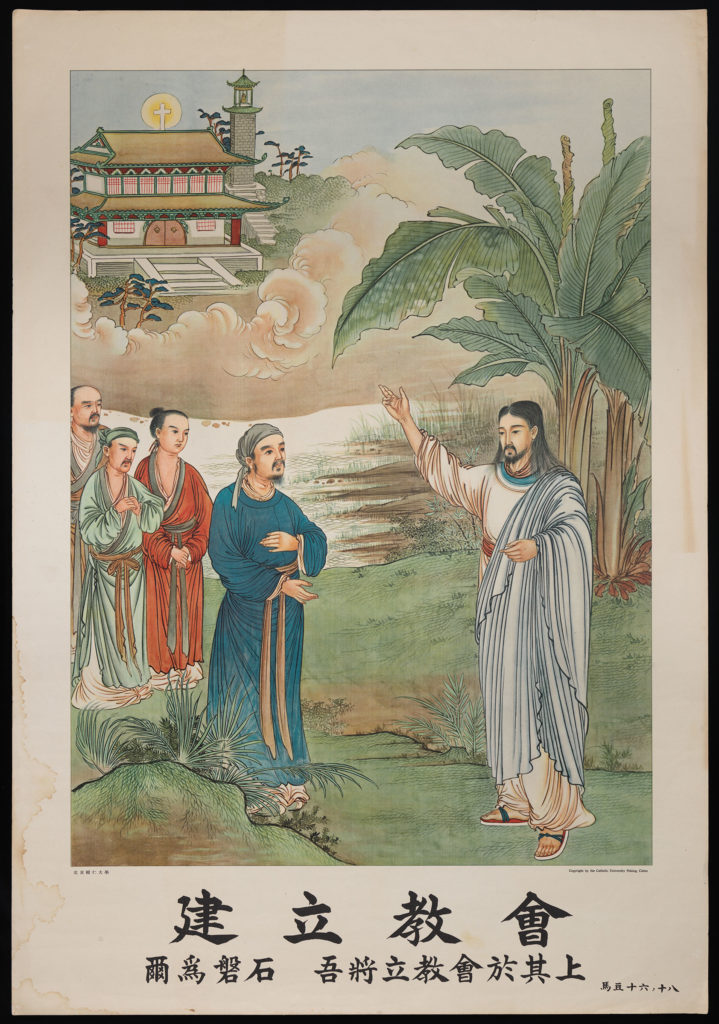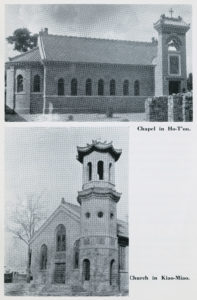 In one painting, Jesus points at Peter and says, "You are the rock, Peter on which I will build my Church." Peter, like the Bishop Megan, has a goatee and wears a "simple blue Chinese gown." The church in the background resembles the "Chinese-style" church that the Bishop had built.