by Aedín Ní Bhróithe Clements, Irish Studies Librarian
New to our collection is a very nice bound volume Fáinne an Lae, A Weekly Bilingual Newspaper for the Advancement of the Irish Language. Páipéar Seachtmhaine Dá Theanga chum Gaedhilge do Chur ar Aghaidh. Vol. 1, no. 1, January 8th, 1898 to the last volume, Vol. 5, no. 134, July 28th, 1900.
This pioneering work was taken on by printer Bernard Doyle (Brian Ó Dubhghaill), who owned and edited the newspaper, in cooperation with Conradh na Gaeilge (the Gaelic League).
Differences between the owner and Conradh na Gaeilge developed, and eventually Conradh na Gaeilge founded their own paper, An Claidheamh Soluis, which replaced Fáinne an Lae in 1900. Further information on the intertwined history of the two newspapers may be read in Fáinne an Lae agus an Athbheochan, 1898-1900, by Caoilfhionn Nic Pháidín (1998)
When this handsome volume arrived, we began to explore it, examining the content of the first issue (editorial on the need to revive the Irish language, summaries of Irish and overseas news items, and news of the Irish language and of the Gaelic League), but we soon became engrossed in the advertisements on the back page of each issue.
While most advertisements are in English, some are written in Irish, including this one from Madigan Brothers, tea merchants, of Henry Street, Dublin.
Tá tae "thar barr" ag Muintir Mhadagháin. (The Madigan family's tea is superlative). The price of a pound of their tea ranges from 1/4 (one shilling and four pence) to two shillings.
A barber advertises his services — one wonders if the conversation in 180 Townsend Street was often in Irish, and how successful this ad was in bringing an Irish-speaking clientele. Surely he was not the only Irish-speaking barber in all of Ireland, but the claim might refer to Dublin city center.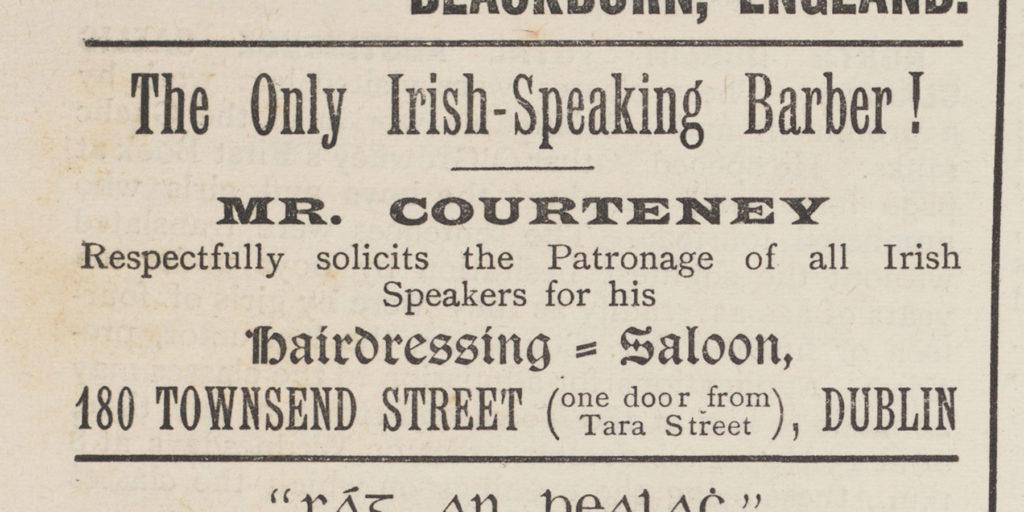 As we might expect, many advertisements were directed not only to Irish language enthusiasts, but to those who supported Irish industry. In the spirit of Douglas Hyde's groundbreaking essay, 'The Necessity for De-Anglicising Ireland' (1892), calling for Irish people to embrace Irish products as well as Irish culture and language, the advertisements promote Irish handkerchiefs, clothes, jewellery, whiskey and books.
Bernard Doyle's biography in ainm.ie tells us that he was involved in the planning of centenary commemoration events for the 1798 Rising, and so it isn't surprising to find an ad for '98 commemorative items in his paper. Irish poplin, the material noted here for ties, sashes, and the Wolfe Tone badges, is a silk fabric that was woven in Dublin since the since the seventeenth century.
This Belfast jeweller advertises brooches complete with Celtic cross, harp, and what looks like a round tower.
Christmas cards with Irish language greetings, 'the latest novelty' are advertised below Tierney's ad for rented china, glass and delph. Delph, or delf, a word rarely heard in America, is a common term in Ireland for earthenware dishes, cups, plates etc.
Kelly Brothers, above right, advertise their large stock of wine, but only as a footnote to their altar wine.
Having read and enjoyed the advertisements, we will now send the volume for cataloging, and look forward to making it available for students and visitors.