by Erika Hosselkus, Associate University Librarian for Scholarly Resources and Services
Aedín Clements joined Hesburgh Libraries in 2005 as the organization's first dedicated Irish Studies Librarian. During her tenure, Aedín has developed world class research and special collections in Irish literature, history, and adjacent fields. These include the near-comprehensive Irish Fiction Collection, the Jonathan Swift collection, a large Irish broadside ballads collection, and the Captain Francis O'Neill Irish music collection, among many others. A native speaker of Irish, Aedín has also envisioned and developed Hesburgh Libraries' substantial Irish-language holdings.
Along with her collection development activities, Aedin has worked extensively to support students, faculty, and visiting researchers and dignitaries interested in Irish Studies and Irish Language and Literature. As part of her broad outreach, Aedin has curated exhibitions on the writings of the Irish diaspora, Irish children's literature, the Easter Rising of 1916, and Irish book arts. In 2018, she developed the Keough-Naughton Library Research Award, a partnership between Hesburgh Libraries, the Keough-Naughton Institute, and Notre Dame International offering research fellowships that enable external scholars to utilize the Libraries' rare Irish collections. Most recently, Aedín collaborated with Hesburgh Libraries' and Irish Studies colleagues to develop an app-based tour of Dublin featuring connections to materials in our Irish collections.
Aedín has built Hesburgh Libraries' Irish collections and forged critical connections with campus partners and a global network of researchers. In anticipation of her retirement, we asked colleagues to reflect on her impact and the importance of her work at Notre Dame.
Sarah E. McKibben (Associate Professor and Chair, Department of Irish Language and Literature, University of Notre Dame):
Aedín was a simply marvelous colleague and we will miss her so much! She was so responsive and helpful whenever I located a text I thought we should acquire. She was always full of ideas for my own or my students' research. She was eager to show my students around the library or teach a research methods session with them, or to help them find the perfect text for their final presentations. In fact, she was so enthusiastic, creative and inspiring that I know she helped many students fall in love with their topics and even pursue further work in Irish Studies.
Since she retired just a week ago, I keep thinking "oh I must email Aedín about this"…I must say, I'm a bit lost without her. She was one of the best hires ND has ever made in Irish Studies.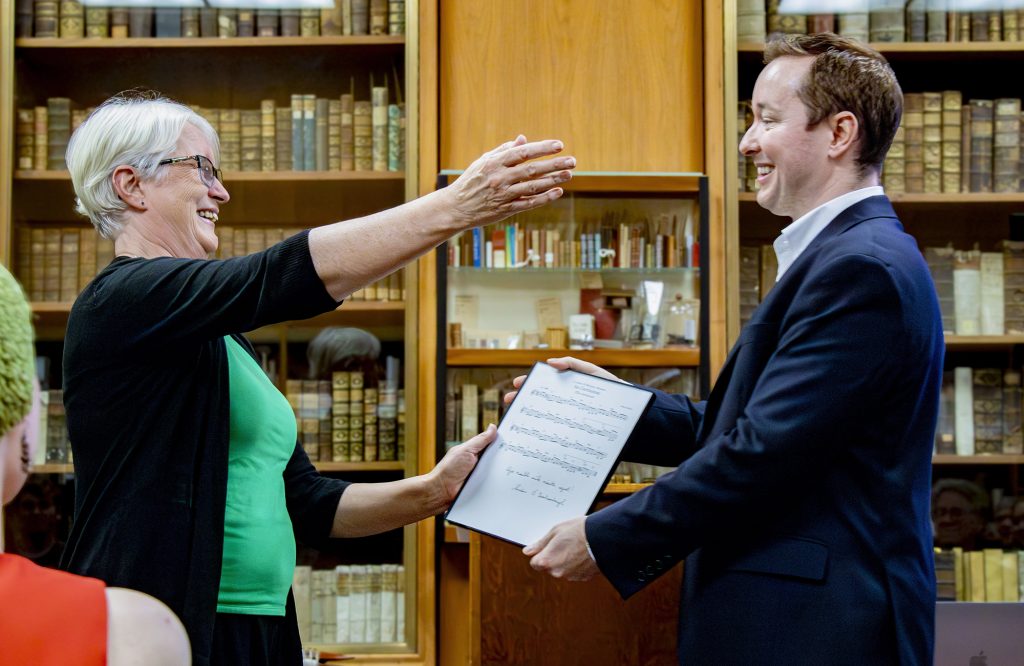 Natasha Lyandres (Curator, Rare Books and Special Collections, Hesburgh Library, University of Notre Dame):
Almost a year ago, Aedín Clements, our dear colleague, started an epic countdown to her retirement. At the end of October she left the Hesburgh Libraries after serving as Irish Studies Librarian for almost twenty years. Aedín has had an incredibly successful career at Notre Dame. It's been a real honor to work with her over the past ten years in Rare Books and Special Collections.
Aedín contributed to the significant growth of Irish Collections by bringing major acquisitions and expanding the reach and impact of her collections through fruitful collaborations with the Keough-Naughton Institute, Notre Dame International, and with the Department of Irish Language and Literature. From teaching numerous classes and supporting graduate and undergraduate students, to installing exhibits and writing blog posts, to launching the Library Research Award in Irish Studies, to welcoming numerous visitors, to assisting scholars from all over the world with their research on campus, Aedín has been the driving force behind the Rare Books and Special Collections' success and wide international recognition of our Irish collections.
We will miss Aedín's infectious enthusiasm for Irish Studies, her cheerful personality, her dedication to the Libraries and the University, and also the beautiful sound of the Irish language echoing through the department. Congratulations, dear Aedín, on your retirement. You will always hold a very special place in our hearts.
We thank Aedín for her service, contributions, and collegiality and wish her the best in retirement.