Please note that the corridor outside RBSC is temporarily narrowed to a pedestrian tunnel due to ongoing library renovations, but we generally remain open during our regular hours (Monday through Friday, 9:30am – 4:30pm.)
---
This semester's exhibit, "Printing the Nation: A Century of Irish Book Arts" curated by Aedín Ní Bhróithe Clements, invites visitors to look beyond the text and consider other aspects of books in our Irish collection.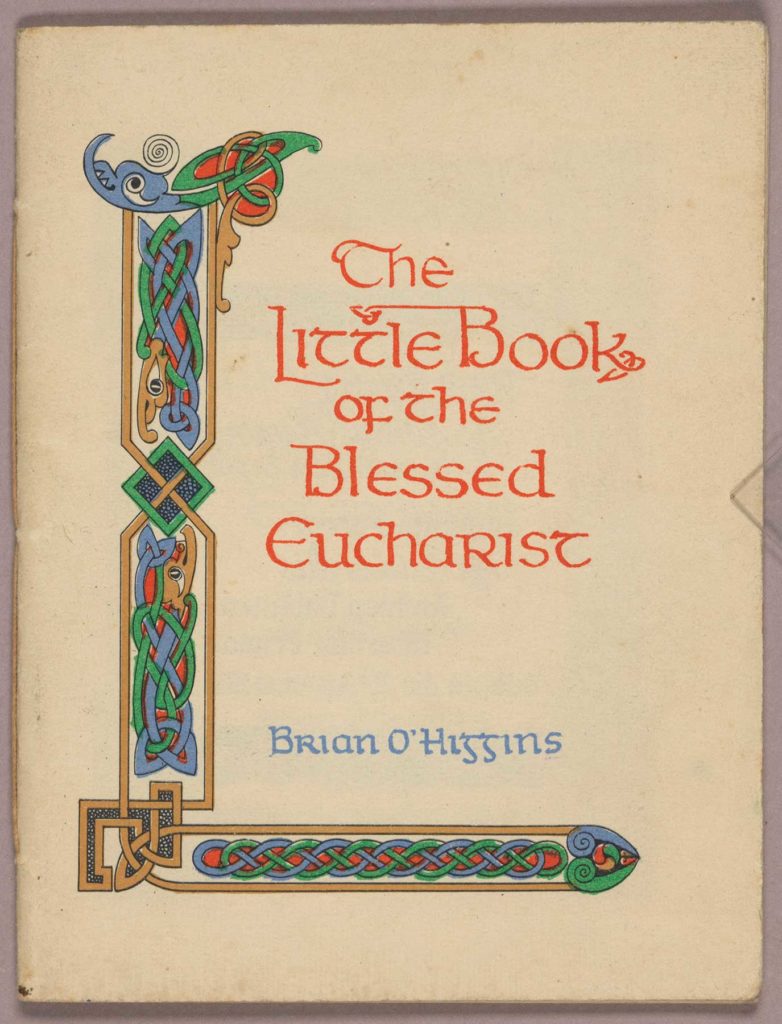 To highlight the influence of early art on Irish book decoration and illustration in the early twentieth century, we have 'borrowed' the fine art facsimile Book of Kells from the Paleography Room on the 7th floor.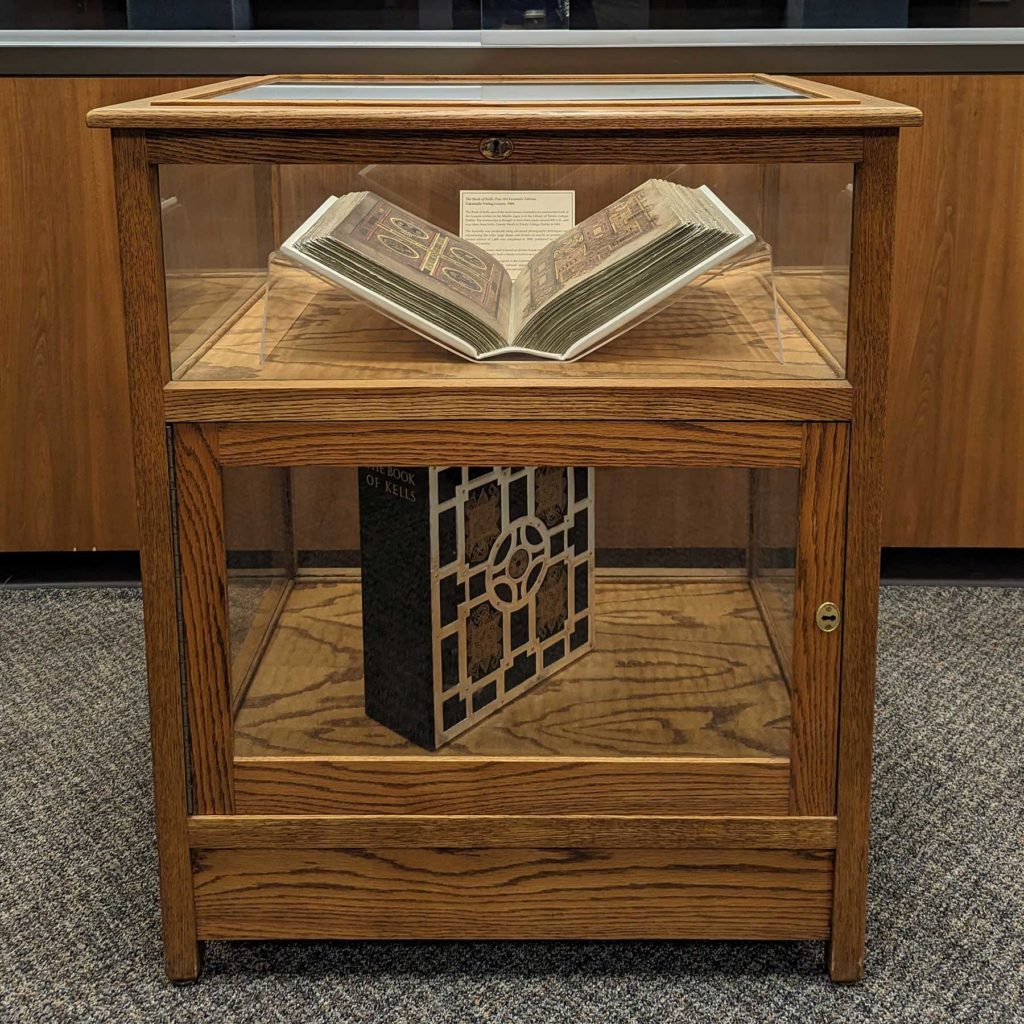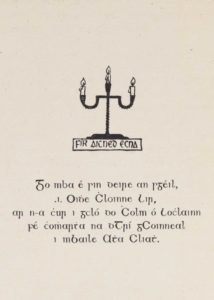 Chapters of the history of the book in Ireland include the stories of printing presses, and we have selected a small sampling from our extensive collections of important presses such as the Cuala Press founded by the Yeats sisters, Colm Ó Lochlainn's Three Candles Press, and the Dolmen Press of Liam Miller. Contemporary printing presses are also represented, with a limited edition from Salvage Press and the 1916 commemorative book 16 which was published by Stoney Road Press.
The exhibit's title poster incorporates an illustration by Liam Miller, from the cover of Ten Poems by Padraic Colum, which is featured in the first case. The fonts in the poster, American Uncial and Pilgrim, were selected to reflect choices made by Irish printers. The poster was designed by Sara Weber.
The Irish language posed particular challenges for printers up to the 1960s when the standard of Irish language became the Roman alphabet. Throughout the exhibition, various examples are displayed of the styles of lettering used for Irish language titles and text.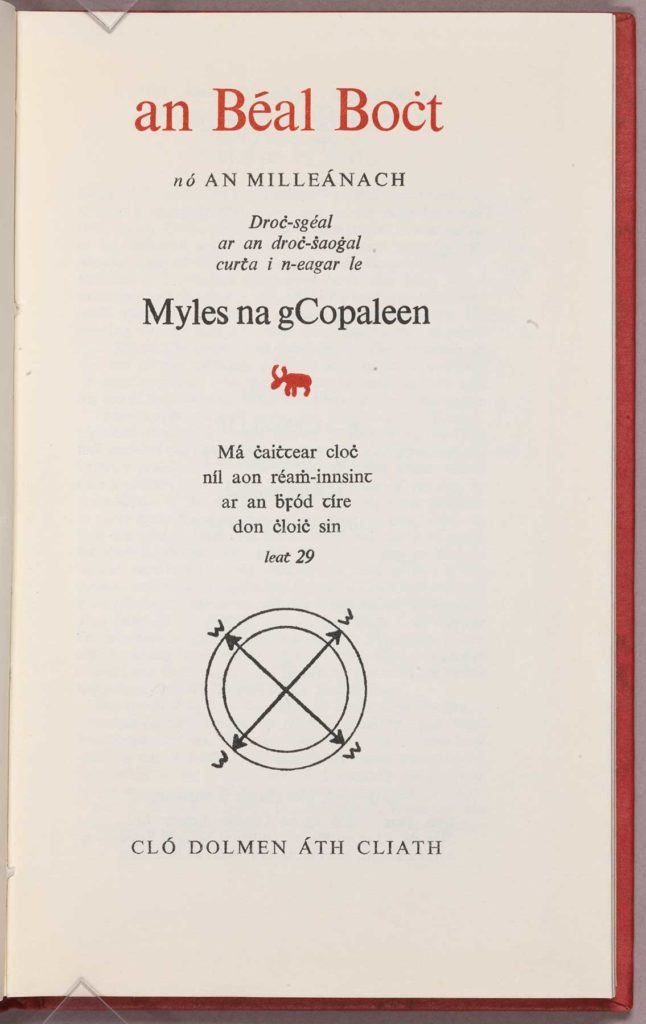 ---
The aspect of typefaces in the Irish language will be the subject of a lecture later in the semester:
"The Changing Face of Irish Writing"
Lecture by Brian Ó Conchubhair, Associate Professor of Irish Language and Literature, University of Notre Dame
The date of this lecture will be announced later.
The exhibit is open Monday – Friday, through July 2023.
Tours of the exhibit may be arranged for classes and other groups, and additional curator-led tours are available at 12 noon on the following Fridays:
February 24
March 10 and 31
April 7 and 21