by Rachel Bohlmann, American History Librarian and Curator
As a holiday centered around a meal, Thanksgiving includes some introspection, as we pause to reflect on the past year and give thanks before tucking in.
This Beat Generation Cookbook, although not a particularly Thanksgiving-themed one, takes an irreverent and somewhat alternative approach to meals and cooking, and by implication, to national holidays like Thanksgiving. The Beats—a loosely comprised, countercultural community of writers, poets, musicians, artists, and free-thinkers—coalesced as a cultural phenomenon during the late 1940s.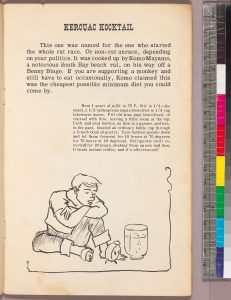 Published in 1961, this booklet appeared at a time when some Beat counterculturalism had crossed over into mainstream American culture. The recipes—of intentionally dubious origins and quality—are named for (and in some culinary way) connect to Beats who had achieved widespread notice, if not mainstream celebrity. The first recipe, naturally, is named for Jack Kerouac, author of On the Road (1957) and a core Beat figure. He was also one of the best known Beats by the early 1960s; and he loved milk. The "Kerouac Kocktail" a vile-sounding concoction of milk, yeast, sugar, and water, was fermented then refrigerated. The recipe promises that "[i]t beats instant coffee, and it's effervescent!"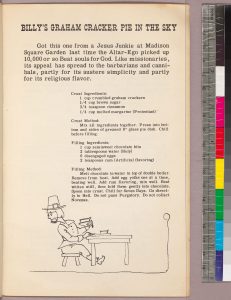 A dessert recipe, "Billy's Graham Cracker Pie in the Sky," spoofed Protestant Evangelist Billy Graham's successful New York City crusade at Madison Square Garden during the summer of 1957. A chocolate pie, the dish's "appeal has spread to the barbarians and cannibals, partly for its austere simplicity and partly for its religious flavor" the Beat cooks claim. The recipe called for "¼ cup melted margarine (Protestant)" as well as "2 tablespoons water (Holy)" and "2 disengaged eggs." It further directed the cook to "chill for Seven Days. Go directly to Hell. Do not pass Purgatory. Do not collect Novenas." This silliness is paired with an illustration of a Pilgrim eating a slice.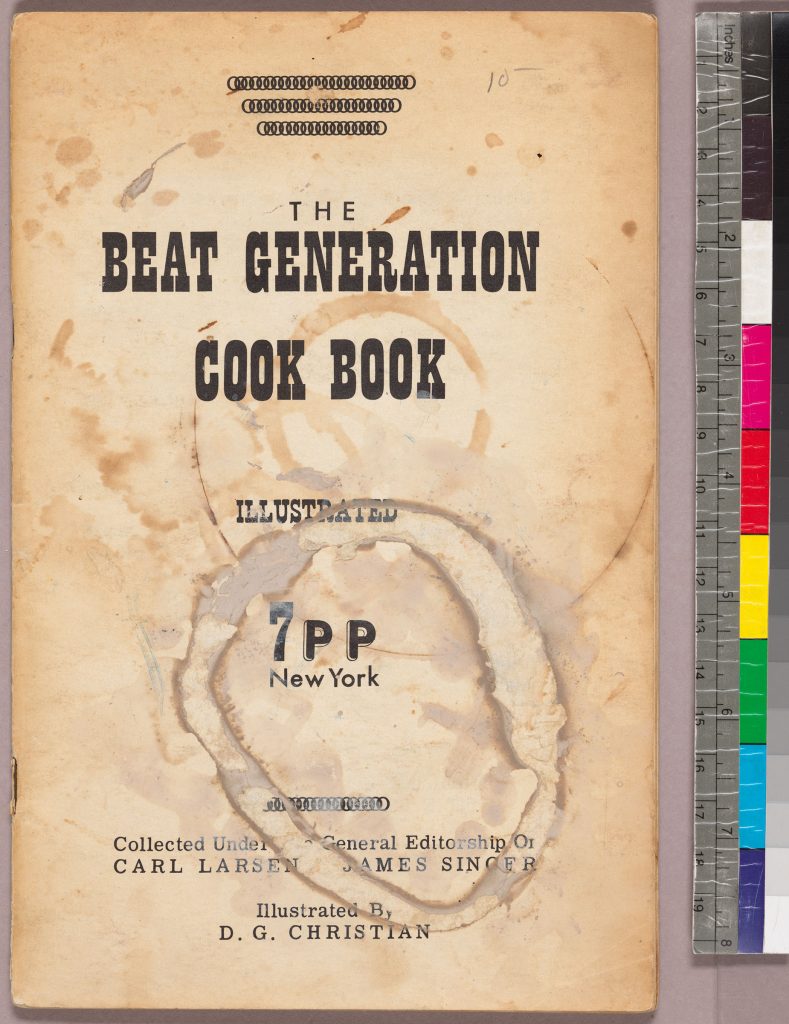 Hesburgh Library's copy is missing its outer cover, which was bright yellow with the title in large, red lettering. Our copy also looks well-used–with food (and perhaps paint) stains on the cover as well as more food stains inside, particularly on the pages with recipes for Streetcar Pie and Dharma Buns (a play on Kerouac's novel, The Dharma Bums).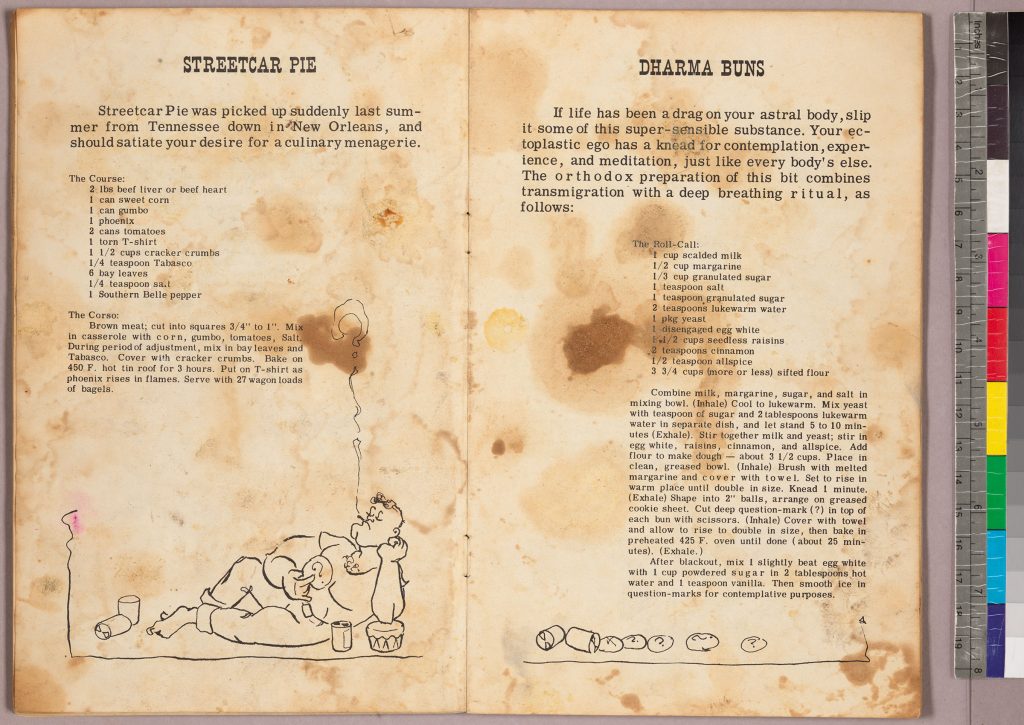 The Beat Generation Cookbook: Illustrated also includes recipes for a number of artists and writers the Beats considered important influences. Pablo Piccaso is included as is Kenneth Rexroth, a San Francisco-based poet who supported and helped launch the literary careers of a number of young Beats, including Allen Ginsberg. The Beat Generation Cookbook recognized Rexroth with Rex Broth: a very large, one-pot meal of meat ("beef, mutton, goat, or goose"), beans, barley, root vegetables, spices, and "1 cup Mr. Clean," with which "to scrub the whole pot (& everything that's in it)."
Rare Books and Special Collections holds the Kenneth Rexroth Collection: a grouping of works by and about the artist, of which this tongue-in-cheek, cultural, and culinary masterpiece is a light-hearted example. The Rexroth Collection is part of a substantial RBSC collection of post-World War II small press and avant-garde literature published in the United States.
Happy Thanksgiving!
---
Special Collections will be closed during Notre Dame's Thanksgiving Break (November 23-24, 2023). We wish you and yours a Happy Thanksgiving!
Thanksgiving 2022: Turkey for the People
Thanksgiving 2021: The Thanksgiving that Gave Us a Song, a Movie … and a Cookbook!
Thanksgiving 2020: Happy Thanksgiving to All Our Readers
Thanksgiving 2019: "Thanksgiving Greetings" from the Strunsky-Walling Collection
Thanksgiving 2018: Thanksgiving from the Margins
Thanksgiving 2017: Playing Indian, Playing White
Thanksgiving 2016: Thanksgiving Humor by Mark Twain
Thanksgiving 2015: Thanksgiving and football