by Rachel Bohlmann, American History Librarian and Curator
Americans might be seeing fewer turkeys on their tables this Thanksgiving, due to the demands of social distancing during the pandemic. No matter what holiday fare you get to enjoy this year, we offer a reminder of our unofficial national bird. This illustration of wild turkeys comes from American Ornithology; or, The Natural History of Birds Inhabiting the United States, Not Given by Wilson, a four-volume work by French scientist and ornithologist Charles Lucien Bonaparte (1803-1857). He worked on the project while he lived in the United States in the 1820s and it was published between 1825 and 1833.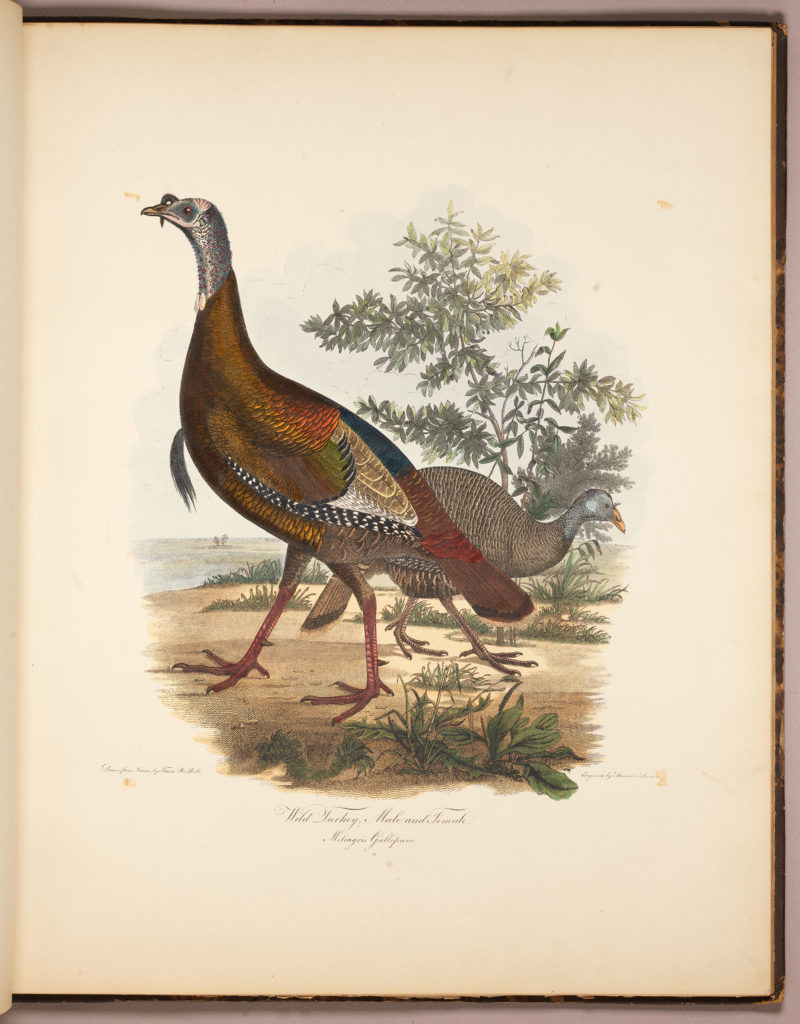 An armchair ornithologist, the aristocratic Bonaparte did not do fieldwork himself, as this print shows. It was engraved by Alexander Lawson (1773-1846) from an illustration "Drawn from Nature" by Titian R. Peale (1799-1885). Bonaparte's strengths lay in his abilities to classify and name birds, and he directed his talent to supplementing work by an earlier ornithologist, Alexander Wilson (1766-1813), whom Bonaparte referenced in his title.
Rare Books and Special Collections holds only the plates from Bonaparte's multi-volume work; it is part of the library's history of science collection and complements our Edward Lee Greene collection on the history of botany.
---
Notre Dame's fall semester concluded on November 20, 2020, but the campus remains open during the much of the Winter Session (November 21, 2020 – February 2, 2021). Rare Books and Special Collections will be CLOSED on the following dates:
November 25-29 (Thanksgiving Holiday)
December 19-January 5 (Winter Break)
Our health and safety protocols continue to include limiting our building population to those people essential to the teaching and research of our current students and faculty. To that effect, we are not encouraging visitors or patrons who are not current, active members of Notre Dame, Saint Mary's and Holy Cross College communities.
Members of these communities may request appointments to access Rare Books & Special Collections materials. Please email Rare Books & Special Collections for research and course support or to make an appointment. Research requests by non-ND-affiliates are evaluated on a case-by-case basis, per the University's Campus Visitors Policy.
Visit our Hesburgh Libraries Service Continuity webpage for up-to-date information about how to access expertise, resources, services and spaces.