by Julie Tanaka, Curator, Rare Books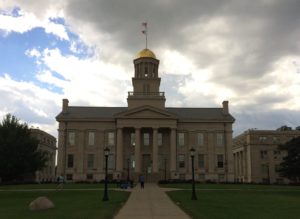 Iowa City, the only UNESCO City of Literature in North America, hosted the 58th annual Rare Books and Manuscript Section (RBMS) Conference June  20-23, 2017. This city's vibrant literary and book arts community provided an ideal setting for the venue, "The Stories We Tell."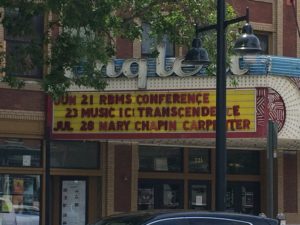 RBMS's 2017 conference focused on the role of storytelling in the mission and daily work of special collections. Over four days of papers, seminars, participatory sessions, and workshops, attendees discussed how telling a compelling narrative forms the heart of cultural heritage work. Narratives are the foundations for writing traditional scholarly monographs, but they also inform the encoding of digital humanities landscapes, building collections, designing courses and exhibitions, and many other endeavors special collections specialists undertake.
Plenary speaker, Micaela Biel (professional storyteller and Ph.D. candidate in Educational Theater at New York University) launched into a gripping story—too long to recount here—that engrained in the audience's minds the four absolute musts of a compelling story:
stakes: what the conditions were to make it matter;
change: transition from one world to another;
theme: tell a story and let the audience gather the theme;
show, don't tell.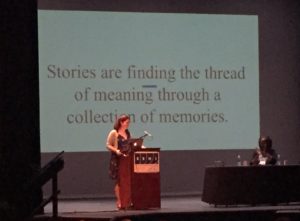 In a nutshell, "Stories are finding the thread of meaning through a collection of memories." For special collections professionals, Biel stresses the importance not to tell people what collections mean but to let the collections tell a story. We should open a space for people themselves to make meaning of the collections.
Themes
Commitment to Diversity
". . . we are gathered on the land of the indigenous people of Iowa City," reverberated through Englert Theatre as Petrina Jackson (Head of Special Collections and Archives, Iowa State University) welcomed attendees at the first plenary session, opening the first full day of "Stories We Tell." Jackson's recognition of an often overlooked people foreshadowed one of the major themes that emerged during the remaining sessions, RBMS's commitment to diversity.
A key component of its vision and mission is RBMS's commitment to a diverse profession and to collections representing all voices. RBMS recognizes that it needs to bring greater diversity to its membership and has made a concerted effort to attract, mentor, and support "people of any race, color, national origin, religion, gender, sexual orientation, age, and physical ability" as stated in RBMS's Statement on Diversity. The effect of RBMS's on-going efforts were demonstrated in the remarks by speakers of the various sessions, by the conference attendees themselves, over 300 scholarships awarded for first-time attendees, pairing new members with more experienced RBMS members to acquaint them with the conference and other members, and programming addressing diversity both directly and indirectly.
"Crown Jewel?"
A call for change—Panel speakers from George Washington University, the University of California, Riverside, and Columbia University challenged the Association of Research Libraries (ARL) statement in 2009 that special collections "define the uniqueness and character of individual research libraries." They argued that this perspective separates special collections from the rest of the library and that this causes others in the library to view special collections, in fact, as "separate or 'other' to the larger library system." This idea that special collections is a library's "crown jewel" and that its "unique treasures" are what will distinguish the library from other libraries is misguided.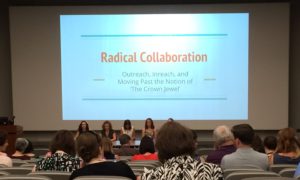 It is of fundamental importance as libraries face budget cuts, shortage of staff, and increasing needs and demands of users that special collections establish itself within the library as part of the whole and work together with all library faculty, staff, and administrators. Our message to our users and to our colleagues at our own institutions should be that we are part of the library and not the privileged gatekeepers of the library's crown jewels.
The Lighter Side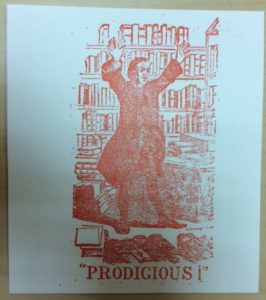 Acknowledging the book arts community in Iowa City, home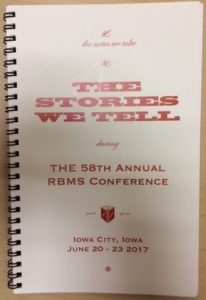 of the Center for the Book, attendees had the chance to print their own souvenir copy of the conference's mascot, Prodigious (click to watch the press in action), and to take copious notes in the commemorative notebook printed by Tru Art Color Graphics, a family-run printer in Iowa City since 1896.
About RBMS
Rare Books and Manuscript Section, more commonly referred to by its acronym, RBMS, is a section of the Association of College and Research Libraries (ACRL), a division of the American Library Association (ALA). Tracing its roots to 1948 and a mission to increase understanding about the value of rare books in scholarly research and improving the care, use, and recognition of rare books in libraries, RBMS has expanded its scope to include the broad range of special collections from rare printed books to manuscripts, archives, ephemera, graphics, and music. RBMS has assumed a leading role in the local, national, and international communities to represent and promote the interests of librarians, curators, and other specialists who concern themselves with the use, preservation, security, and administration of special collections.
RBMS is currently comprised of over 1750 members who represent librarians, curators, students, rare book sellers, conservators, and others interested in special collections. Members share the values of the library profession and are committed to the principles of fairness, freedom, professional excellence, and respect for individual rights. Because of the additional responsibilities special collections librarians have that arise from being entrusted with caring for cultural property, preserving original artifacts, and supporting scholarship based on primary research materials, special collections professionals adhere to the Code of Ethics for Special Collections Librarians and are expected to demonstrate "the highest standard of behavior . . . [because] propriety is essential to the maintenance of public trust in the institution and in its staff."