by Aedín Ní Bhróithe Clements, Irish Studies Librarian
This year's American Conference for Irish Studies, or ACIS 2018, was held in the beautiful campus of University College Cork (UCC), in the south of Ireland. The biggest annual conference on Irish studies, it includes many disciplines, and over one hundred panels were convened during the five days in addition to plenary lectures, book launches and, importantly, regular breaks where colleagues could meet and discuss common interests.
An 'ad hoc group' of librarians and archivists has been active in ACIS for some years now, carving out a niche within the conference to come together and learn from one another. Presentations at the five library and archives events were stimulating, informative and well attended, and participants have returned to their libraries inspired and invigorated.
We learned about specific collections and books, and about exciting and innovative projects. We share a mission to collect and preserve our collections, and we also strive to make our collections visible and accessible. In fact, the Hesburgh Libraries' mission, to connect people to knowledge across time and space, implies the collection and preservation of that knowledge and emphasizes the connecting element, which was a recurrent theme in this conference.
As the conference was in Ireland, American librarians and scholars had an opportunity to learn about exciting projects at the National Library of Ireland, Queen's University Belfast, Dúchas and the National Folklore Collection, and the Irish Traditional Music Archive. We also learned from one another of interesting collections, both historic and newly-developed, and of interesting ways to make specific collections available digitally. An unexpected pleasure was a special visit offered by the Boole Library at UCC.
Some of the highlights are mentioned here, with links for further exploration.
Sharing and Making Collections and Data Accessible
RASCAL is a database of descriptions of collections relevant for the study of Ireland, held at libraries, archives and museums. Louisa Costello of Queens University Belfast described this project and the latest developments which include both a new-look website and an improved data entry form that will make it easier for librarians to submit information on collections. Currently, only one of Notre Dame's Irish collections, the O'Neill Collection, has been entered in the RASCAL database, and so news of the new data submission form was very encouraging, and we expect that the database will be much improved in coming months by data entered by librarians at U.S. institutions.
Immediate examples of RASCAL's utility could be seen throughout the conference. Ciara Ryan, pursuing her Ph.D. at UCC, has been working with a fascinating manuscript collection of an Irish-speaker and storyteller who worked as a miner in Montana. She demonstrated some of this collection  from the Butte-Silver Bow Archives at the Digital Projects Showcase. The RASCAL database could provide a way for researchers to learn of this unexpected collection in a Montana archives.
Other collections were described during the conference and as RASCAL was explained, we were all considering how these could be included in the RASCAL database for increased visibility. These include the various collections at the Ward Irish Music Archives in Milwaukee, the collections at ITMA, the Dion Boucicault Collection which is being digitized at the University of South Florida and the P. S. O'Hegarty Collection at the University of Kansas. Researchers might consider searching the Irish Traditional Music Archive to find sources on Irish music and related culture, but it is unlikely that a scholar would stumble on the rich collection of P.S. O'Hegarty in Kansas without some guidance.
Discussion of Collections
The conference provided a forum for many descriptions of collections and even of single items. These were attended both by librarians, who are generally interested in all collections, and by scholars who wished to learn more about specific collections. Presentations on collections discussed issues of organization and digitization in ways that made the discussion accessible and relevant to scholars, librarians and archivists alike.
In all, three speakers addressed the National Folklore Collection at University College Dublin, and Fiontar, the digital humanities and Irish language group at Dublin City University that has developed websites on placenames, terminology and biography, and also the digitized folklore collection, Dúchas, or duchas.ie.
The National Folklore Collection, is recognized by UNESCO for its "outstanding universal value to culture". Fiontar initially digitized the Schools Folklore Collection, and more recently the Photographic Collection has been added.
The Schools Folklore Collection was carried out in 1937-39 by the Irish Folklore Commission, the Department of Education and the Irish National Teachers' Organization.  Children in primary schools all over the 26 counties of the Irish Free State were asked to collect folklore, often interviewing their parents, grandparents or neighbors.
A remarkable collection was amassed in this way, hundreds of thousands of pages, from more than fifty thousand school pupils. This has now been digitized on Duchas.ie, and the riches of the collection are already apparent. The collection can now be searched by place, name and topic, and the revision of the classification system to enable better searching in the digital collection made for a fascinating talk by Jonny Dillon.
To enable full-text searching,  for which the handwritten pages need to be transcribed, Dúchas.ie initiated a Meitheal, the Irish equivalent of the American barn raising or gathering of neighbors to share in the work. Volunteers of the Meitheal have transcribed many of the pages, and at this point, 24% of the 95,511 Irish language pages are transcribed, and 31% of the 348,812 English language pages are completed.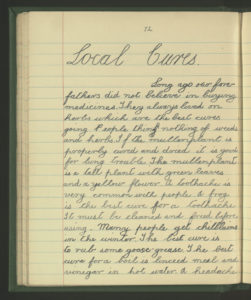 The page shown here is exemplary of one of the very understandable demands made of this collection: "Can I see the pages contributed by my family members?" This page on folk cures, including the use of fried frogs for toothache, is by Richard Forrestal of Convent View, Tullamore. Richard, my father's cousin, is now in his nineties and living in Long Island, New York. Thanks to the initial data entry of names, places and titles, such pages can easily be found in the database. And some of this data entry was carried out by student interns from Notre Dame.
In contrast to the large collections of the National Folklore Collection, an engaging presentation by Crónán Ó Doibhlin of UCC's Boole Library described one book, Leabhar Mór na hÉireann, The Great Book of Ireland, a spectacular artistic creation composed of art and manuscript poems and music by Ireland's leading artists, poets and composers. Another single-book discussion was the round table discussion devoted to the production of The Atlas of the Irish Revolution, in which the tools of digital humanities were used to great effect.
In addition to traditional panel presentations, this conference offered a Digital Projects Showcase in which presenters demonstrated their projects as attendees moved around the showcase area.  This new "showcase" format, organized by Kathleen Williams of Boston College, worked very well and we hope to replicate and develop it at future conferences. It allowed those interested mainly in music, for example, to stop at the tables of Beth Sweeney who demonstrated Boston College's digitized collection of musician Séamus Connolly, and Jeff Ksiazek, archivist at the Ward Irish Music Archives.
The Boston Pilot has been used by Boston College to extract data from many of its advertisements asking for information on Irish immigrants.  These advertisements, common in the nineteenth century, frequently provided information on the sought-for person's native county and the date and place of their arrival in America. Kathleen Williams of Boston College discussed the migration of the data from the original newspaper ads to eight printed volumes (Ruth-Ann Mellish Harris and Donald M. Jacobs, The Search for Missing Friends: Irish Immigrant Advertisements Placed in the Boston Pilot. Boston: New England Historic Genealogical Society, 1989), to an online database, and finally, to a dataset in Dataverse. Segments of the Pilot and Boston Pilot have been digitized by Boston College. An article titled "The Boston Pilot in the 1840's" is available online from Boston College Libraries.
Using digital technology to improve access to documents that are already available online, 'born digital' was described by Emilie Pine in an account of a database created to make a lengthy and dense report accessible and meaningful for readers and researchers. Industrial Memories offers a way to search and analyze the Report of the Commission to Inquire into Child Abuse (2009), known as the Ryan Report. The Ryan Report  is a hefty five-volume document detailing the investigation into abuse of children in institutions in the Irish Republic from 1936 on. The Industrial Memories Project makes it possible to search the report and the project has also used digital tools to interrogate the report to find hidden patterns in the text. These are demonstrated on the Industrial Memories website.
A digitization project that is in process, described to us by Deirdre Wildy of Queens University Belfast, is the important Field Day Anthology of Irish Writing. This is exciting news for all in Irish studies, and it appears that the "women's anthology", or volumes 4 and 5 will be available from JSTOR before too long.
New Formats – New Collections
Joanna Finegan described the National Library of Ireland's selective web archiving, and her data on the speed at which political web content disappears following an election made people sit up and realize the importance of the NLI's project. Our collections here at Notre Dame include many political pamphlets printed around the time of the 1798 Rising; we have a good collection of Northern Ireland pamphlets and ephemera that helps students understand the political messages and propaganda of the time. But for recent referenda and elections, archived web pages will be invaluable for future historians.
From the National Library also, Elizabeth Kirwan described the development of the Irish Queer Archive, the most comprehensive collection of material in Ireland relating to homosexuality, LGBT literature and general Queer studies.
The presentation of Grace Toland, Director of the Irish Traditional Music Archive, also addressed the original formats of materials, and ways to both preserve and make accessible, recorded music performances. ITMA is exemplary of the new model of archive where sharing the archival resources is a major priority, and ITMA is also working to develop new and better ways to use digital methods to represent its collection.
The ACIS Conference
There was much information gathered at the conference that we would love to share more broadly. For anyone interested in learning more, a list of the libraries and archives panels mentioned above is appended below, followed by a list of links to the various collections and projects mentioned.
Libraries, Archives and Digital Projects at ACIS 2018
The Environments of Libraries and Archives in Irish Studies 1: Issues in DigitiSation
Monday 18 June, 4 p.m.
Chair: Aedín Clements
Joanna Finnegan, The National Library of Ireland's Web Archive: Resources for the Study of Ireland Online
Anna Bale and Conchúr Mag Eacháin, The Dúchas Project and the Digitization of the National Folklore Collection
Grace Toland, The Irish Traditional Music Archive
Matthew Knight and Elizabeth Ricketts, Shifting Environments in the Archives: Creating an Online Dion Boucicault Collection at the University of South Florida
Libraries and Archives
Tuesday 19 June, 2 p.m.
Chair: Christian Dupont
Conor Carville, Poetry, Crisis and the Arts Institution in Northern Ireland 1971-1972
Emilie Pine, Swipe Right: Gender, Commemoration, the Decade of Centenaries, and the Politics of Digital Spaces
Elspeth Healey, Collecting Ireland: Politics, Literature, and Bibliography in the Library of P. S. O'Hegarty
The Environments of Libraries and Archives in Irish Studies 2: Special Collections and Archives in the New Environment
Tuesday 19 June, 4 p.m.
Chair: Aedín Clements
Crónán Ó Doibhlin, The Great Book of Ireland – Leabhar Mór na hÉireann
Christian Dupont, The Environments of Libraries and Archives in Irish Studies
Deirdre Wildy and Louisa Costello, Special Collections at Queens University Belfast
Jonny Dillon, Preserving Tradition into the Future: The National Folklore Collection in a Transitional Phase
Twentieth-Century Irish Literary Archives
Wednesday 20 June, 9 a.m.
Chair: Paige Reynolds
Round Table participants: Ken Bergin, Elizabeth Kirwan, Aedín Clements, Adam Hanna, Florence Impens, and Ruud van den Beuken
Digital Projects Showcase
Wednesday 20 June, 2 p.m.
Organized by: Kathleen Williams (Boston College)
John Waters (New York University), Spatializing Subscription Lists and Topographical Poems
Jeff Ksiazek (WIMA), The Ward Irish Music Archives
Ciara Ryan (UCC), The Family Papers of Seán "Irish" O'Sullivan, Butte-Silver Bow (BSB) Archives, Butte, Montana
Kathleen Williams (Boston College), Information Wanted: A Database of Advertisements for Irish Immigrants in the Boston Pilot Newspaper: A New Version of the Data, Available on the Boston College Dataverse Site
Elizabeth Sweeney (Boston College), The Séamus Connolly Collection of Irish Music
Links to further information
ACIS:
https://acisweb.org/
ACIS 2018 (conference website):
http://acis2018.com/
Atlas of the Irish Revolution:
http://www.corkuniversitypress.com/Atlas-of-the-Irish-Revolution-p/9781782051176.htm
Dion Boucicault Collection:
http://www.lib.usf.edu/boucicault/
The Séamus Connolly Collection of Irish Music:
https://connollymusiccollection.bc.edu/
Duchas.ie:
https://www.duchas.ie/en
The Great Book of Ireland – Leabhar Mór na hÉireann:
https://cora.ucc.ie/handle/10468/3053?show=full
Industrial Memories:
https://industrialmemories.ucd.ie/
Information Wanted: A Database of Advertisements for Irish Immigrants Published in the Boston Pilot:
https://infowanted.bc.edu/
Dataset extracted from the Information Wanted online database:
https://dataverse.harvard.edu/dataset.xhtml?persistentId=doi:10.7910/DVN/UNJU3N
ITMA (Irish Traditional Music Archive):
https://www.itma.ie/
P. S. O'Hegarty Collection at Kansas University:
https://spencer.lib.ku.edu/collections/special-collections/irish
Irish Queer Archive:
http://www.nli.ie/pdfs/mss%20lists/151_IQA.pdf
NLI Web Archive Collections:
https://www.nli.ie/en/udlist/web-archive-collections.aspx
RASCAL:
http://www.rascal.ac.uk/index.php/
Ward Irish Music Archives:
https://wardirishmusicarchives.com/Ward-Music-Archives.htm