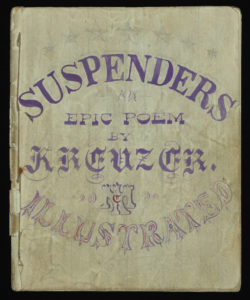 by George Rugg, Curator, Special Collections
Rare book and manuscript collections can grow in unexpected ways. Sometimes, items encountered on the market are simply too much fun to pass up. Such was certainly the case with the manuscript featured in this week's blog, acquired by the Libraries in 2016.
The item in question is a small (12.5 cm.) handmade pamphlet of 8 leaves, with paper wraps, bound with thread. The front wrap doubles as a title page; accomplished in purple copying pencil, it reads: "Suspenders. An Epic Poem by Kreuzer. MK. Illustrated." An inscription on the verso of the cover, reading "For 'Key' to the following – See local column Lawrence Journal. March 2d '72" provides a possible association of the author with Lawrence, Essex County, Massachusetts. The rectos of each leaf contain framed narrative scenes drawn in pencil, with secondary figural and decorative elements in the margins. The scenes are rendered in great detail; the representational style tends towards the naive but the compositions are quite sophisticated. Each scene is accompanied by verse, written by Kreuzer in a miniscule hand.
The narrative is outwardly simple. A miserly youth, finding his suspenders worn out, journeys to the city to buy a new pair (1r-3r).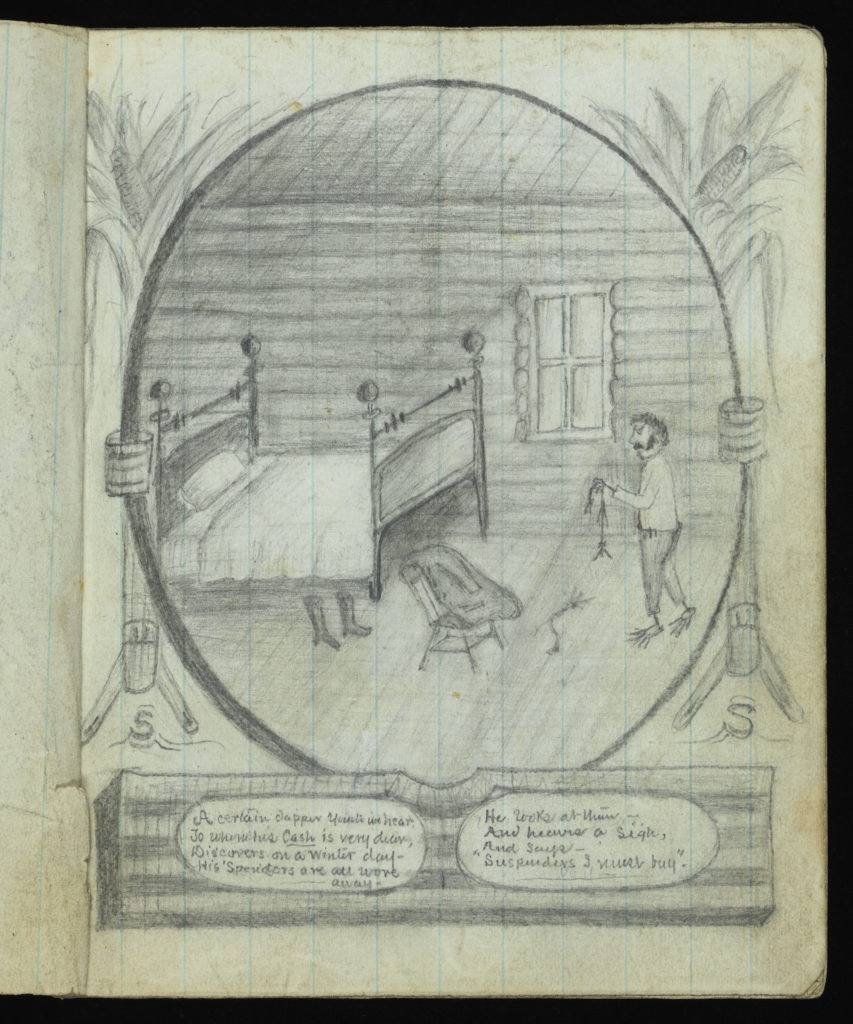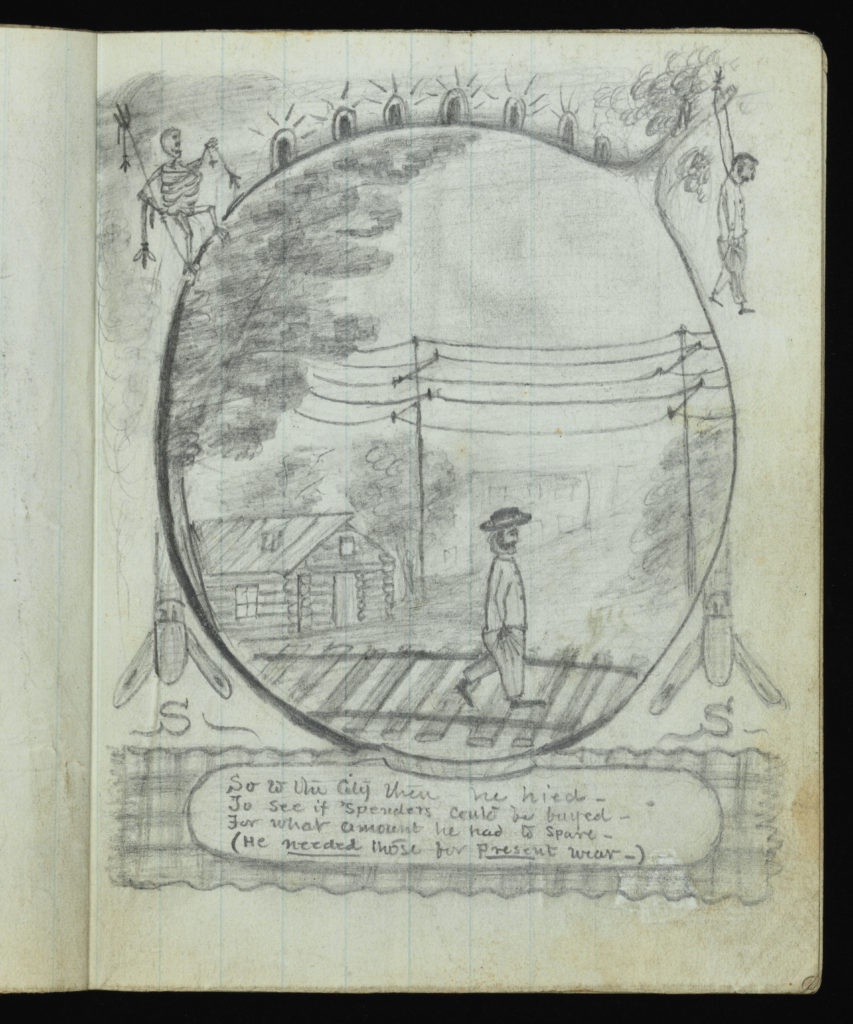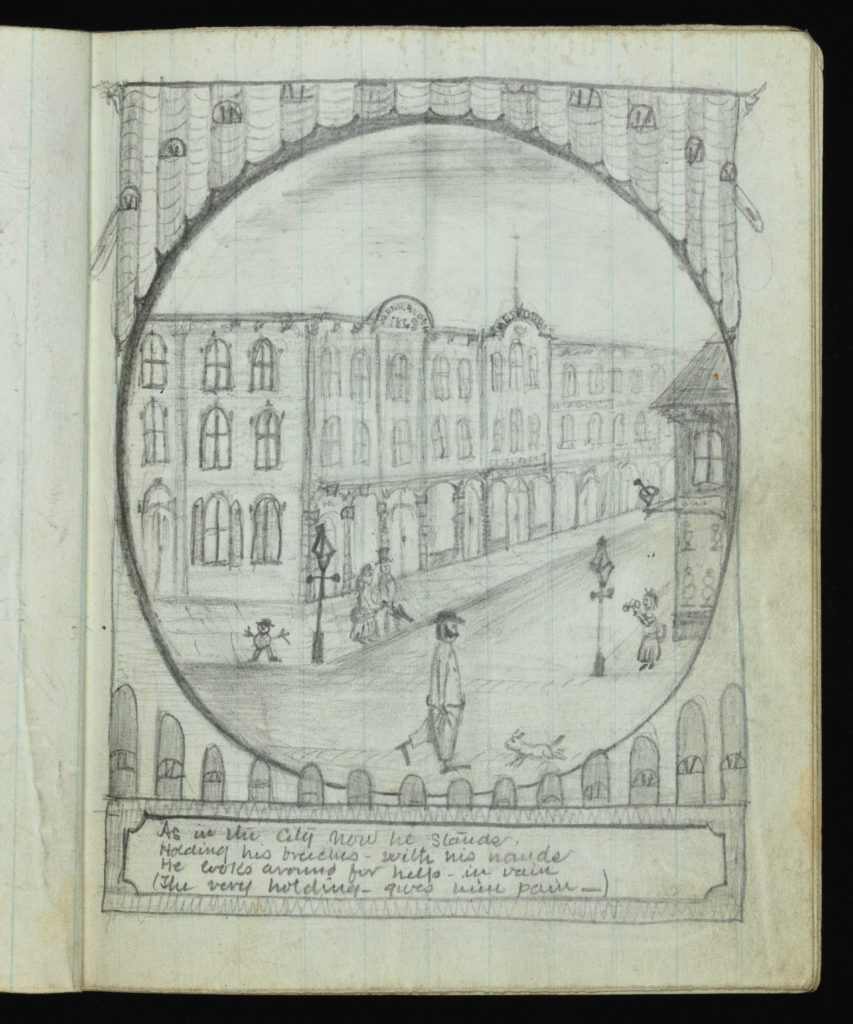 In a shop he is shown some that prove a perfect fit, but he ultimately fails to buy them because he finds the price too dear (4r-6r).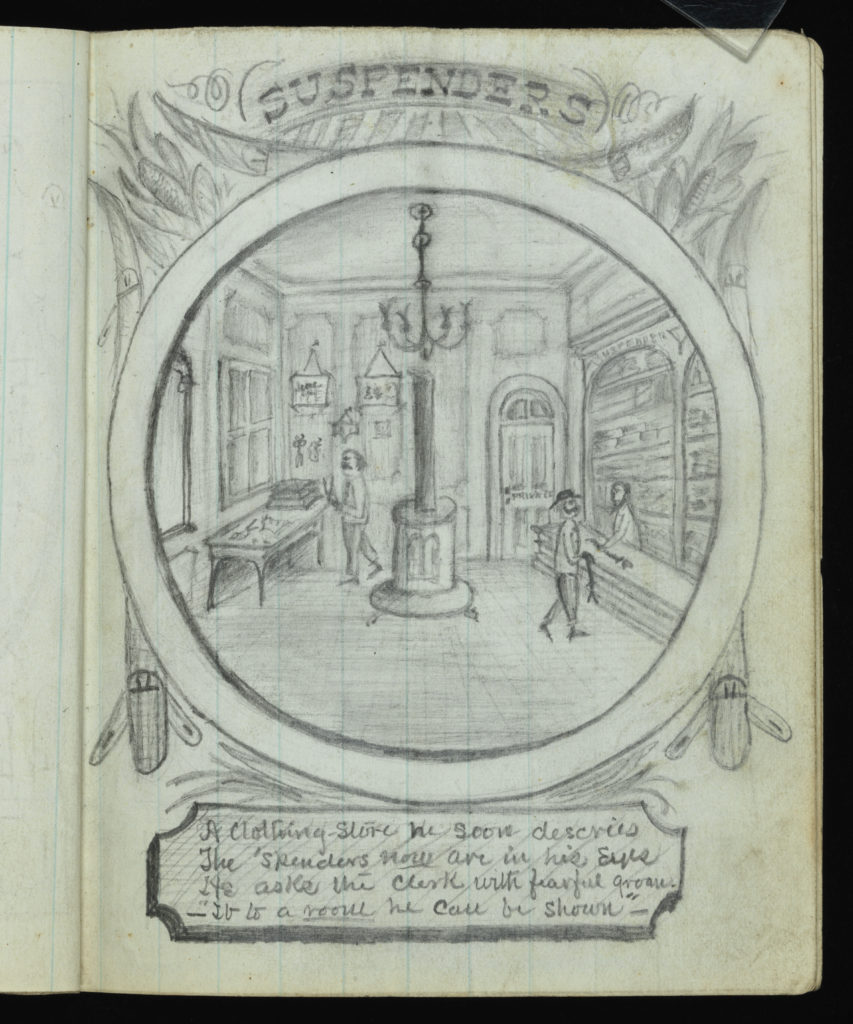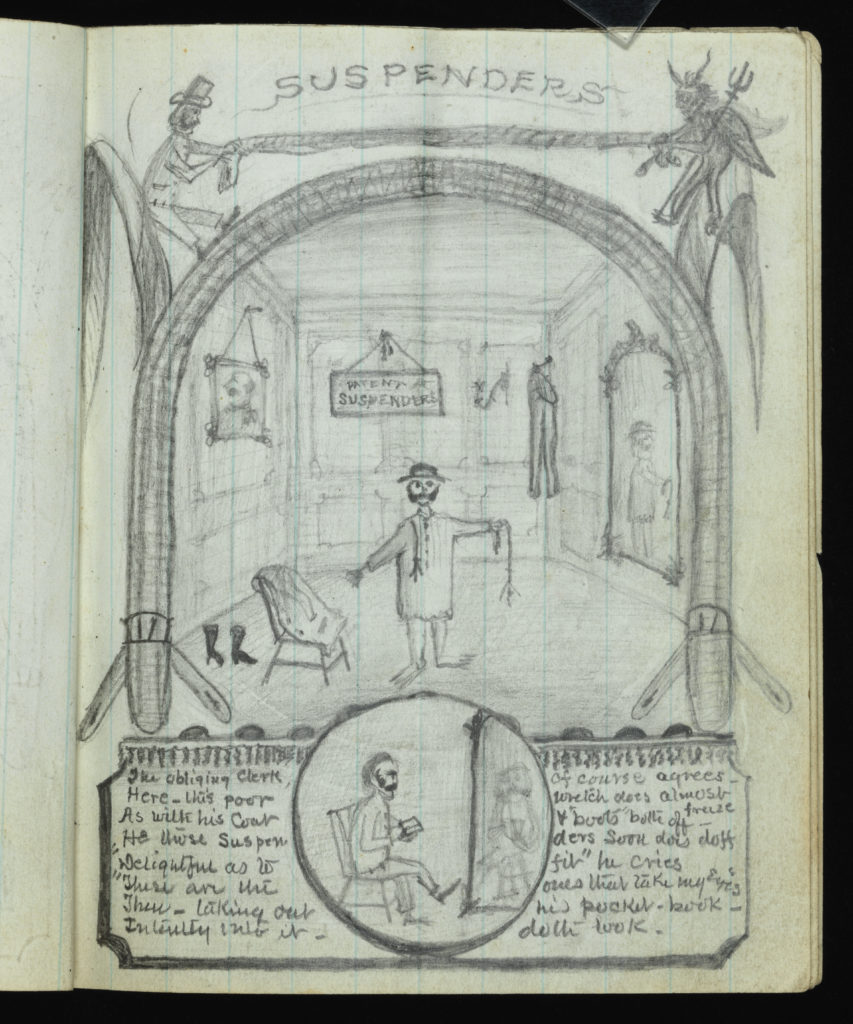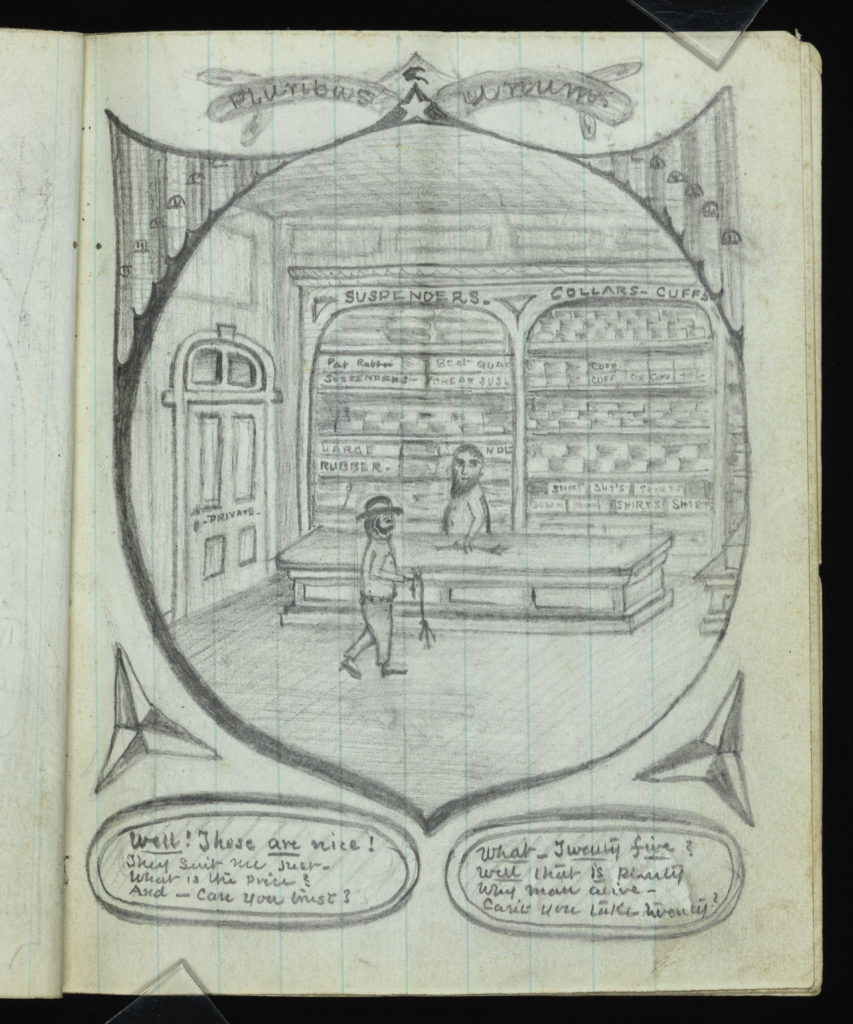 In returning home along the railroad tracks he narrowly avoids being hit by a train, and tears his sagging pants as he scrambles over a fence (7r).
That night he sees a pair of suspenders, radiant, in a dream, but wakes to find himself in his old predicament (8r).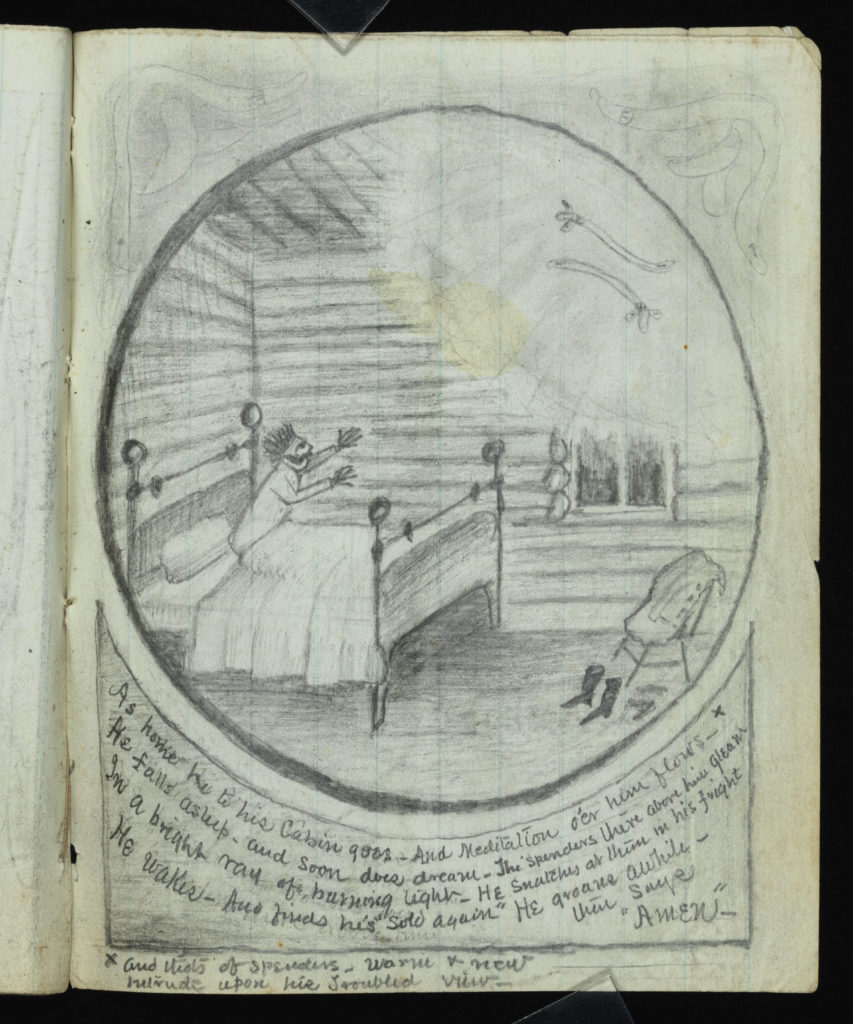 The tale is humorous and patently moralizing, more like a fable than a mock epic, but the story in the local paper that provoked it remains for the present a mystery. The moralizing content is underscored by marginal figures outside the central narratives: for example, a man in a tug-of-war with the Devil, each holding an end of a pair of suspenders (5r). The inside of the back cover bears the scribbled pencil notation "March 20th 1872," less than three weeks after the article mentioned in the front of the pamphlet.
Nothing is known of Kreuzer, and the rationale for his creation of this delightful little manuscript has yet to be determined. Comments are welcome.