by Jean McManus, Catholic Studies Librarian
The Hesburgh Libraries recently acquired the Thomas M. Loome Collection in Catholic Modernism, which comprehensively covers books on Modernism in Catholic thought, with over 1500 volumes. The modernist movement, from the late 19th into the 20th century, concerned theological, philosophical, and methodological insights applied to the Church's engagement with the modern world. The controversies generated by this debate by many European and American Catholics led to censure, papal encyclicals, and excommunications. The themes resonated and were in many ways resolved in the course of Vatican II, and can certainly be said to be relevant to the global church today.
The printed works cover output from Great Britain, France, Italy, and Germany, but also include primary works for Modernism in the Netherlands, U.S., Switzerland, and Austria. Most of these printed works were published during the years 1895-1912, but also include subsequent studies and monographs on Modernism and individual Modernists.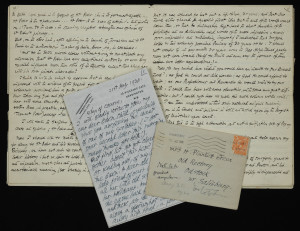 In addition to books, the collection includes manuscript material from several principal thinkers, including George Tyrrell (letters) and Friedrich von Hügel (correspondence with other thinkers and relatives). Thomas Loome, the compiler of the collection (and former owner/bookseller of Loome Theological Books, Stillwater, MN), has written widely on modernism, and the collection includes his extensive research notes, reprints, copies of archival sources, and correspondence concerning his research and the debates.
The Loome Catholic Modernism Collection monographs are housed in Rare Books and Special Collections, and can be found in the ND Catalog with the keywords "Loome Catholic Modernism Collection." The manuscript and archival materials are being processed, and are accessible for use in the Special Collections reading room. Contact the department for more information about using the collection.
---
This work is licensed under a Creative Commons Attribution 4.0 International License.