by Rachel Bohlmann, American History Librarian and Curator
In honor of Memorial Day, we offer a new acquisition that is part of RBSC's extensive American Civil War collection.
In the early months of the Civil War (1861-1865) an artist from Pennsylvania caricatured Jefferson Davis, the new president of the Confederate States of America. The cartoon, which was published and distributed as a poster, was titled "Jeff. Davis Going to War." and "Jeff. Returning from War."
Hesburgh Libraries recently acquired a variation on this cartoon, which includes visual and textual embellishments the original design lacked. It was created and published by E. B. and E. C. Kellogg of Harford, Connecticut and George Witing of New York City, probably not later than 1862.
The two cartoons' common element is their topsy-turvy metamorphic style. Metamorphic portraits are images composed from other, sometimes unexpected, items, which produces an optical illusion effect. Viewed one way Davis appears as an impossibly mustachioed man in fancy military dress. Rotating the print 180 degrees reveals a new message and image. The original 1861 cartoon's caption, "Jeff. returning from War," is accompanied by an image of a donkey. Davis' mustache is transformed into the animal's long ears.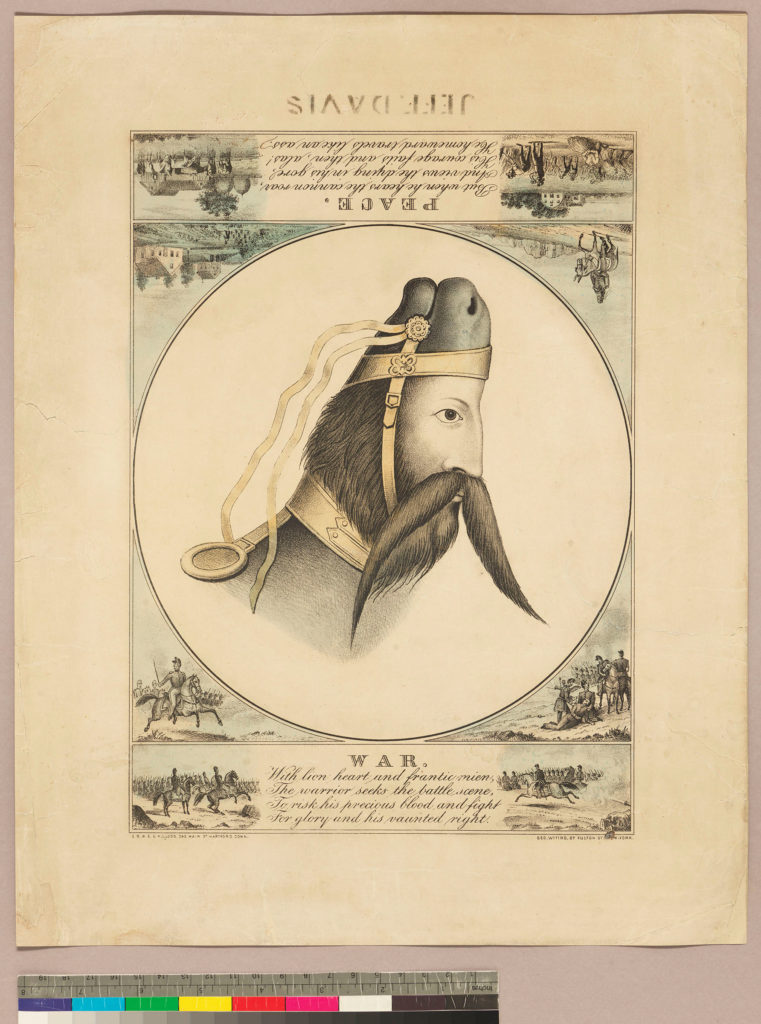 In the version held by Hesburgh Libraries, Davis is not identified by name in the print; instead, his name was stenciled (not printed) outside the print's margin, indicating that it might have been added later. Other extant copies of this print differ from our copy by having captions printed just below the central image: "Jeff. Rampant" and "Jeff. Subdued," or have Davis' name printed (rather than stenciled) in the margin. Hesburgh Libraries' copy, like other surviving copies, is hand-colored and includes poetry verses and illustrations, both of which elaborate on the central metamorphic image of Davis as a warrior / Davis as an ass. The verses read:
War.
With lion heart and frantic mien,
The warrior seeks the battle scene.
To risk his precious blood and fight
For glory and his vaunted right.
Peace.
But when he hears the cannon roar,
And views the dying in his gore,
His courage fails and then alas!
He homeward travels like an ass.
E.B. and E.C. Kellogg of Hartford, Connecticut and their New York agent, George Whiting (also spelled Witing), published this print in 1861 or 1862. The Kellogg brothers Edmund Burke and Elijah Chapman headed an important lithographic printing company during the middle decades of the nineteenth century. Lithography was, in the 1840s when the Kellogg's established their business, still a relatively new method in the United States for making prints. Artists drew their work onto soft stone which then could be inked and impressed onto paper. The relative ease of drawing on stone and the durability of the lithographs in the printing process made such prints more cost-effective than steel or copperplate engravings. The Kelloggs were artists as well as printers and their shop produced hundreds of beautifully worked images that were affordable and popular for many decades during the nineteenth century.
This rare, possibly unique Civil War print documents public opinion about the incapacity of the leader of the new Confederate States of America early in the war.
For more on the Kelloggs' prints, see Picturing Victorian America: Prints by the Kellogg Brothers of Hartford, Connecticut, 1830-1880, Nancy Finlay, ed. Hartford, Conn.: Connecticut Historical Society; Middletown, Conn.: Distributed by Wesleyan University Press, 2009.
---
A happy Memorial Day to you and yours
from all of us in Notre Dame's Special Collections!
2016 post: Memorial Day: Stories of War by a Civil War Veteran
2017 post: "Memorial Day" poem by Joyce Kilmer
2018 post: "Decoration Day" poem by Henry Wadsworth Longfellow
2019 post: Myths and Memorials
2020 post: Narratives about the Corby Statues—at Gettysburg and on Campus
---
During June and July the blog will shift to a summer posting schedule, with posts every other Monday in June and July rather than every week. We will resume weekly publication August 2nd.