by David T. Gura, Curator, Ancient and Medieval Manuscripts
Frag. I. 36 is a single leaf from a type of devotional manuscript known as a Psalter-Hours. As its name implies, the book contained a Psalter as well as the Hours of the Virgin accompanied by other texts. The Psalter-Hours grew in popularity among the laity in the mid to late thirteenth century, whereas the few earlier examples were used by monastics. The Book of Hours became far more common in later centuries for the laity and eventually displaced the Psalter-Hours, though not completely.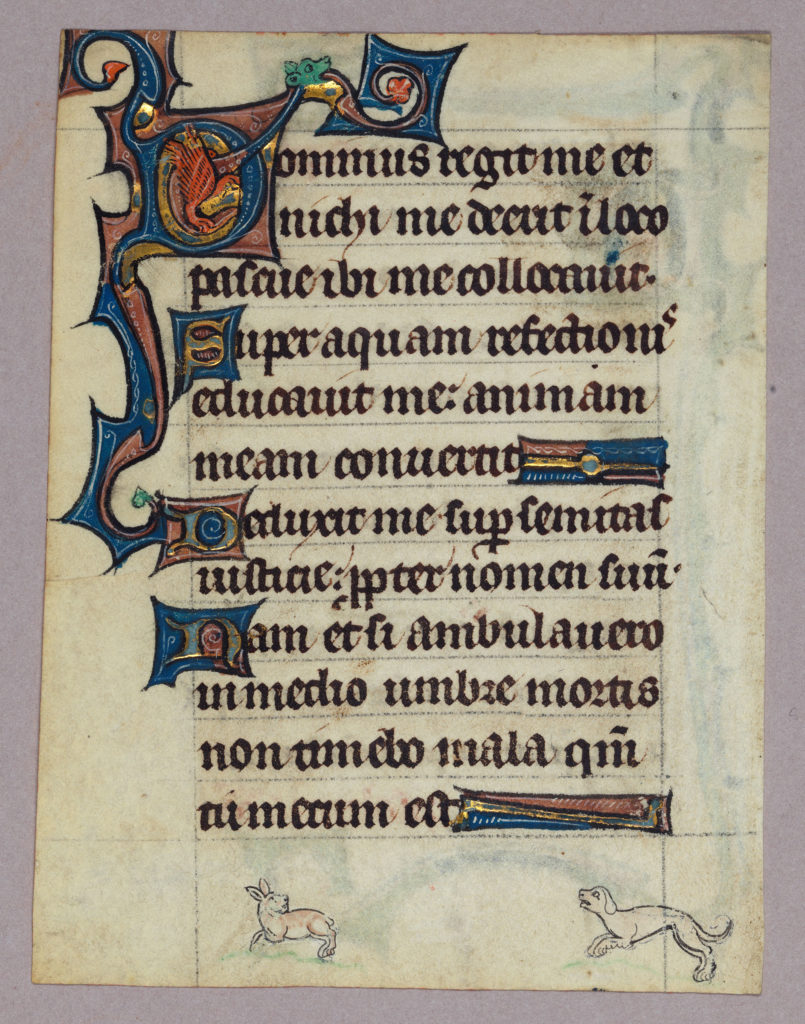 This particular leaf contains a portion of the Office for the Dead, which the living would pray to ease the departed's time in Purgatory. The end of Job 10.20 is followed by a responsory and a versicle. The text on the verso breaks off at Psalm 22.2.
The decorative borders are typical of Flemish painting during the thirteenth century. The initials are inhabited by grotesques and a playful illustration of a dog chasing a hare occupies the lower margin of the verso.
This fragment is fully described in David T. Gura, A Descriptive Catalogue of the Medieval and Renaissance Manuscripts of the University of Notre Dame and Saint Mary's College (Notre Dame, IN: University of Notre Dame Press, 2016), pp. 452-53. Expected publication: November 2016.
---
This work is licensed under a Creative Commons Attribution 4.0 International License.