by Hye-jin Juhn, East Asian Studies Librarian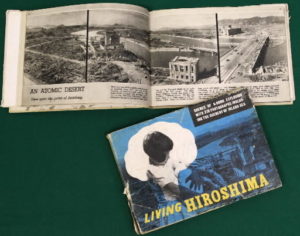 The anthology Living Hiroshima: Scenes of A-Bomb Explosion with 378 Photographs Including Scenery of Inland Sea (1948) was planned and published by the Hiroshima Prefectural Tourist Association for the purpose of introducing images of post-war Hiroshima to the world. The production was handled by Bunkasha (formerly Tōhōsha, which had published propaganda materials for the Japanese military during the war). Most of its photos were taken in 1947 by three Bunkasha photographers, two of whom also had formerly worked for Tōhōsha. The anthology also includes photos taken in 1945 by Kimura Ihē, the former head of the Photography Department at Tōhōsha.
Although published under U.S. military censorship during the American Occupation, the anthology is a rare and valuable documentation of the devastation and the recovery of the city from the bombing.