by Hye-jin Juhn, East Asian Studies and Metadata Librarian
The goal of the Catholic Central Bureau (CCB), founded by Archbishop Riberi in 1946, was to ensure that the country's Catholic missions, which were independently run by various denominations, would communicate a unified message about Catholicism and the Catholic world view to the Chinese intellectuals and youths, who were increasingly being attracted to Communism. The CCB, in an attempt to fight off the image of Catholicism as an imperialist and non-scientific religion, actively translated and published European Catholic materials about social reforms. In June 1951, the Chinese government disabled the CCB's activities and arrested and imprisoned many of its members.
RBSC has two editions of Tian zhu jiao qian shuo (天主教淺說) or An Introduction to Catholicism, authored/edited by Zhang Jiemei and published by the CCB.
Its first edition (106 pages), published in Beijing in 1948, introduces Catholicism "more frankly and objectively" (更坦白,更客觀的方式) than the existing publications about Catholicism. It begins with the questions: "What is religion?," and "What is Catholicism?," and discusses the doctrines, organization, rituals of Catholicism, and the Bible. The sixth edition (156 pages), published in Shanghai in 1951, begins with the question, "What is human?," addresses evolution theory, and explains the relationship between science and Catholicism. The final page gives the statistics of Catholic faiths by country. An example: Of almost 1.2 billion population in Asia, almost 30 million were Catholic; of the almost 463 million Chinese, approximately 3.5 million were Catholic.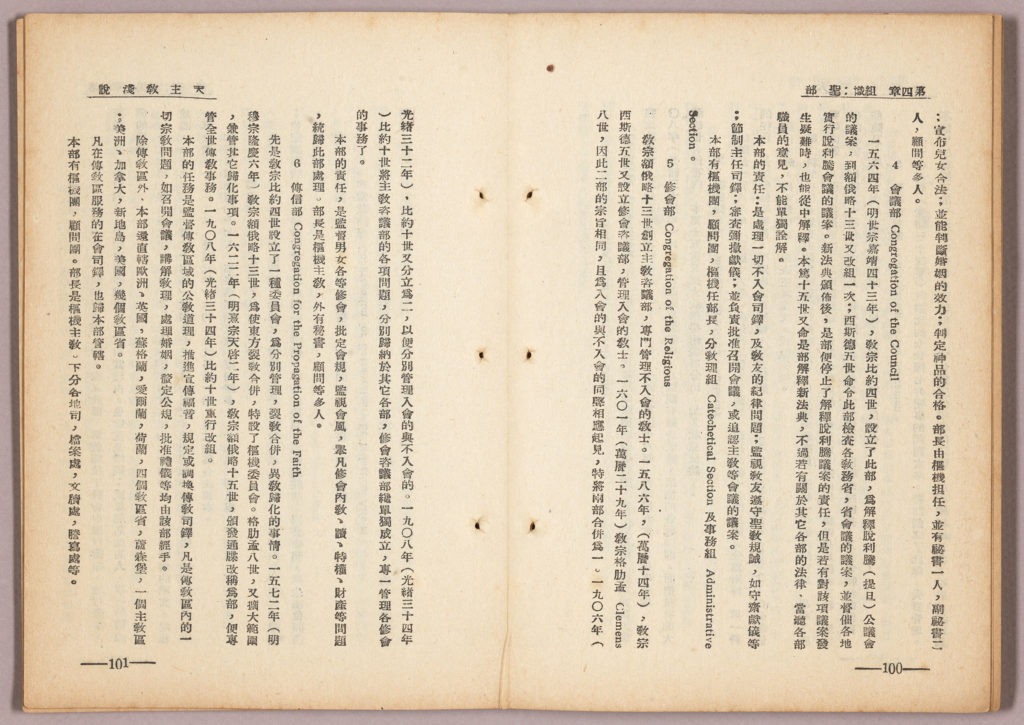 References:
Wong, Yee Ying Bibiana. "The Catholic Central Bureau: A Short-lived Church Authority set up around the Time of the Communist Takeover of China." Lumen: A Journal of Catholic Studies 5, no. 1 (2017).