by Aedín Ní Bhróithe Clements, Irish Studies Librarian
Central to our Irish map collection is the David J. Butler Collection of Maps of Ireland, given to the Hesburgh Libraries thirty years ago by Mr. and Mrs. Thomas C. McGrath. The collection is named for Betty McGrath's father, 'a native Irishman who loved this school', and the maps were collected over many years by Thomas C. McGrath during his eventful career as a naval officer, a businessman, a lawyer and a congressman. The David J. Butler Collection consists of seventy-two maps of Ireland, printed in the sixteenth, seventeen and eighteenth centuries.
We are fortunate in having a transcript of the lecture given by Mr. McGrath, 'The Joy of the Chase' which describes his hobby of collecting maps and sea charts. His interest in sea charts arose naturally from his time in the U.S. Navy, and he gave these to the Hesburgh Libraries separately, this collection named for his parents, Thomas and Helen McGrath, whose sacrifices, he says, permitted him to study briefly at Notre Dame. (He was enrolled for one year prior to joining the U.S. Navy during World War II.)
Many of the maps were published in atlases, and were removed from those books a long time ago. The Butler collection includes maps by Mercator, Speed and other European map makers and atlas publishers.
This small sample provides a tantalising glimpse (we hope) of the range and richness of the collection. In our incomplete information on these maps, the reader will note that there is much scope for continued research to provide accurate catalog information on each map.
This map, for example, is one where our information is quite incomplete. It appears to be from an edition of Ortelius' Theatrum Orbis Terrarum, published in many editions from 1570. We have seen a similar map on the website of the Library of Congress, dated 1598, but we have not seen any copy with the image of Queen Elizabeth I illustrating the cartouche. Our map has a page describing Ireland (Hibernia) in Latin on the verso.
As in a number of earlier maps, the orientation has the west uppermost on the page, rather than the now accepted convention of north being at the top of the page.
Printed at the top of the map, that is, on the Atlantic Ocean to the west of Ireland, is a peculiar selection from the Topography of Ireland by Gerald of Wales.
A translation of the original text reads,
There is an island called Aren, situated in the western part of Connaught, and consecrated, as it is said, to St. Brendan, where human corpses are neither buried nor decay, but, deposited in the open air, remain uncorrupted. Here men can behold, and recognise with wonder, grandfathers, great-grandfathers, and great-great-grandfathers, and the long series of their ancestors to a remote period of past time.

There is another thing remarkable in this island. Although mice swarm in vast numbers in other parts of Ireland, here not a single one is found. No mouse is bred here, nor does it live if it be introduced; when brought over, it runs immediately away and leaps into the sea. If it be stopped, it instantly dies.

Giraldus Cambrensis, 64
Another note on the map mentions Sir Thomas Smith, an English colonist who received a royal grant of the Ards peninsula and Clandeboye in Co. Down in 1571.
It would be interesting to learn more about the publication of this map, and if it was, in fact, part of an Ortelius collection.
John Speed's map of Leinster is one of the four province maps included in the section on Ireland in Speed's The Theatre of the Empire of Great Britaine, the first atlas with detailed maps of the provinces of Ireland, published in London in 1611. This map was engraved by Jodocus Hondius, who engraved the plates for Speed's atlas from 1607 on, and bears the date 1610. This does not mean, however, that the map is from the 1611 edition as the same engravings were used in subsequent editions. It does, however, appear to match the 1611 edition of the Theatre of the Empire, which we can examine in digital form.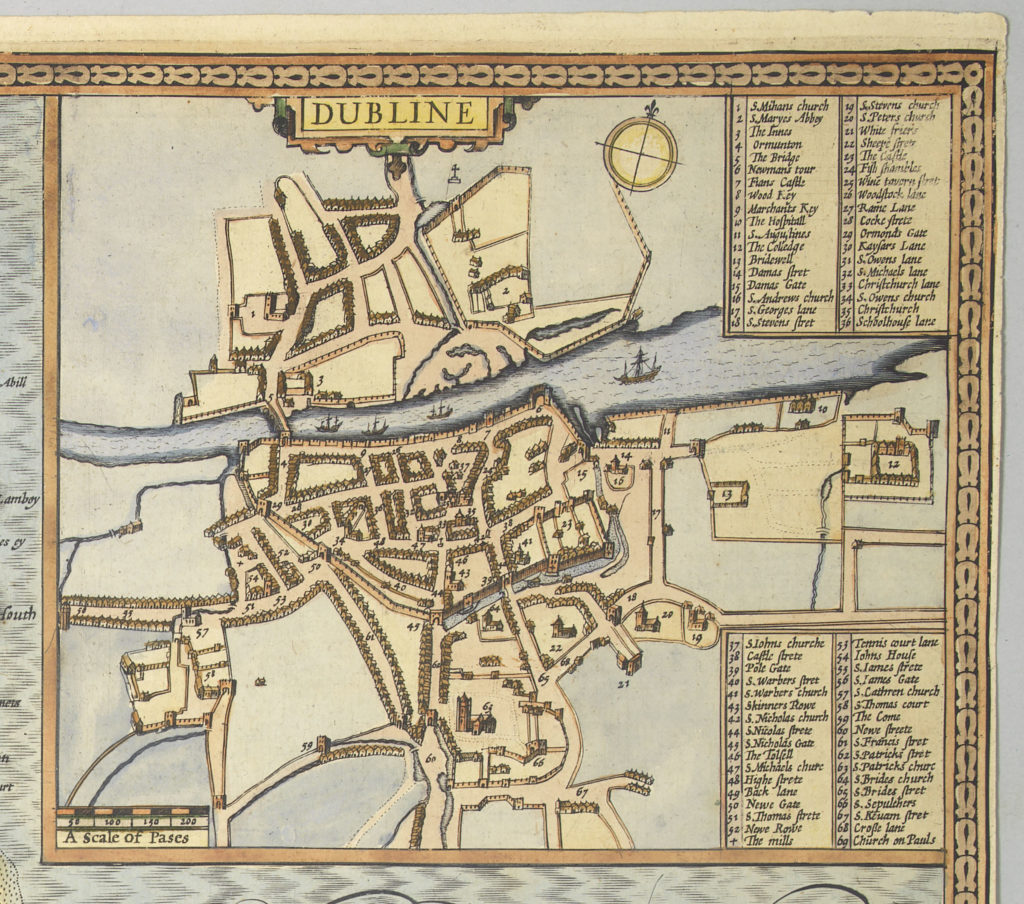 Speed's maps of the Irish provinces include insets, for Leinster, the inset is a map of Dublin, possibly the earliest printed map of Dublin still in existence. Maps of Cork and Limerick are inset in his map of Munster.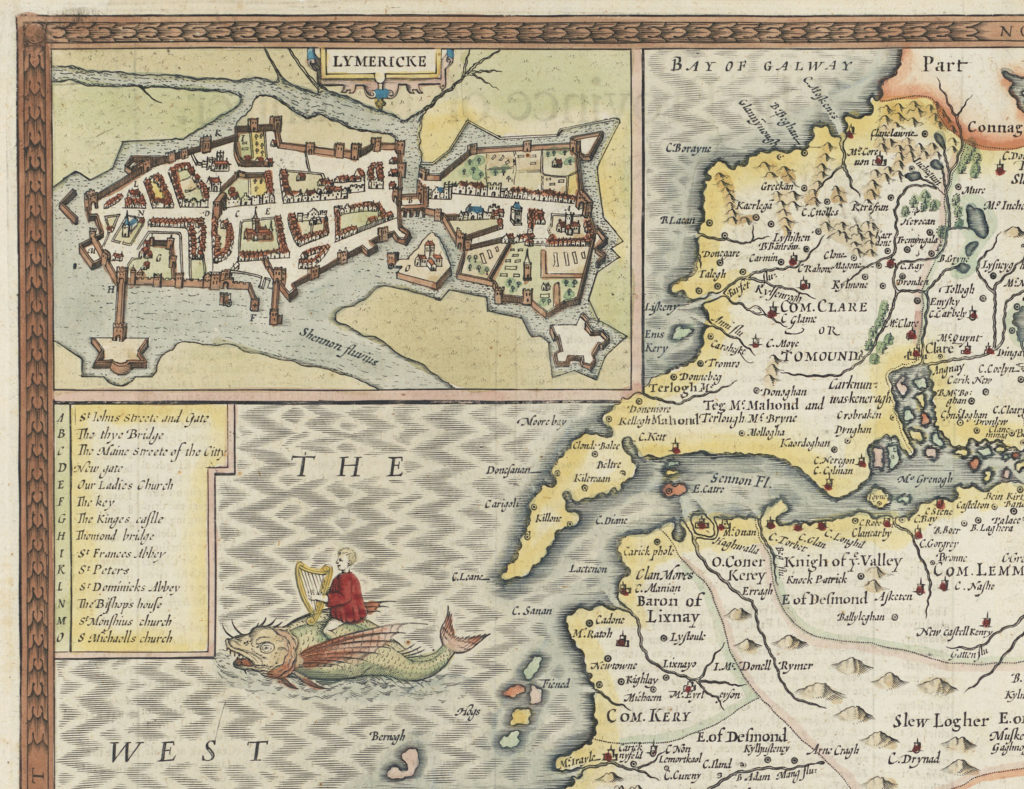 Like many maps of the time, Speed's maps are embellished with ships and sea creatures. Did the engraver foresee the spread of Irish music across the Atlantic when he added a fanciful image of a harpist riding a winged fish west from the Kerry coastline?
We hope, over time, to make some of our map collection available in digital form on our new platform Marble, so that more people can enjoy and learn from this remarkable collection.
References
Giraldus, Cambrensis, 1146?-1223?, Thomas Forester, Richard Colt Hoare, and Thomas Wright. The Historical Works of Giraldus Cambrensis: Containing the Topography of Ireland, And the History of the Conquest of Ireland. London: G. Bell & sons, 1913.
Further reading on Irish maps
Ireland in maps : an introduction J. H. Andrews. Dublin: Dolmen Press, 1961

Shapes of Ireland : maps and their makers 1564-1839 / J. H. Andrews. Dublin : Geography Publications, 1997
John Speed: Maps of Ireland / Andrew Bonar Law. c. 1979.
The printed maps of Ireland to 1612 / andrew Bonar Law. Morristown, N. J. : Eagle Press, c1983
The printed maps of Ireland 1612-1850 / Andrew Bonar Law. Dublin : Neptune Gallery, 1997