by Shannon Gaylord, RBSC Student Employee
When people enter the Hesburgh Library, they may walk right by the Rare Books and Special Collections department without glancing inside. They may have never heard of this department or do not know what is inside. This department is what I tell people is the "hidden gem" of the library. The people who do walk through the large doors enter what I think is one of the most beautiful rooms on campus. They stand in a room of large wooden shelves and glass cases that are full of histories and stories. The weathered books along the wall invite visitors to think about time. People who find their way to Rare Books will be amazed at the extensive collections as well as the knowledge and dedication of the excellent staff. There are several students who work in this department during the summer as well as the school year. They have unique backgrounds, jobs, and perspectives about this lovely department.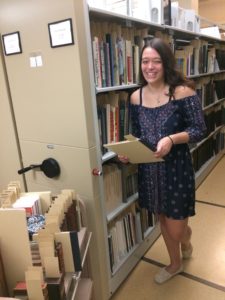 My name is Shannon Gaylord and I have been working at Rare Books and Special Collections for the last four years. I just recently graduated from Notre Dame where I majored in Psychology and minored in Education, Schooling, and Society. I am a student worker in the department, but I like to call myself the "Executive Book Manager" because it is a fun title and I primarily work directly with the books in the various collections. I have done a large variety of tasks during my time here such as assisting with stacks management which includes reshelving books, pulling materials, and shifting collections. I enjoy getting the chance to come in contact with so many ancient texts in all of the work that I do. I have worked with many of the department's materials such as the American Colonial Currency collection and the Lohmann collection. I have assisted with the preparations for many of the classes and lectures that occur in the department. I also work at the department's front desk where I assist patrons with materials and book scans as well as monitor those who are using the reading room.
While the collections at Rare Books are wonderful, my favorite part about working here is the group of people that make up this department. These people work together to create an incredibly welcoming environment that promotes curiosity and learning. They have so much knowledge that they willingly share with patrons and students. I am very thankful to have had a chance to work alongside and learn from each of these staff members over the last couple of years. I find it hard to believe that I had never heard about Rare Books until I walked into the department for a job interview during my freshmen year. Now when I walk into the department, I feel at home because of the people here who welcomed me into the Rare Books family. I am so happy that I could continue working at Rare Books this summer and look forward to using the skills and knowledge from this job in the future. This fall, I will be attending the University of North Carolina at Chapel Hill for my Masters in Social Work.
This summer, I've also had the pleasure to work with RBSC's crew of summer student employees. Most of them are either undergraduate or graduate students at Notre Dame, but there are a few visitors. I've talked to them about what the work they are doing in RBSC. Here's a look at all the things happening this summer.
Laura Weis is a PhD Candidate in History and Peace Studies at Notre Dame. Laura says that "working in Special Collections has provided a unique opportunity to sharpen my skill set as an aspiring historian, as well as a chance to explore topics and time periods outside of my usual area of research." Laura has been working on several collections this summer, including the Bellamy-Smart family papers and the Price family papers. She says that the Bellamy-Smart family papers offer a glimpse into early 19th century courtship rituals and plantation life and the Price family papers "opened my eyes to the northern anti-abolitionist and 'Copperhead' political sentiments that threatened, for a time, to derail the Union war effort, in general, and emancipation, in particular." Laura is currently working on the Mary Taussig Hall papers/Taussig family papers which are a large collection of personal and professional correspondence among the Taussig family members. She says that "the collection includes exchanges with Jane Addams, as well as additional materials concerning 20th century peace and justice advocacy." Laura says, "Going forward, I know I will point to my experience working in Special Collections this summer as one that has been both personally and professionally fulfilling."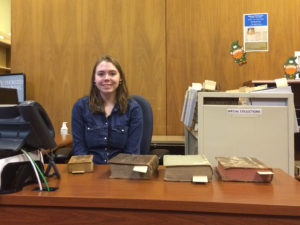 Hannah Benchik is a rising sophomore at Saint Mary's College where she is studying Business with a minor in German. This summer, Hannah has been working at the front desk of the department. She explains that her job is much more complex than merely sitting at the front desk. Hannah says, "While the specific work that I do daily depends on the department's specific needs for that day, my tasks can range from stamping books, answering phone calls, and assisting patrons in the reading room. I also monitor the reading room to make sure that the rare materials are handled correctly, shift books in the basement, and scan documents for ILL requests or for specific patrons." Hannah enjoys the organizational aspect of this job, which is crucial for her work. Her favorite part of the job has been having the opportunities to examine priceless and rare books such as Saint Elizabeth Ann Seton's Bible and Hartmann Schedel's Nuremburg Chronicle. Hannah says that "it has been so amazing to see important and famous works of literature that most students my age have not been exposed to before."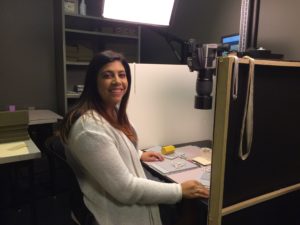 Samantha Awad is a recent graduate of the University of Illinois Urbana-Champaign where she graduated in English with Distinction. During her time there, she worked at the Rare Book and Manuscripts Library. This fall, she will be attending the University of North Carolina at Chapel Hill where she will study Library Science and Public Administration. This summer, she is responsible for photographing rare books and manuscripts as well as digitizing her work. Amanda says that she has "worked with German children's literature from the world wars that is being exhibited at the library, books in the Petrarch collection, and a medieval manuscript that contained sheet music for a class this fall."
Augusto Rocha Ramirez is a PhD candidate in History. He is currently working at Rare Books under the supervision of Erika Hosselkus, Curator of Latin American collections. He is arranging materials into series and ensuring that they are filed properly for future retrieval. These materials include Uruguayan political ephemera from the late 19th and early 20th centuries.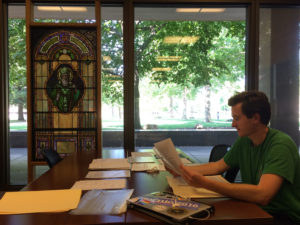 Liam Maher is working with Aedín Clements, the Irish Studies Librarian. He has assisted with archiving several special collections within the Irish Studies Collection. The first was a small collection of papers, letters, and books on peacemaking & reconciliation efforts in Northern Ireland between the Presbyterian and Catholic Churches. The materials date from the mid 1970s through the early 2000s. The majority of his work, however, has been focused on another collection. Arlen House, an historic feminist publishing house in Ireland, recently sent their documents to Hesburgh Library. He has been leafing through boxes of their papers and sorting them into archival categories: manuscripts, proofs, correspondence, brochures, photographs, business documents, etc. In Liam's own words, "It is fun to piece together the story of Arlen House as I work through all of their materials!"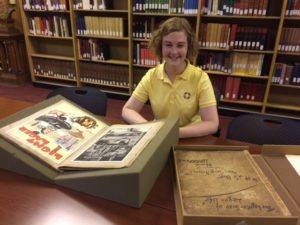 Sara Quashnie graduated from Notre Dame in 2015 with a BA in History. She is back this summer completing a practicum for her Master's in Library and Information Science from the University of Illinois, Urbana-Champaign. Though she is not officially on RBSC's payroll, she is doing some work in the department. She co-curated a spotlight exhibit, "War as Child's Play: German Children's Literature from the World Wars," is describing a collection of original drawings tipped into an album created by British civilians held prisoner in a German internment camp during the First World War and creating a finding aid for it, and will be authoring a blog post about that collection.
Sae Rome Choi, a junior Chemical Engineering major, has worked for the department for three years. She assists one of our rare book catalogers, Bo Karol, processing rare and medium rare books. Sae Rome adds copy specific notes to the bibliographic records and also prints the flags for the books so that they can be shelved in their proper locations.
Thank you for taking a look at the Rare Books and Special Collections department through the eyes of its student workers. If you have not visited this department yet, we encourage you to stop by! This "hidden gem" is waiting just behind the doors.