"It is with bittersweet feeling I write to announce that Julie Tanaka accepted a position as Curator of Rare Books and Manuscripts at Arizona State University. Julie is excited about the opportunities in the new position and I am very happy for her." —Natasha Lyandres, Head of Special Collections
Julie Tanaka achieved so much that it's difficult to believe that she arrived here less than eight years ago. Along with her role as Curator of Special Collections and as subject liaison for Western European History, Julie took on many more responsibilities in Special Collections and in the Hesburgh Libraries.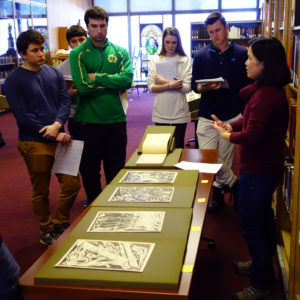 Julie's impact on the role and visibility of the Rare Books and Special Collections has been appreciated throughout campus and beyond. In her willingness to partner with professors of History, English, Design, and other disciplines to plan excellent programs for research, she has set high standards for her fellow curators. In fact, she initiated and designed many programs that are now an integral part of RBSC.
Julie approaches the library world not as a gate-keeper but in the generous spirit of an educator who wishes everyone to learn and to benefit from the collection. Her outreach to professors who had not considered integrating rare books and other library materials in their courses has had great results. Julie applies the same high standards of planning, teaching and performance from tours for the children of Notre Dame's Early Childhood Development Center to a research methods class for graduate students.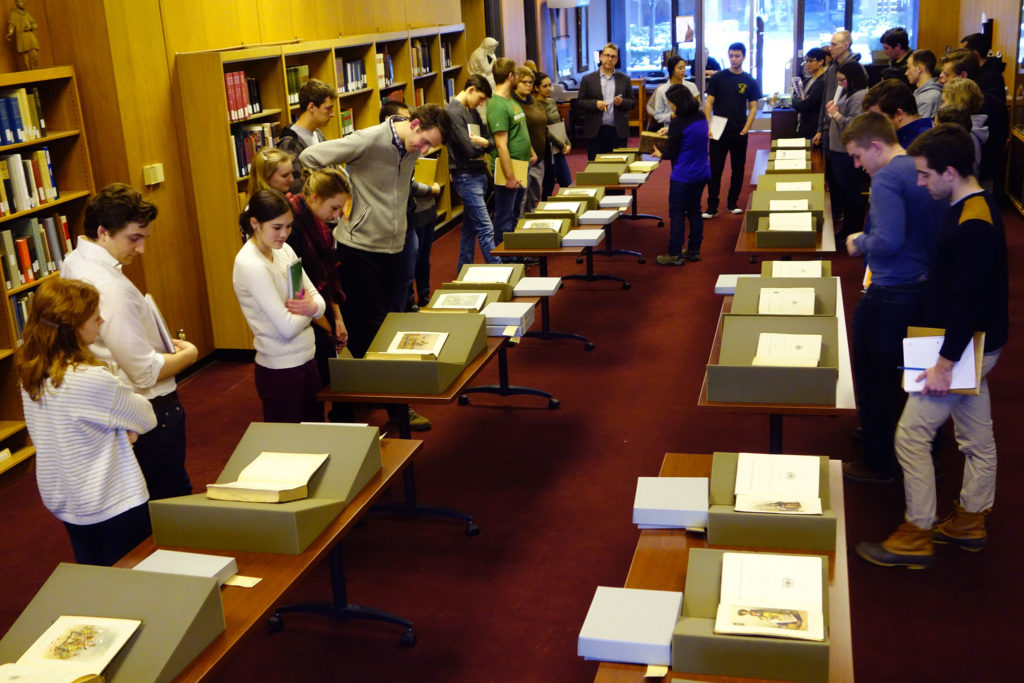 Julie's commitment to outreach helped ensure that Rare Books & Special Collections was a welcoming place for students and faculty. But it wasn't just members of the Notre Dame community who benefited from Julie's vision.
Everyone who came in, from visiting researchers, who gained access to far more research materials than they originally anticipated, to football fans who happened to wander in on a rainy Football Friday just curious about what goes on behind the smoky glass walls on the first floor of the Hesburgh Library, left fascinated by the items housed in our department—all thanks to Julie. One notable visitor was a ten year old boy from Albania. Julie had noticed the young man and his English-language tutor visiting our exhibit room weekly. They liked to look at the books in the glass cases and study the English letters on the exhibit cards. Julie introduced herself and asked if, on their next visit, they would like to see some more items from Special Collections … outside the glass. Julie carefully choreographed a display for the young man. He left in awe of what he had seen,  with a personalized Special Collections coloring book in hand, full of English letters and wonderful pictures to aid him in his studies. For the remainder of the semester he would come in to say hello and happily test out the new English words he had learned.
The current exhibit, Paws, Hooves, Fins & Feathers, co-curated with Erika Hosselkus, was planned with the greater community in mind. Julie and Erika curated an exhibit that highlights our remarkable natural history collection, with a well-planned outreach to local schools integrated into the plan. In light of the closure, they have transformed the physical exhibit in a digital one, Paws, Hooves, Fins, and Feathers Digital.
As a historian, Julie has been proactive in ensuring that Notre Dame's students receive a good grounding in library and archival research, and her work over the years with library colleagues and with faculty from various departments, has resulted in the development of a series of classes and workshops carried out in the Special Collections.
Despite Julie's dislike for our Midwestern winters, she was invariably the first person to arrive every morning. We expect her to send us regular notes about the warm temperatures in Arizona. And in return, we will send Julie pictures of any innovations we develop in the design of our reading room, because Julie taught us that there is an optimal way to arrange the classroom furniture for every class.
We wish Julie the very best in her new endeavor.