by Rachel Bohlmann, American History Librarian and Curator
The painting of a wild turkey featured in this Thanksgiving post is also displayed in pride of place in the book in which it was printed: opposite the title page in Audubon's American Birds, from Plates by J.J. Audubon, published in 1949 in London and New York by a British publisher, Batsford. As the title indicates, this is a book of reproductions of fewer than two dozen of John Audubon's paintings from his monumental work of natural history and painting, Birds of America, published in London between 1827 and 1838.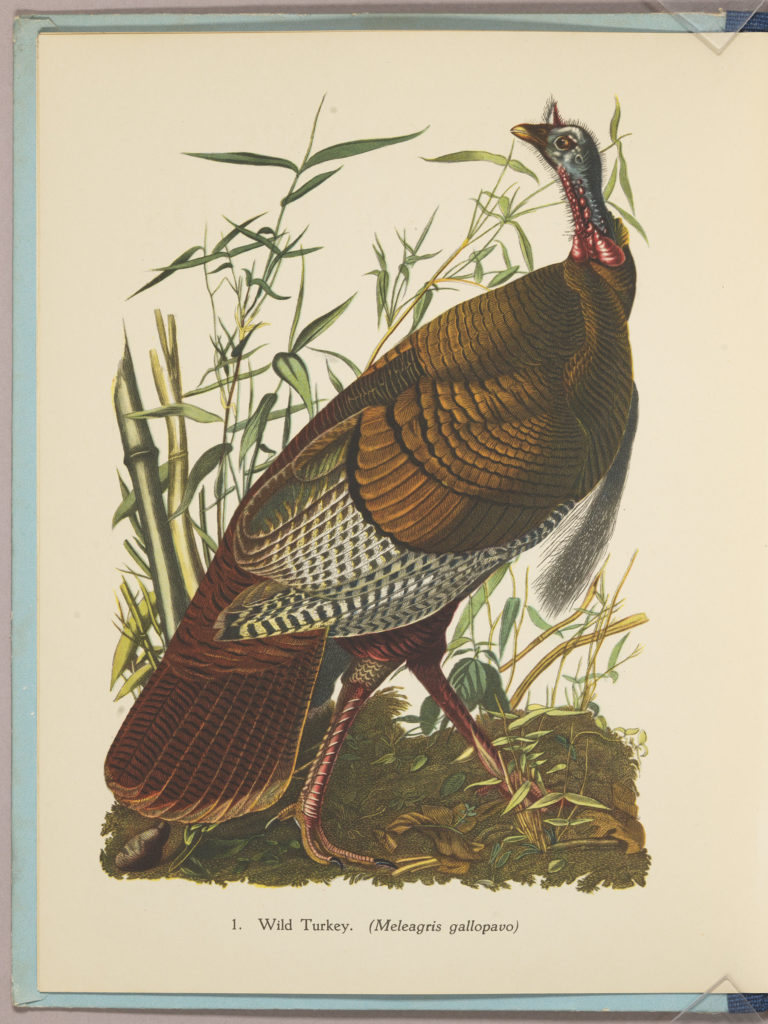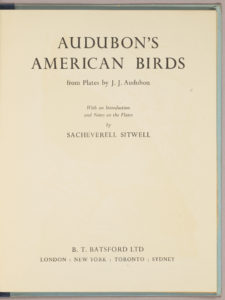 Batsford, the publisher that produced this modest, post-war volume, wished to place Audubon's accomplished paintings within reach of nearly everyone. The publisher asked Sacheverell Sitwell to write the introduction, which makes up (excluding the illustrations' captions) the book's text. Sitwell was a poet and a prolific writer, mostly on artistic themes and as an art critic. In this book on Audubon's birds, Sitwell places Audubon's work firmly within the history of British and American art.
Sitwell also underscored the publisher's populist intent. The writer noted that books like Audubon's original work, which was produced in the largest possible format—elephantine, was the "modern equivalent of the illuminated missals of the middle ages. They were accessible only in the houses of the rich and in public libraries." (p. 10) Sitwell (who was himself both wealthy and titled) and Batsford made Audubon's great nineteenth-century achievement accessible to popular audiences in Britain and the United States. Turkey for the people.
---
RBSC will be closed during Notre Dame's Thanksgiving Break (November 24-25, 2022). We wish you and yours a Happy Thanksgiving!
Thanksgiving 2021: The Thanksgiving that Gave Us a Song, a Movie … and a Cookbook!
Thanksgiving 2020: Happy Thanksgiving to All Our Readers
Thanksgiving 2019: "Thanksgiving Greetings" from the Strunsky-Walling Collection
Thanksgiving 2018: Thanksgiving from the Margins
Thanksgiving 2017: Playing Indian, Playing White
Thanksgiving 2016: Thanksgiving Humor by Mark Twain
Thanksgiving 2015: Thanksgiving and football
---
Due to renovation-related work being done in the department, on November 28-29 Special Collections will be closed to visitors, except for previously scheduled classes.