RBSC looks forward to an event-filled Spring '20! As we welcome students, faculty, staff, researchers, and visitors back from the holiday break, we want to let you know about a few things to watch for.
Spring '20 exhibit: Paws, Hooves, Fins & Feathers: Animals in Print, 1500-1800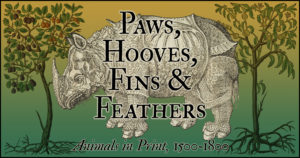 This exhibit features mammals, sea creatures, and birds from our early modern rare book collection and is enhanced by images from our botanical collection as well as plant and animal specimens on loan to us from Notre Dame's Museum of Biodiversity. We would like to extend our appreciation to Barbara Hellenthal (Curator) and Ronald Hellenthal (Director) for their help to make this possible.
Spotlight exhibit featuring works by and related to John Ruskin
This exhibit will open in February in conjunction with the Ruskin Conference at Notre Dame John Ruskin: Prophet of the Anthropocene, February 7-8, 2020. Guest curated by Professors Robert Goulding (History and Philosophy of Science) and Sara Maurer (English).
Monthly rotating spotlight exhibits
Drop in every month to see what new surprise awaits you in our monthly feature.
Special Collections' Classes
Throughout the semester, curators will teach sessions related to our holdings to undergraduate and graduate students from Notre Dame, Saint Mary's College, and Holy Cross College as well as from other local schools ranging from preschoolers to adults. If you're interested in us doing instruction for your class or group, please contact Special Collections.
Italian Studies Research Seminar Series
The Spring '20 series kicks off on Thursday, January 30 at 5:00pm. Join us for the first of four talks this semester.
Recent Acquisitions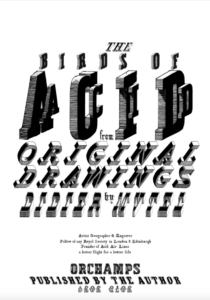 We acquire new material throughout the year. Watch for announcements about recent acquisitions. RBSC has already received new materials for our Irish, Latin American, Medieval manuscripts, Eastern European,  American, and European collections. We are awaiting the first installment of a new artist book, Birds of Acid by Parisian artist Didier Mutel some time this month.