August-September 2015
Come visit the current spotlight exhibit curated by David Dressing, Latin American, Latino, and Iberian Studies Librarian.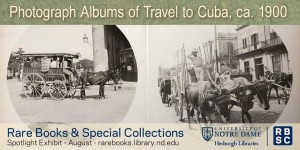 Maintain that summer travel state of mind with a visit to our August Spotlight Exhibit, "Photograph Albums of Travel to Cuba, ca. 1900." The recently acquired collection features two albums, the Liebee Family Cuba Photo Album and the Gómez Souvenir Album. The two albums illustrate the manner in which late nineteenth-century travelers memorialized their journeys through photography.
The exhibit is open to the public 9:00am to 5:00pm, Monday through Friday, through September 30, 2015.