Our colleague Doug Archer, a longtime activist for intellectual freedom and a Freedom to Read Foundation Roll of Honor awardee, has always used Banned Books Week as a time to raise awareness of threats to intellectual freedom. During this year's Banned Books Week (September 27 to October 3), since Doug is enjoying his well-earned retirement, we decided to dive into our collections and identify books whose circulation has been impeded in different times and places.
In this post, you will find an assortment of examples that show various types of books and the ways that they have been withheld, by government or by church, nationally or locally, in various parts of the world.
This was the poster for our 2008 exhibit on the Index of Prohibited Books, curated by Benjamin Panciera (now Director of Special Collections and Archives at Connecticut College). The Freedom to Read and the Care of Souls: The Index of Prohibited Books since the Enlightenment examined how the Catholic Church sought to influence the circulation of ideas in the 19th and 20th centuries and what sort of material was considered dangerous.
The Index Librorum Prohibitorum, a list compiled by the Catholic Church over a period of four centuries, consisted of a large number of books that lay Catholics were not permitted to read. Galileo's Dialogo dei massimi sistemi [Dialogue Concerning the Two Chief World Systems] was added to the Index in 1634 and was not removed until 1822. In addition, Galileo was tried for heresy in 1633 and placed under house arrest, where he remained until his death almost a decade later.
One of the most famous pronouncements on censorship of a literary work, which occurred in the U.S., is that of Judge Woolsey on James Joyce's Ulysses. This was widely reported in newspapers at the time.
James Joyce's "Ulysses," a novel which has been banned from the United States by custom censors on the ground that it might cause American readers to harbor "impure and lustful thoughts," found a champion yesterday in the United States District Court.

Federal Judge John M. Woolsey, after devoting almost a month of his time to reading the book, ruled in an opinion which he filed in court that "Ulysses" not only was not obscene in a legal sense, but that it was a work of literary merit.

New York Times, December 7, 1933.
As we have seen in the case of Galileo (above), in various places and at various times in history, censorship has not only prevented people from access to certain books, but has sometimes punished, imprisoned, or publicly shamed their authors.
This rare book is an example of early Stalin propaganda. It became the first and only Stalin-era book that glorified the use of slave labor in the massive building projects of the 1930s. An estimated 170,000 prisoners worked in subhuman conditions on Belomorkanal, moving stones and digging the canal using their bare hands or primitive materials and technologies. Tens of thousands of inmates died during the twenty-one months of its construction (1931–33).
Commissioned by Stalin and published in Moscow in 1934 to coincide with the opening of the infamous XVII Party Congress, this book was presented as a souvenir to Congress delegates to celebrate the success of the First Soviet Industrial Five-Year Plan. Thirty-six Soviet writers and many leading artists, including the avant-garde photographer Aleksandr Rodchenko, visited the Canal and contributed their essays and photographic images of prisoners to praise the "transforming power" of the Gulag. By 1937, at the height of the Stalin Great Terror, the policy of "reeducating" class enemies through corrective labor was replaced by mass arrests, imprisonments and executions. The new policy called for the physical extermination of the "enemies of the people" and the obliteration of their names from the public record, including books. Four years after its publication, even this blatantly propagandist piece was found suspect and withdrawn from circulation; most copies were destroyed, and its many contributors were sent to the Gulag.
While many countries have not taken such extreme measures against authors, censorship has sometimes been carried out along with public shaming.
In Ireland, books that portrayed indecency or behavior that was not approved by the Catholic Church were often subject to censorship. A famous case was that of The Tailor and Ansty, Eric Cross's book portraying the storytelling and commentary of a rural couple, Tadhg Ó Buachalla and his wife Anastasia, or Ansty. Not only was the book the subject of government debate over a four-day period, but the couple were visited by a priest (or three priests in some accounts) and ordered to burn their own copy of the book.
In the first decade of Ireland's Free State, the Censorship of Publications Act, 1929, was enacted to prohibit the sale and distribution of "unwholesome literature". Over the next forty years, hundreds of books were banned from sale in Ireland.
Ethel Voynich's popular novel, The Gadfly, first published in the U.S. in 1897, was banned in Ireland in 1943. We had occasion to pull this book off the shelves as a Notre Dame student who is writing her senior thesis on this novel is particularly interested in why the book, popular elsewhere in Europe, was little known and also banned in Ireland.
Novels by Kate O'Brien were banned in Ireland and in Spain. The novel featured here, Land of Spices, was apparently banned in Ireland on account of one sentence in which the protagonist learns that her father was in a homosexual relationship. "She saw Etienne and her father in the embrace of love." Thus the novel was deemed indecent and obscene.
Edna O'Brien, whose recent books include Girl (2019) and The Little Red Chairs (2016), is the author of novels that were very controversial in Ireland in the 1950s and '60s. Her earliest novels, found offensive for their depiction of girls' and women's lives, including sexuality, were consistently banned by the Irish Censorship Board. O'Brien's books circulated widely in spite of censorship, and the following account by Dónal Ó Drisceoil shows that the Irish Censorship Board was fighting a losing battle:
At a packed public meeting in Limerick in 1966, O'Brien asked for a show of hands as to how many had read her banned books: she was met with a sea of hands and much laughter.

Ó Drisceoil, 154
The censorship in Ireland of Frank O'Connor's Kings, Lords, and Commons continues to provide amusement as the content that raised the censors' concern was O'Connor's translation of the acclaimed poem "Cúirt an Mheán Oíche" written in the eighteenth century by Brian Merriman. Much praised and valued as a literary work, the original Irish language text, and even earlier English translations, had never been censored, but this translation by O'Connor, conveying the humorous, hard-hitting language of sexually frustrated women, suggested that such lively discourse could exist in Irish-language literature, but not in English.
Once again, the Republic of Ireland is the place where this book by Hemingway was banned. This book and many others in our collection that could be freely read in the U.S. might not have been available to readers in Ireland and in other countries where such censorship was practiced. Examples of American books not allowed in Ireland for some time during the twentieth century include Tobacco Road by Erskine Caldwell (banned 1933), Manhattan Transfer by John Dos Passos (banned 1934) and For Whom the Bell Tolls by Ernest Hemingway (banned 1941).
Moving from national censorship to local censorship, the Hesburgh Libraries' shelves are filled with books that have been censored in some way, either by being removed from the shelves of libraries, or being challenged and banned by local school boards. This is the kind of censorship that is generally of concern to the American Library Association, and that is highlighted during Banned Books Week.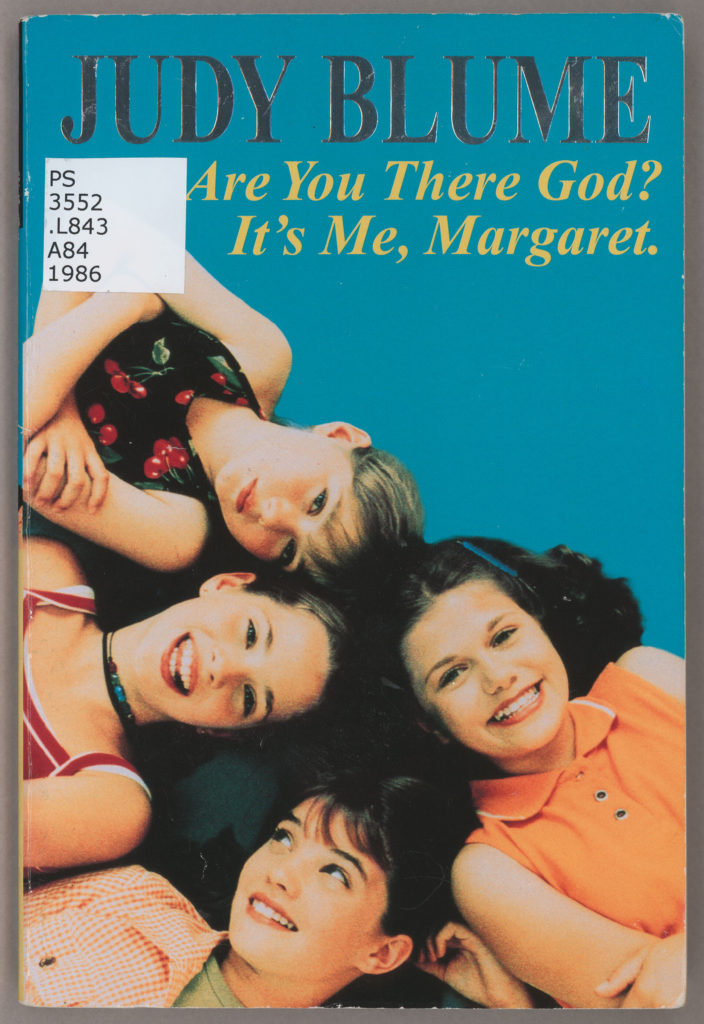 Judy Blume, an author whose books have often been removed from school libraries, has become a spokesperson against the censorship of books. Her 1970 book, Are you there, God? It's Me, Margaret, has a young protagonist who muses on, and discusses, sexuality, menstruation, bras, and religion. Reasons that the book has been challenged and sometimes removed from library shelves include the sexual content and the treatment of religion.
Madeleine L'Engle's A Wrinkle in Time, winner of the Newbery Medal in 1963, has frequently been challenged, e.g. by parents asking school districts to have the book removed from library shelves. The combination of science and religion in the book, along with a kind of magic or fantasy, is at the root of many of the challenges. The American Library Association' Office for Intellectual Freedom compiles annual lists of books based on reports they receive from libraries, schools, and the media on attempts to ban books in communities across the country. For two decades, L'Engle's novel was in the top one hundred challenged books.
More on the American Library Association's findings on the books challenged throughout America may be learned by checking the Banned Books Week website.
References
Ó Drisceoil, Dónal. 'The Best Banned in the Land: Censorship and Irish Writing since 1950', in The Yearbook of English Studies 35 (2005), pp. 146-160. https://www.jstor.org/stable/3509330