by David T. Gura, Curator, Ancient and Medieval Manuscripts
In August 2015, Giles Constable donated a small collection of fragments and charters in memory of his daughter, Olivia Remie Constable (1960-2014), who had been the Robert M. Conway Director of the Medieval Institute at the University of Notre Dame. The gift included a thirteenth-century leaf from a processional, later shown to be at Wilton Abbey, a women's Benedictine house, until 1860. The parent manuscript was broken by Cleveland biblioclast, Otto F. Ege (1888-1951), who included leaves from it in his portfolio, Fifty Original Leaves from Medieval Manuscript. It was Leaf no. 8. Leaves from the processional were disseminated widely through Ege's portfolios as well as from later dealers, and now are part of many American and Canadian collections. Processionals contain the antiphons and rubrics pertaining to the processions themselves. For example, Palm Sunday and the Visitatio sepulchri are included.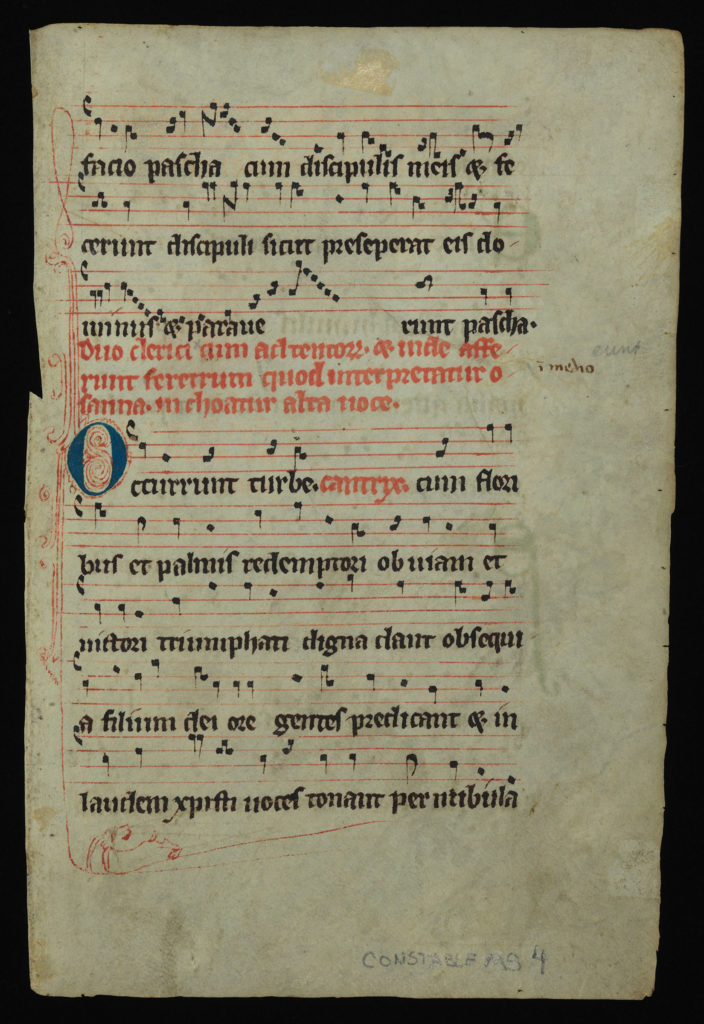 Constable MS 4 contains part of the procession for Palm Sunday. Of great interest, and rarity, is the use of feminine forms in the rubrics (e.g., 'cantrix'). This shows intentional customization for a female religious community, whereas many other manuscripts often transmit the masculine forms even though they were used by women.
Bibliography
Alison Altstatt, "Re-membering the Wilton Processional," Notes 72 (2016): 690-732.
David T. Gura, A Descriptive Catalogue of the Medieval and Renaissance Manuscripts of the University of Notre Dame and Saint Mary's College (Notre Dame, IN: University of Notre Dame Press, 2016), pp. 480-482.
Scott Gwara, Otto Ege's Manuscripts (Cayce, SC: De Brailes, 2013).
---
This work is licensed under a Creative Commons Attribution 4.0 International License.