The January-February spotlight, Reading the Emancipation Proclamation, highlights a print acquired by Rare Books and Special Collections in 2017.
Abraham Lincoln issued the Emancipation Proclamation on January 1, 1863. This 1864 steel engraving by James W. Watts was adapted from a drawing, Reading the Proclamation of Emancipation in the Slaves' Cabin, by New York City artist Henry Walker Herrick. Very few pictorial depictions of the proclamation were made before Lincoln's assassination in 1865 and this is the only contemporary image that offers an interpretation of how it might have been received by the people it was intended to free.
This exhibit is curated by Rachel Bohlmann, American History Librarian.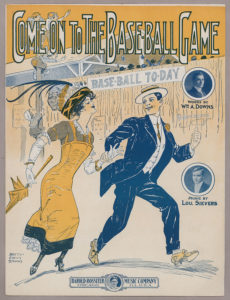 The winter spotlight, Baseball and Tin Pan Alley: Sheet Music from the Joyce Sports Collection, continues through February.
In 2015 RBSC acquired a collection of more than 450 examples of baseball-related sheet music, dating from before the Civil War to the late 20th century. On display in this spotlight exhibit is a small sampling of the collection, with items ranging from the early days of baseball to the end of the Tin Pan Alley era. The examples on display in this spotlight exhibit are selected from Special Collections' Baseball Sheet Music Collection.
This exhibit is curated by George Rugg, Curator, Special Collections.
The fall exhibit, Elements of Humanity: Primo Levi and the Evolution of Italian Postwar Culture, was extended into January and closes on Tuesday the 23rd.
The spring exhibit, In a Civilized Nation: Newspapers, Magazines, and the Print Revolution in 19th-Century Peru, will open in early February — watch for more information on the blog!