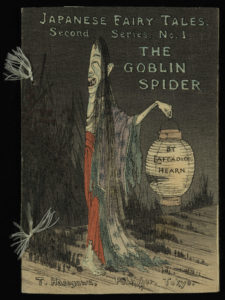 Ancient Japan, samurai warriors, and your casual spider—casual, that is, until nightfall. According to ancient Japanese legend, these ordinary spiders would morph as dark night enveloped the landscape. Menacing pincers, bulging eyes, and even taking on human form to deceive unsuspecting victims—like the samurai in the tale below—these goblin spiders wreaked terror.
Lafcadio Hearn brings this ancient tale, one of many in the Japanese tradition of ghost stories known as kaidan, to English readers. The Goblin Spider is lavishly illustrated in Takejiro Hasegawa's five-volume set of crepe-paper books. These brightly colored illustrations are hand-printed using wood blocks on textured pages.
Hearn, Lafcadio. The Goblin Spider. Kobunsha's Japanese Fairy Tale Series. Second series. No. 1. Tokyo: T. Hasegawa, 1899.
Happy Halloween to you and yours from all of us in Notre Dame's Special Collections!
Halloween 2016 RBSC post: Ghosts in the Stacks